"You Are What You Drive" (Bite Me!)
I think it's funny that when I head to other cities, people always say to me "Yeah, LA, you are what you drive, right?"  And they say it in this bitchy, condescending way. Pisses me right off.
To you, I say, bite me!  If I am what I drive then I'm 4,550 lbs of steel, carbon fiber, leather and chrome– then bring it on. Did I mention my 500 horses?  That's right.  But what's cool about LA's car-identity culture is when people get their freak on– the guy with the chicken car: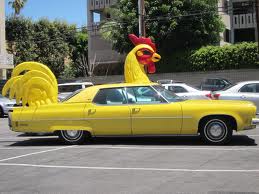 Then there's always Angelyne (I'd show her face 'cuz that's somethin', but she'll probably charge me $400,000):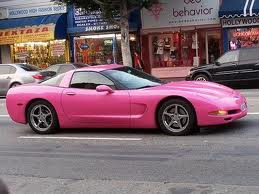 But then there are the regular, fabulous, Angelinos who like to bejewel their Ram wagons:
(you know you kinda love it).  But my favorite, of late is this dude: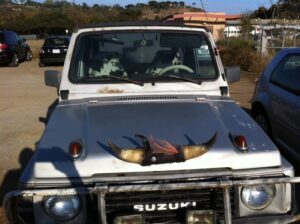 That's right, it's a Suzuki Samurai– briefly outlawed in the US due to its high center of gravity– is apparently alive and well in Mexico. I saw its owner park it across the street from a swanky restaurant in Malibu, wearing his valet uniform (I'm not just being racist, I spoke to him and he no habla English bien).  So this guy parks Lambos for a living and rocks the Samurai at home.  He's my hero.  Want more?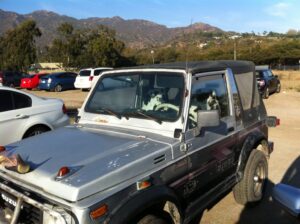 Don't miss the purple "Z" on the side.  And the feathers between the horns.  Andale!