Imagine this: you're driving off-road in a brand new Jeep and things are getting scary. Meanwhile, the woman in the passenger seat is telling you EXACTLY how to drive. When things get hairy, she giggles. When things get terrifying, she laughs. Sounds awful right? Turns out, it's awesome. Especially when the driver is me and the passenger is master off-road driver/instructor and general badass, Nena Barlow.
Nena is, as we speak, competing in her third Rebelle Rally, the first women's off-road navigation rally raid in the United States. Follow her adventures here.
When she's not traveling over 2,000 km of desert without a cell phone or any type of digital navigation, Nena is the QBIC of Barlow Adventures. With locations in both Sedona, AZ and Moab, UT, she helps just about everyone enjoy the thrill of off-roading, no experience or penis required.
When you're at a cocktail party with non-industry people, what do you tell people you do?
"I rent Jeeps." If they appear to be people with whom I either want to carry on a more in-depth conversation OR to shut them up, I add "and I am an internationally certified Master 4wd Trainer."
What do they ALWAYS ask?
"How did you get into THAT?" or my personal favorite "Is that something that was handed to you through the family, or is it you and your husband's business?" I like to say, "Nope, just me. I am THE Barlow."
What's the biggest misconception about your job?
That it's all play-play-play, like I don't have to pay taxes, manage payroll or cook dinner when I go home. Often, people say "I wish I had your job!" to which I reply "Great! You can start with the pile of tax paperwork on the left side of my desk, or the insurance paperwork on the right—your choice." Any business requires lengthy unpleasantries, but hopefully, you choose a line of work whose main parts you enjoy and believe in enough to overcome the headaches.
Did you get into this business by choice or by accident? How?
I sort of fell into it as a default. After college, I took up Jeep tour guiding as something fun to do until I grew up and got a real job. I never really saw it as becoming my "REAL job." I feel lucky to be able to work my ass off for something that is fun and dirty and non-traditional.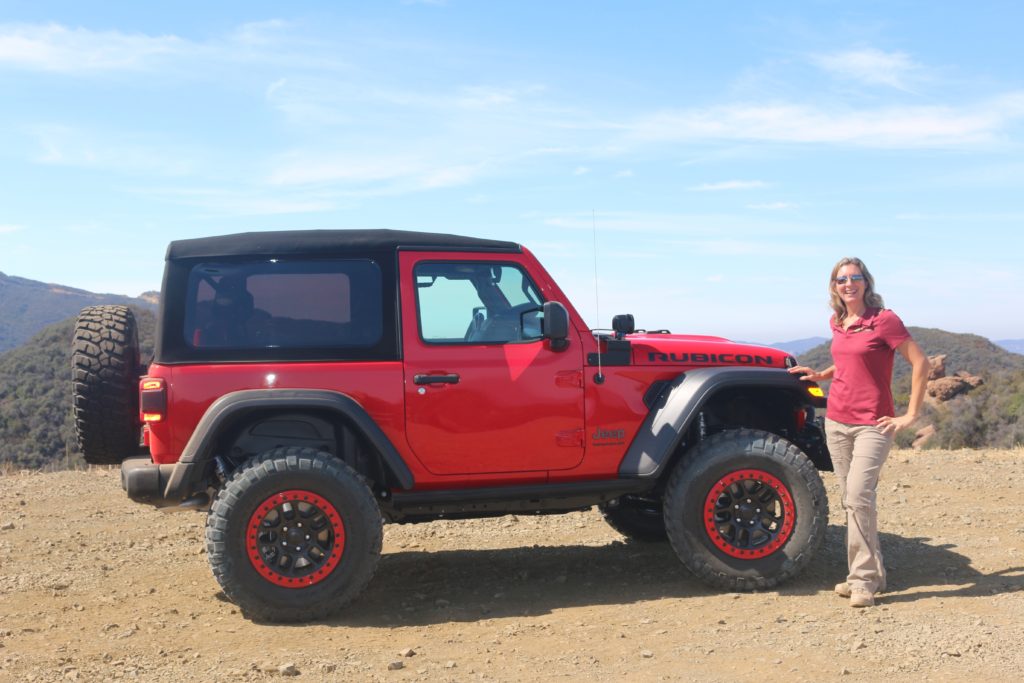 What's the wackiest thing you've ever done on the job?
What I do everyday might be considered wacky to many people. A few things that maybe most people wouldn't consider "normal", even in my world: Rolled trucks on purpose. Dressed up like an 1880's cowhand, complete with spurs, while driving a modern Jeep, and herding livestock. Cooked meals on the exhaust manifold of a Jeep. While working, I often go days without a shower, no makeup and twigs in my hair. On my days off I wear dresses and makeup.
What's your proudest achievement on the job, it's ok to brag…
I recently received Master Trainer Certification from the International 4WD Trainers Association. Since there are only six people on the planet who have achieved that status, I feel very honored to be considered among them.
If you weren't in the car business, you'd be…
Pole dancing. LOL! Seriously, I might be in the fitness or sports coaching industry. Having played college sports, I have dabbled in coaching over the years.
What's your automotive pet peeve?
Partisanship. There is no one perfect vehicle for everything. Almost every manufacturer has something really cool in it's niche. It irks me when someone is uncomfortable even considering that maybe this other car has a really cool feature that can be appreciated. Just because you acknowledge that something else is cool doesn't mean you aren't happy with the personal choice you made. Show some wonder and enthusiasm, people! Don't just talk about why this car sucks and your car is the best.