Just in case you're wondering how ridiculously wonderful it is to live in LA, let me give you a day in the life of yours truly, a self professed Porsche stalker.  Now I'm no groupie, not a 911 fanatic and I've yet to log any serious time in the loony bin.  However, if the opportunity arises, Mama is sure follow the Stuttgart scent. Even if it takes me out of my way.  Case in point, my commute last Friday pm.
I began on lower Crescent Heights, where a yellow glow lured me onto a side street: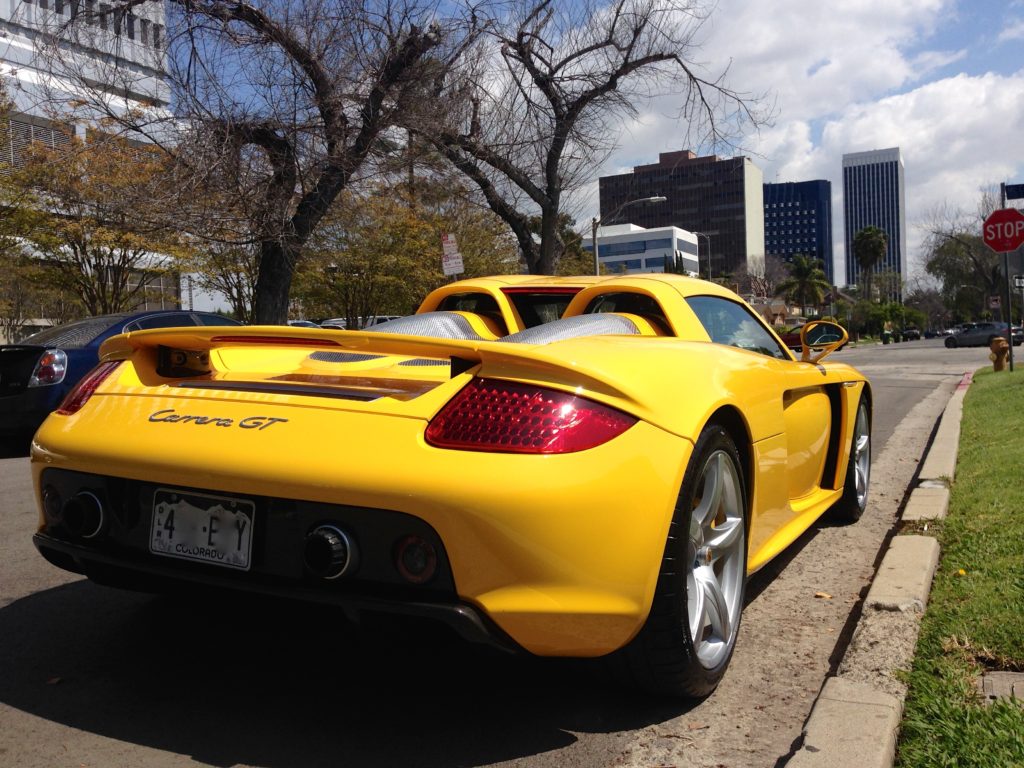 A Carrera GT? With Colorado Dealer Plates?  Now that's my kind of test drive! Any sales dude that lets you take half a million over state lines is a friend of mine. After a few minutes of gawking, I wipe the drool from my chin & make merry way across San Vicente only to be met with hauntingly familiar burning smell: (for more on my Saab 900T, see Car Slut Confessions)
Poor fool– I've been there pal. I almost sold a couple of eggs to keep my 997 from bursting into flames. As I worked to soothe my PTSD (Porsche Tab Stupefy Disorder), I saw a unicorn.  Ok, it wasn't a unicorn, but it was something so rare and wonderful, it may as well have been a unicorn. So I did what any a good stalker would– I followed it..for a while…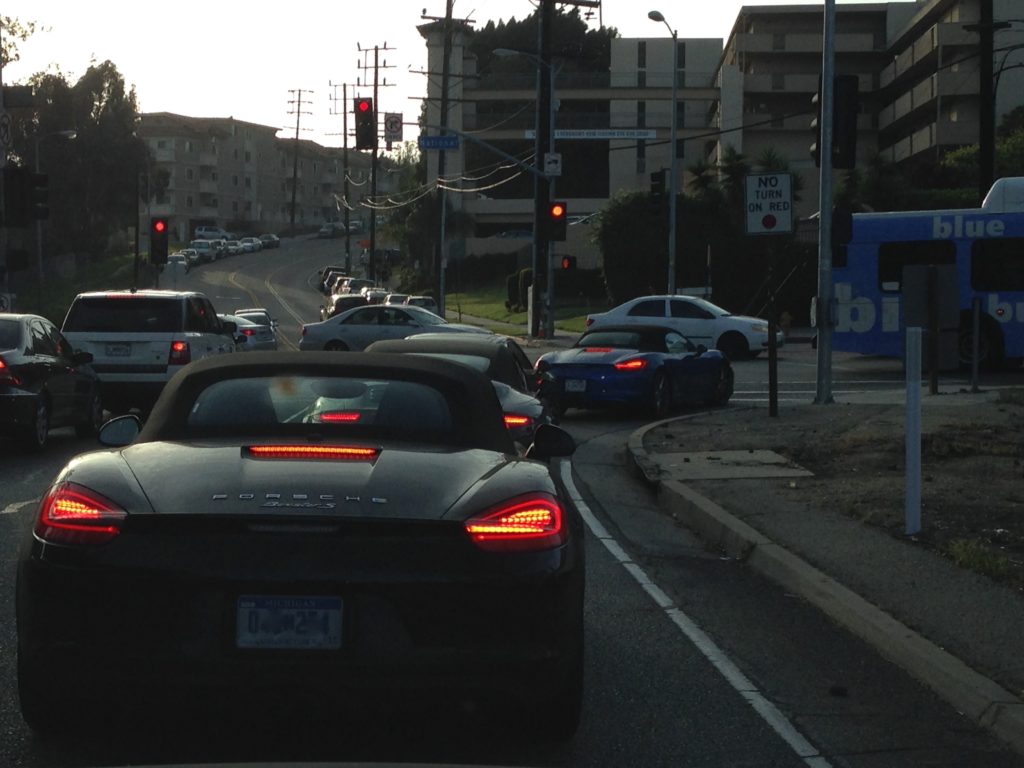 This was a caravan, a pupu platter of Porsche magic, doing its best to stick together despite the angst-inducing traffic madness that's standard issue on a LA Friday afternoon. And each and every one had Michigan plates. This meant one thing– this is not a club, not a coincidence, not even a unicorn.  These, my excellent friends, were real, live PORSCHE TEST DRIVERS. As my stalking kicked in to overdrive, I followed them to the Vons parking lot for an interrogation interview.
There, in the warm glow of a Panda Express sign, my bubble was officially & unceremoniously burst. First of all, they were at Vons not to meet up for a coffee with Jay Leno or for a 30 second tire change, but they were there for the public bathroom. And while they were happy to talk, they didn't have much to report (except for the guy driving the manual, who had some serious blisters), these guys are hired by the Germans to drive in "real conditions" (like Friday traffic) and the onboard computers do the rest.  So sad! It was like Jimmy Hendrix coming back from the dead and telling you it was all Guitar Hero!
Despite the letdown, I went home feeling great.  For where else in the world does all of excitement happen?  Ever? Not to mention in the span of a 1 hour drive.  Sure, I had another 40 minutes sitting in bumper to bumper until I'd be home, but I did so with a sh*t-eating grin, because this kind of stuff only happens in one place– Only In LA.