Car Sharing.
Van Pooling.
These are not Los Angeles words.  We are drivers. We are owners. We are the fierce fighters of the 405. The warriors of the 101.  The badass battlers of the 5, 605, 105 and whatever other 5 freeway is out there.  We got this. We can handle it. We'll leave that wacky car sharing stuff to you urban dwellers who live in places where cars are optional. Here, it's our heart beat.
But what if we were to rethink it all? What if car sharing didn't mean giving up your independence or riding in the backseat of someone's smelly Honda Civic with a bedazzled Kleenex box and bead covered seats? What if the vanpool didn't include piling into a non-descript white van for a humiliating trek with co-workers? What if it could all be cool? And what if, in doing so, you could do something great for the environment?
Enter Green Commuter, a female minority owned start up here in the City of Angels.  They're here to make us rethink how this could all go down and to get our attention, they've made their fleet entirely out of Tesla Model Xs.  (Actually, it's the only all-electric 7 seater out there with impressive range, so that narrowed it right down.) You know the Model X, that new Tesla that you've been dying to drive? The one that looks like a space ship with the falcon wing doors that make you go "oooh", yeah that one.
Using Green Commuter's new riding sharing program, you could drive your way to grandma's house, a Vegas weekend with the girls or boogie down to San Diego in this beautiful car without all the stress. No extra mileage on your vehicle, no money wasted on gas & no need to wait in the line from hell at LAX.  After spending 12 hours on the road during Thanksgiving, I decided to take a different approach on a recent trip to La Jolla.  I took Green Commuter up on their offer to try their service.  Here's what I learned:
Superchargers are everywhere. I thought they were still elusive. I thought it would be a private club where I had to reveal a black Amex and an engaging stock portfolio to park. But I just bellied up to the plug and watched her drink it up, without spending a dime. Even weirder, the other Tesla drivers were incredibly nice.
It feels good to sit in traffic in a Model X. Ok, it felt a lot better. When you're in traffic in a gas guzzling suv and you're a horsepower crazed, petrol-loving gear head, you still feel kinda guilty. Even the warm comfort of heated seats and a leather wrapped interior sometimes isn't enough to dull the pain. But if your car has no emissions and is barely using any energy to idle, it hurts a hell of a lot less.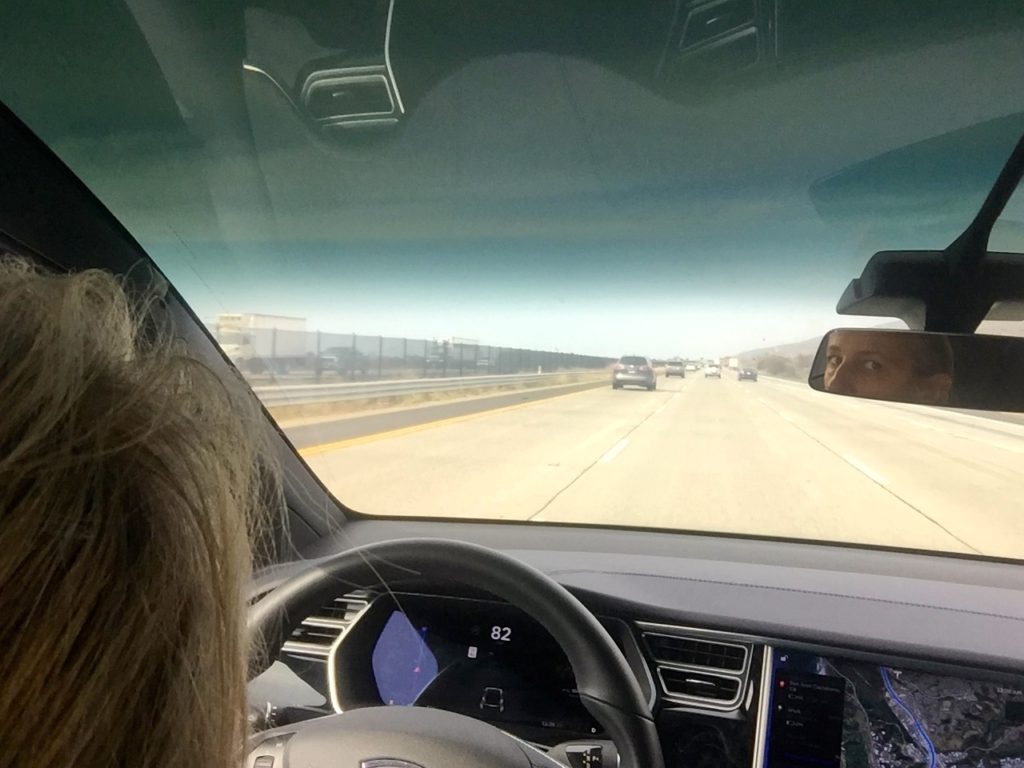 Handing them the keys felt even better. Guess who doesn't have to insure that fancy Elon Musk mobile? Guess who's in charge of that big fat car payment? Not this Mama, thank you very much.
People stared. And I liked it. I drive a lot of fancy cars. I pound the pavements in things that are still considered 'prototypes'.  But rarely have I driven anything that induced so much parking lot banter as a Model X. It was incredible: W"hat's Green Commuter?" "Do you like that car?" "How about those doors?" "Can I drive it?" was the refrain and it was fun to feel like a trailblazer.
So this Angelino gets it. This Angelino thinks it's cool.  This Angelino would be delighted to take advantage of this program when it launches in January. I wanna be a responsible citizen of the Earth! I want to save the environment! Oh and I wanna drive that car again without having to own it.
Check out Green Commuter's site, where you can find all the details about ride sharing, van pooling & investment opportunities: www.greencommuter.org
When you do use it, please let Mama know!