I have a joke with one of my friends that my Out Of Office reply should be "If you're looking for an affordable car, just buy the Kia Soul. You're welcome." I swear. It's the easiest car to recommend. It's cute, it's practical, it's efficient and the value is undeniable. But guess what? It's not perfect. Guess who else figured that out? Our friends at Nissan. So they brought this CUV, the Kicks, to the US to crush it:
Already big overseas, the Kicks is a doozy.  It's got crazy great gas mileage: 31 mpg city, 36 mpg highway and 33 mpg combined. Standard on all trims is Automatic Emergency Braking, seven air bags and the RearView Monitor. Go up one trim and you get Apple CarPlay & Android Auto. It has generous front leg room and a sweet 60/40 split in the back, making all of your Costco dreams come true.
I recently experienced the Kicks first hand in San Diego just ahead of its North American release. Let's get real before we start talking about the driving experience. I'm not exactly an affordable car enthusiast. I'd prefer you to sell a kidney or two so that we both can experience the thrill of a V12 or the glory of 1,000 pound feet of torque. Does that make me a bad person? Probably. Boo hoo.
So when I say that the Kicks puts out 125 horsepower and 115 lb ft of torque, I would usually accompany that with a dramatic eye roll. But seriously, this thing is shockingly fun to drive, especially at this price point. If I could've added a bit of torque, I would've, but the average driver won't ever notice. They don't have that burning desire to smoke the Tesla at the stop light like I do, because I'm a child.
During my drive, I also spent a lot of time in the backseat. Why? Well, it was officially my first three-way: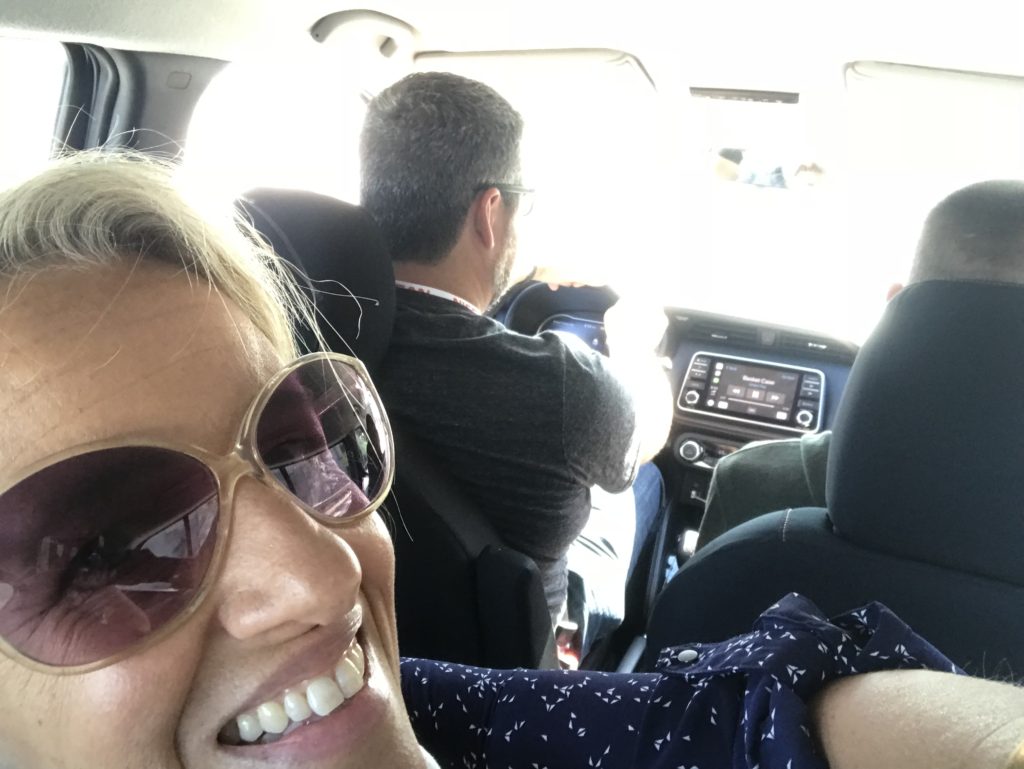 Yes, there were three of us sharing the drive. I dunno what you were thinking.. jeez!  And you know what? It was pretty great. The three way? No, the backseat! It was bigger than I thought (man, the dirty jokes write themselves), I was surprisingly comfortable (oh no) and I didn't even get nauseous as I tend to do (I mean, seriously!).
But here's where it gets really exciting. The upper trims of the Kicks (which by the way, max out at $23k) feature this wonderful sound system by Bose. The Personal Plus System features complete flexibility and speakers built into the driver's headrest! Why? Because wearing your headphones while driving is dumb and dangerous. But rocking this system with three of your recently acquired besties is a blast!
So why do I have the audacity to think that this will outsell the pious Kia Soul? One word: ride height. Dammit! That's two words. But you get my drift. None of us want to be sandwiched between the dbag in the Escalade and the wanker in the Range Rover, but chances are, we will be. And if one of them t-bones you and you're riding low..you're dead. Raise your vehicle up a few inches and not only can you see what's happening in traffic, your chances of surviving their bad choices escalate heavily.
Add to this fact the increased MPG, the great looks, the technology and the color options for the Kicks and the message is clear..Nissan means business!
So what's the downside to this CUV? Well:
*automatic braking isn't available in reverse
*AWD isn't an option (but do you really need it?)
*Apple CarPlay & Android Auto aren't available in the base trim (so go up a trim, you cheapo)
*the leg and headroom are impressive, but in terms of width you may need to cut the carbs (so it has a free Kicks diet plan- hooray!)
Let's not forget, this vehicle starts at $17,990. So if you don't get everything you want in the base model– suck it up, the bang for the buck here is truly impressive. But can the Nissan Kicks outsell the reigning king in this category, the Kia Soul? Let's just say that I'm changing my Out Of Office reply..