Why would I, Motorhead Mama, car snob and carpool drag racer, want to review a truck? Well, my husband is an insufferable truck dude and thus I've always had a pickup in my driveway, one way or another. And secretly, I dig them. There's no quicker way to go from feeling sad to superior than climbing into a cab and perching yourself above traffic in something that could easily drive over a Prius. (& we both know that crosses my mind..a lot) Enter the 2017 Nissan TITAN Platinum Reserve Trim 4WD CC with a 5.6L Endurance V8: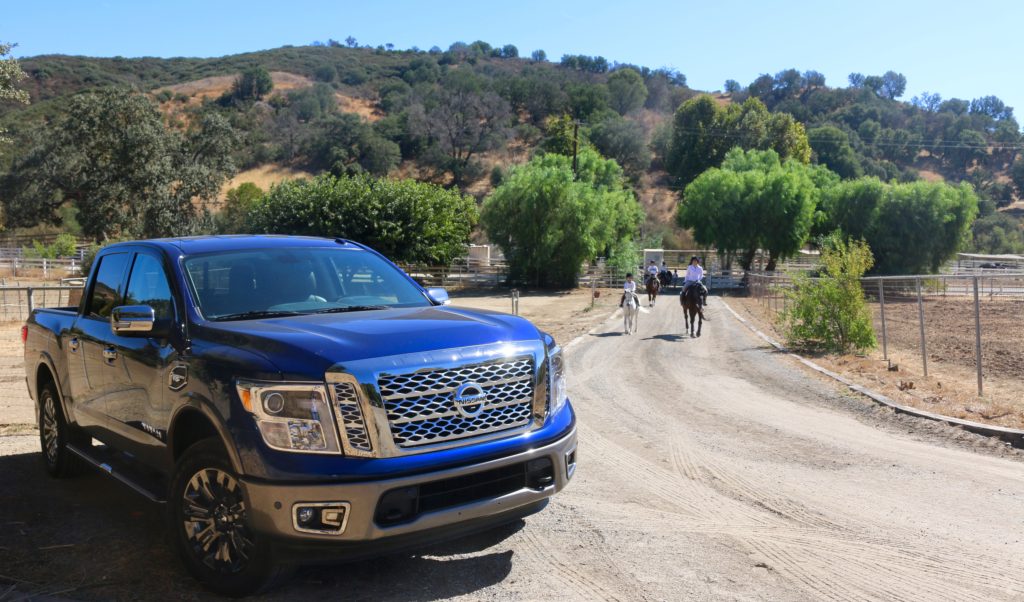 Fresh off the heels of its #NoLazyHorses campaign, I thought the right place to start would be a trip to the barn.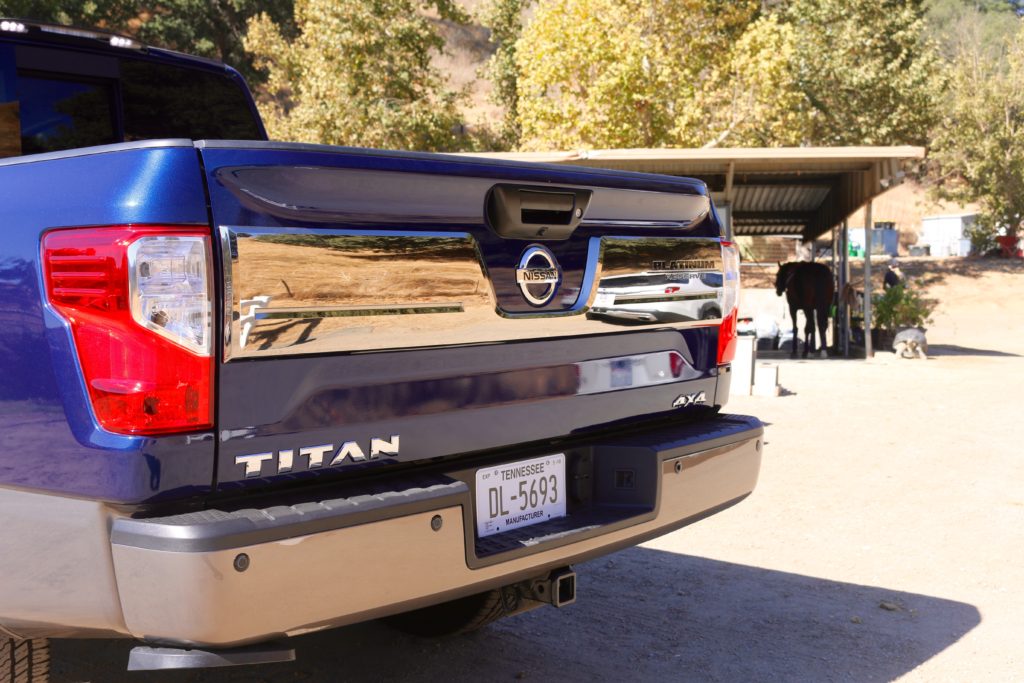 Ava's horse, Woody, was less than pleased about the lazy horses reference:
Sorry Woody, but this isn't about you.  It's about what you can do with the TITAN. Like go to Home Depot and tackle that gardening project I've been postponing: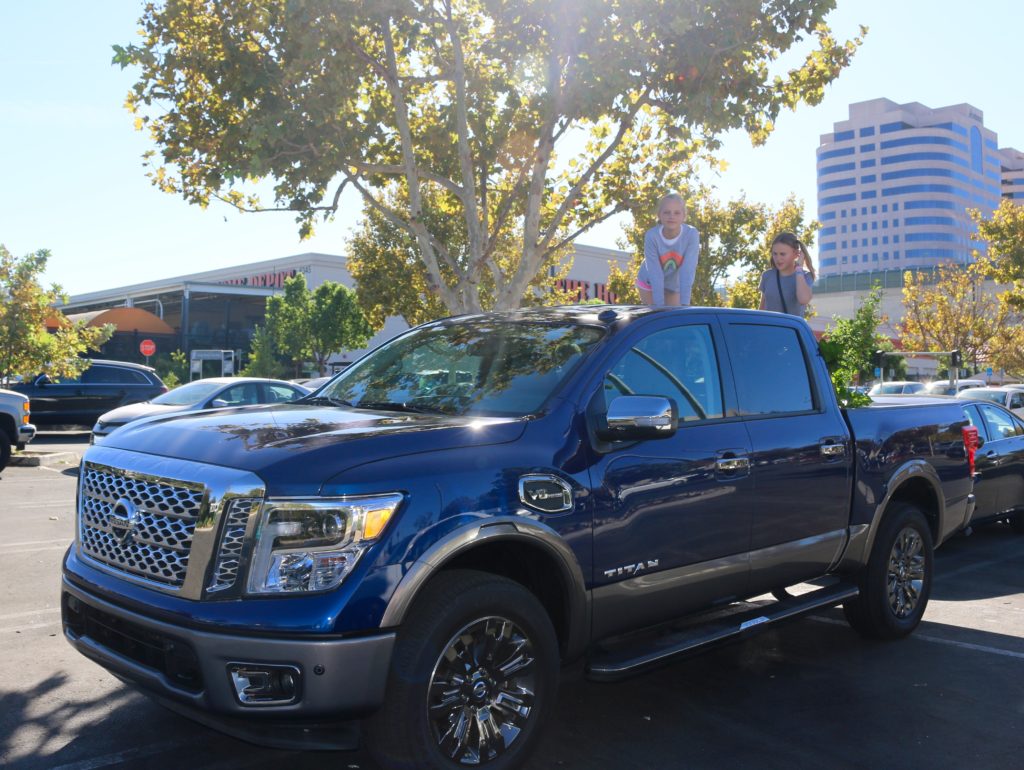 With a factory-applied bed liner & 4 adjustable tie down cleats, this short bed was perfectly equipped to handle our project. Even better, thanks to the bed's side step, the Freya & her cousin Mille happily took over loading the TITAN while me and my aching back explored the seat warmers.
The interior of the TITAN is dangerously lovable. The minute my 14 year old daughter sat in the front seat she said, "This is really nice! I'd drive it." (Oh great a pony and a truck, just what your college fund needs.) Even worse, the husband got in and declared, "Damn, this is pimp."  The fact is, they're both right– the wood trim is beautiful, the seats are generous and comfortable, but it's the overall roominess that makes it feel so great. I even had space for both of my in laws, two kids and a dog (note: no blood was shed in the making of this post).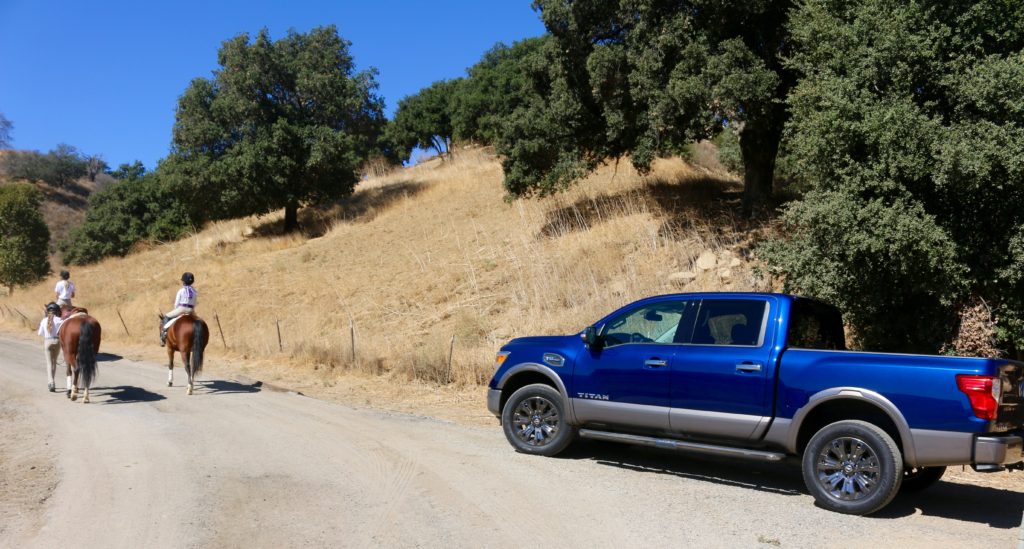 What was surprising to me was how easy it was to park the TITAN. Oh go ahead, think those thoughts you're having about a small blonde woman not being able to park an enormous vehicle. You may be right IN SOME CASES. But not this Mama!  I cruised into Trader Joe's and didn't even need the parking attendant's patronizing guidance to help me in our out. Who's the Fearless Flyer now?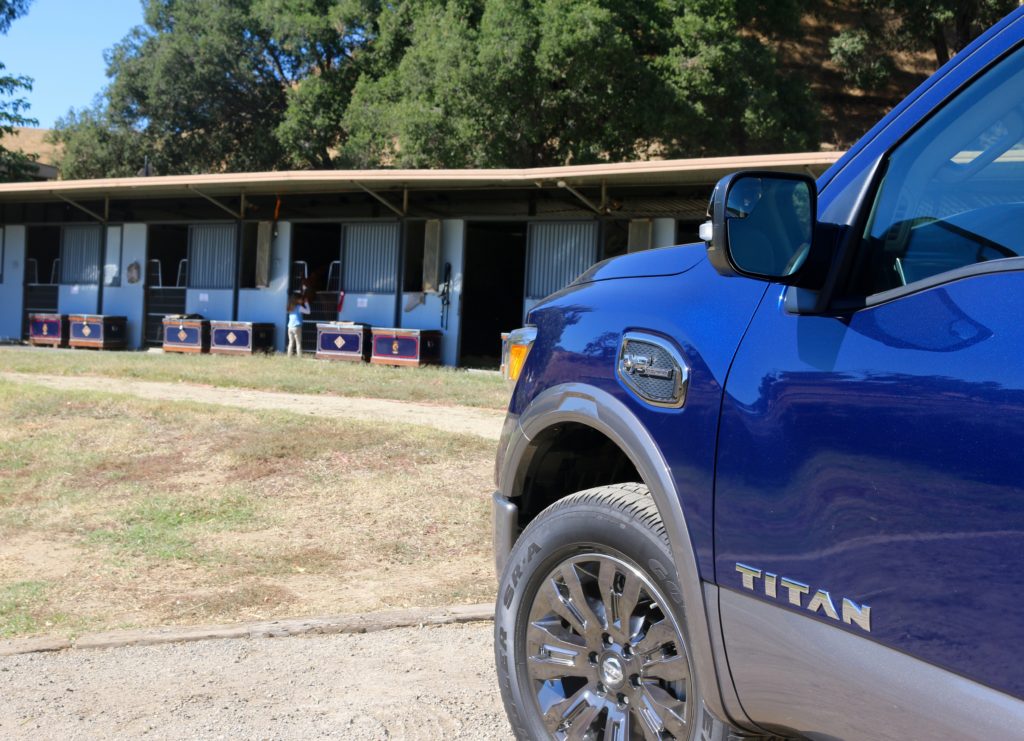 The next challenge: highway driving. Here my expectations were particularly low. I had a field trip to Orange County, which if you live in LA you know is roughly a 72 mile, 2-hour-that-turns-into-5-hour adventure. But the TITAN handled it like a boss. With excellent visibility, blind spot detection & all of that room, I was surprisingly content.
Back home, I took advantage of that bed again by heading to the beach–complete with 5 surfboards, lunch for 8 and 6 sandy, smelly wetsuits that kept their distance. So what's not to love about the TITAN? Not much, honestly. I am a huge fan of the XD version of this truck (Gunner and I took it on an off-road course last year), which is even more badass. But, let's face it, most of us want a truck so we can bring our projects, our dogs, our gear, our kids and even our in laws with us as we do fun stuff. With the TITAN– you can, even if you're a blonde chic with a lazy horse.