It's 4:30am and I'm fondling the snooze button wondering if it's all really worth the effort. Do I really want to wake up before dawn for a 2.5 hour drive through the desert? Is the promise of automotive nirvana worth the sleep depravation and possible caffeine overdose that lays ahead? For a seasoned Angelino like myself, there is only one way to decide–by checking my horoscope. And when Susan Miller tells me to get my ass outta bed, I do exactly that. So I hit the road.
Cut to a few hours later and according to the GPS we're almost at our destination. I start to panic. It's barely light and all I can see for miles is dust, stray dogs and some pretty dodgy meth shacks (at least in LA, our meth shacks have Porsches in front). Visions of my friend chopping me into pieces and eating me with fava beans dance through my head. Then, like a mirage in the distance, I see a brand spanking new sign with one of my favorite acronyms:


A few minutes later, after jumping through some security hoops, we're past the gates and on our way down the elegant entrance. We have arrived at BMW's M Track Days 2014. To understand the significance of this, perhaps I can create some parallel imagery. If you're a shopper, imagine if Nordstrom's invites you to a private shopping event with a fully loaded black Amex and buyers on hand pointing you to the greatest finds. Or, if you're a stoner, imagine if the State of California calls upon you to test out the latest weed– they really need to know which is the strongest– so they toss you on a beach with a bong, a bean bag, some Mountain Dew and an unlimited supply of Doritos, imploring you to smoke as much as possible. This, my excellent friends, is what it's like for Mama at The Thermal Club.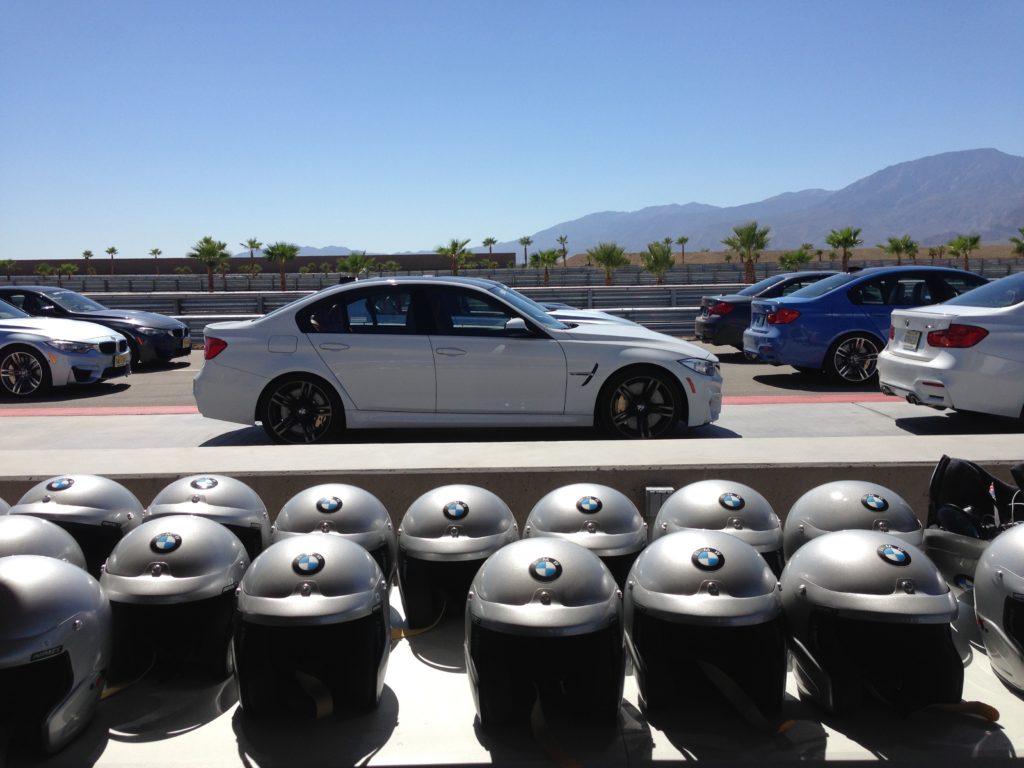 I spent the day driving the new M3, M4, M5 and M6 Grand Coupe of various hard top and convertible varieties. We zoomed around the track, were timed on an autocross course, and drag raced. OMG– it was like my Greased Lighting and Cannonball Run fantasies all coming true in one place! Plus, my day was punctuated by two of my favorite smells– burning rubber and smoking brakes! I know what you're thinking– it was a total boy-fest and non-gearheads need not apply. However that really wasn't the case. There were plenty of women (of the non-bimbo variety) working and driving that day and everyone was as nice and approachable as they could be, especially considering they were deep fried by the Coachella valley sun. They kept asking me: "Are you having fun?" "Have you driven enough?" "Do you want to drive another car?" Do I want to drive another car? Are you kidding me? That's like asking Keith Richards if he'd like another smoke, Nicole Kidman if she'd like another shot of Botox, Liam Neeson if he'd like another action movie– HELL YEAH I DO!
But just so you don't think I'm being paid to write this (cuz I'm not), I'll let you in on the bad news. First of all, one of the events was incredibly boring. One of my fellow drivers affectionately called it the "Legoland Course" because once you've gone around a track in someone else's M3 hitting speeds of roughly 130, dodging a few cones pretending you're late for work is about as exciting as…being late for work. And, since Thermal isn't exactly finished, Mama had to rock the Port-A-Pottys. And that's about as sexy as changing your own diaper. Oh and the only time we were offered booze was at the end of the day. Boo hoo. Other than that, like I said, it was heaven. And if you're not convinced, here's just 13 seconds out of my 8 hour day:
I can't wait to go back and next time, I'm bringing a band of Motorheads. So hit me up if you wanna join and I'll cue the Doritos and sugary drinks.