Just to be clear, I can be bought. You want car advice? Buy me a beer. Looking for a place to stay in LA? Take me to a fancy dinner. So when Volvo offered to send me to Spain to drive the new XC90, I said 'Hell Yeah'!  The joke is I would've driven it anyway, because I'm rooting for Volvo and its pending comeback (see Dear Volvo, You're A Punk Ass Bitch).
A little background: from 2008 until 2010, Volvo was owned by Ford (cue sad music). But then, in 2010, Volvo was bought by Chinese car company Geely (dramatic interlude). At that time, Geely vowed to invest $11 billion into this struggling brand and, in the process, ensure it got its Swede back (cue ABBA). But after the Ford disaster, many of us were skeptical. This XC90 is the first vehicle created entirely under the new management, so the pressure is on.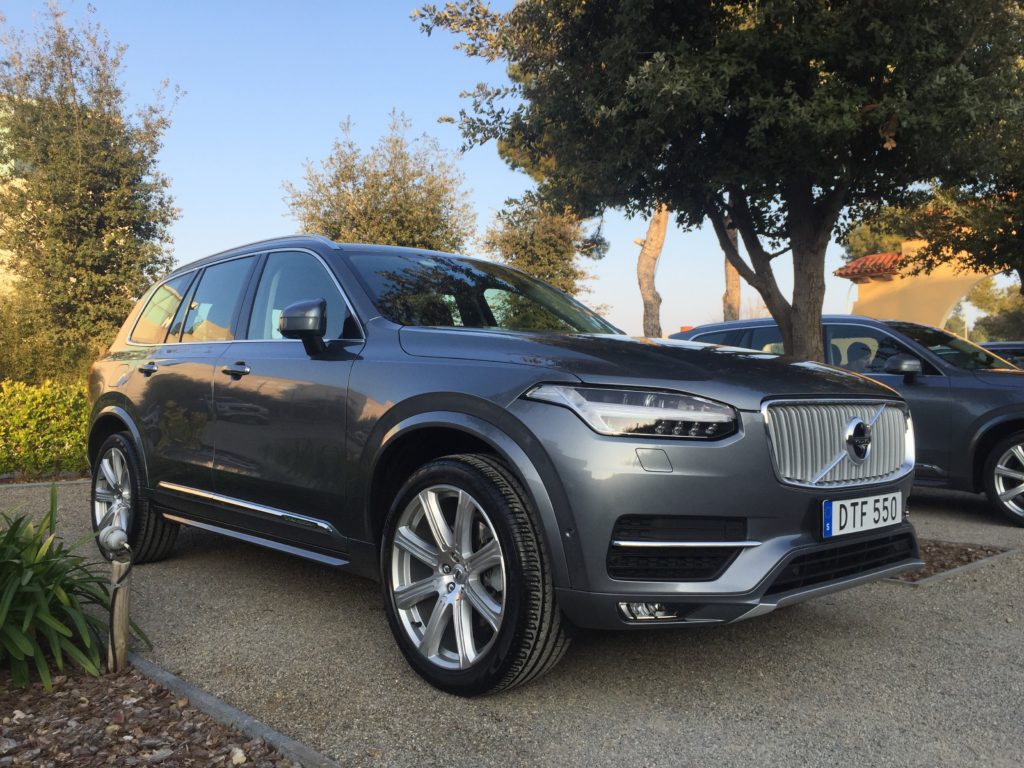 On the surface, it all looks good. The new Volvo XC90 T8 has a crystal gear shift by Swedish company Orrefers (pretty!), the car has beautiful clean lines in the Scando tradition (fancy!), and there's even a little Swedish flag sewn into the leather (cute!). There's a big tablet sized center display, not unlike the one in the Tesla Model S. And the seats are incredibly comfortable and luxurious in a distinctly non-Volvo way.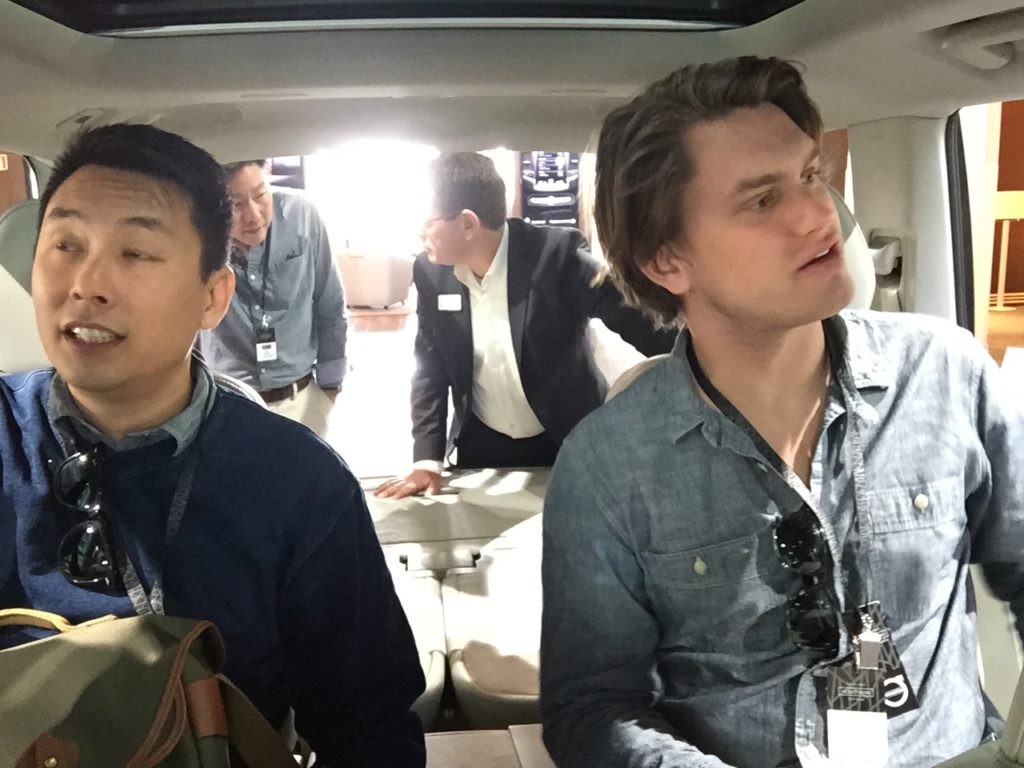 (real, live, grown ups in the back seat.  3 row goes flat nicely too)
Then came the real nail biter, the drive. I wanted to love it but hey, I drive a super fancy, high performance German asphalt muncher that makes kids in my carpool scream "please don't push the M button!". And you can wine and dine me, fly me wherever you want, but I know what I like and what I don't. I hated the Porsche Macan and didn't expect much more from this either. But I was wrong (cherish this people, cuz I don't say it often). This thing was sweet. First I drove the T6 which is the 4 cyclinder turbo-charged & super-charged engine with about 316 hp. And it drove really well, it was comfy, beautiful and felt much larger than it is. Its third row was one of the best I've seen.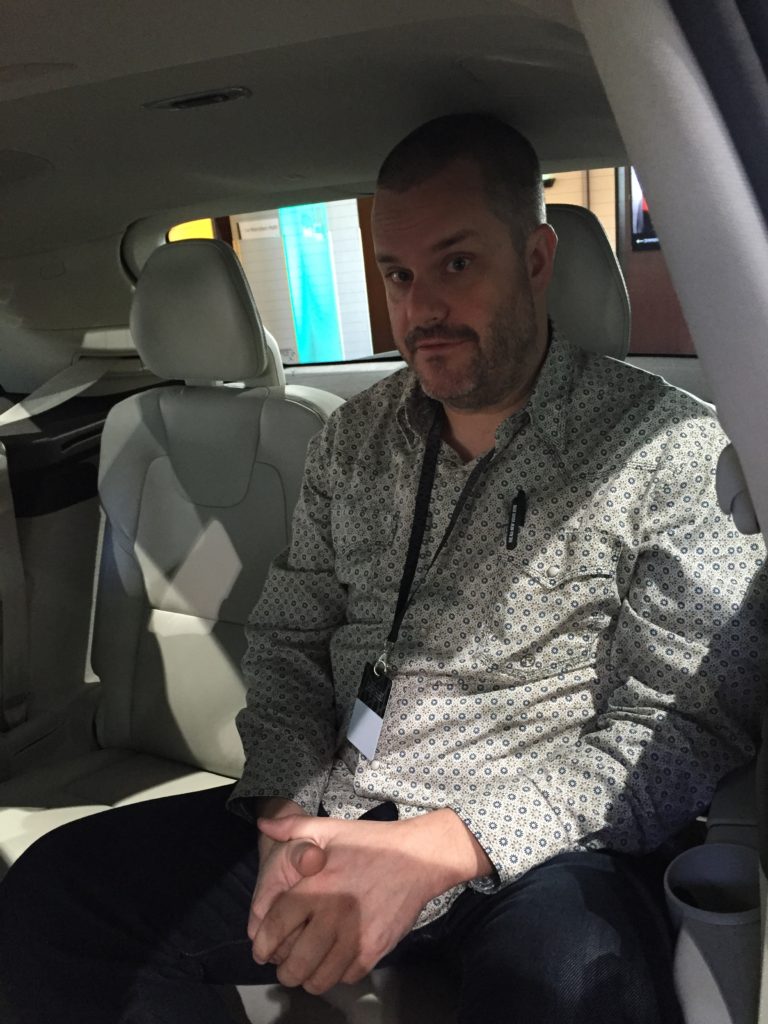 (my buddy Josh was bad, so we put him in the way back. We didn't count on the way back being so pimp)
Then came the T8. My oh my. Both cars are all wheel drive, 4 cylinder and 7 seat standard. But this T8 has the hybrid electric motor with 400 horse and about 472 pounds of torque and gets 58 mpe (yeah, that's a plug in-hybrid 7 seater, people). So when Mama needed to avoid the Spanish fuzz, the electric motor kicked in with a delicious whizzing sound not unlike the Tesla & the Porsche Cayenne hybrid. And when I breezed off the highway and gunned it through the exit ramp, there was very little roll (which drove me nuts in the last gen Volvo XC90), it gripped like a boss. Although I do think I made my co-pilot car sick or at least a little soggy in the undies, sorry Greg! When comparing it to other  SUVs I kept thinking, I wish the steering was tighter. Then my genius co-pilot suggested I put it in "sport mode'– damn his soggy/smarty pants. And when I did, visions of pay-off quotes danced in my head. This thing is the real deal. It can compete with the x5, the Q7 and dare I say the Cayenne? Yes I do.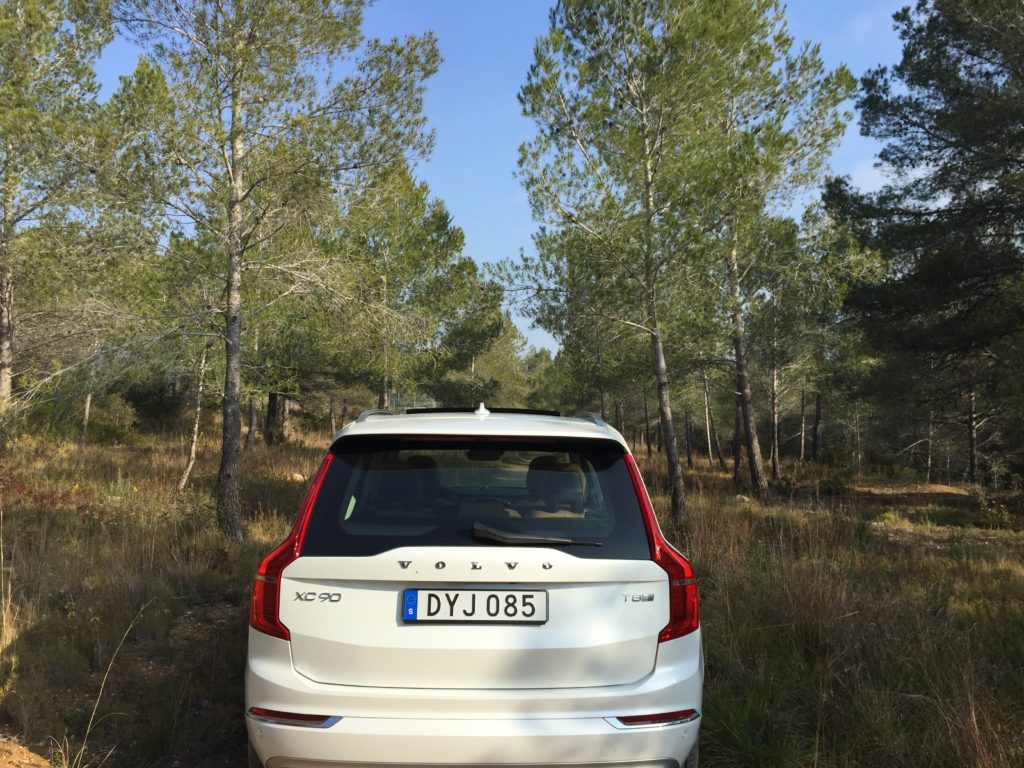 (I may or may not have taken my test car off the road a bit.)
Price? Volvo's pricing structure is nice because most things are standard. The T6 has 3 levels that range between $49k-$54k. But the T8 (the plug in hybrid) hasn't been priced yet. But assuming it doesn't creep into the the high 60s, it's going to be a tough act to beat. It should also be noted that both models have semi-autonomous functions that would be headlines in any other story, but all you need to know is– it'll drive for you in traffic.  You can read more about from someone smarter than me here.  It's also got safety functions up the wazoo (go read all of that in a real car review like this one). And in a distinctly Volvo-like move, the battery is located in the vehicle's center, because who wants to fix an electric motor in the event of a crash.  Even Elon didn't think of that.
Anyway, the point is, this is the suv many of us have been waiting for.  And save a few annoyances (the stop/start button was in a weird location, I had nowhere intuitive to put my phone, and I couldn't drive the R design model yet, wah!), the XC90 is going to deserve your attention come fall.