Test Drivepalooza: Fast, Dirty & Topless In Malibu
Of all of the terrible, awful, very bad things I am FORCED to do as Motorhead Mama, perhaps the worst of them all is being forced to participate in the annual Droptops & Dirt in Malibu, CA.  This event, produced by the Motor Press Guild, features automakers' latest and greatest off-road and convertible vehicles. Hosted at the Calamigos Ranch, this is a grueling day of back-to-back test drives. This year was particularly bad.
I started the day with the 2018 Mercedes S560 Cabriolet. Why? Because, I'm still a girl and it was too pretty to pass up. That's why.
But don't be fooled, this 4.0L V8 BiTurbo is a beast– producing 463 hp & 516 lb ft of torque. As expected, the handling was glorious and deceptively comfortable– I may or may not have broken a few laws that morning (who needs caffeine when you have horsepower). My favorite part of the Mercedes performance cars may seem odd–but it's the adaptive side bolsters– if you are small person and like to get on the gas through the curves, you roll– a lot. But the adaptive side bolsters hug your sides as you lean, saving your focus and your back.  And then there's the insane "designo" Bengal Red/Black Leather upholstery. Is it over the top? Yup. Does it cost 3 grand? You bet it does. But a new Birkin bag will cost you over $12k,  and it doesn't hug you while you drive. So there! Delish. With a sticker of $155k, it's no bargain, but in a world of luxury convertibles, this one is worth every penny.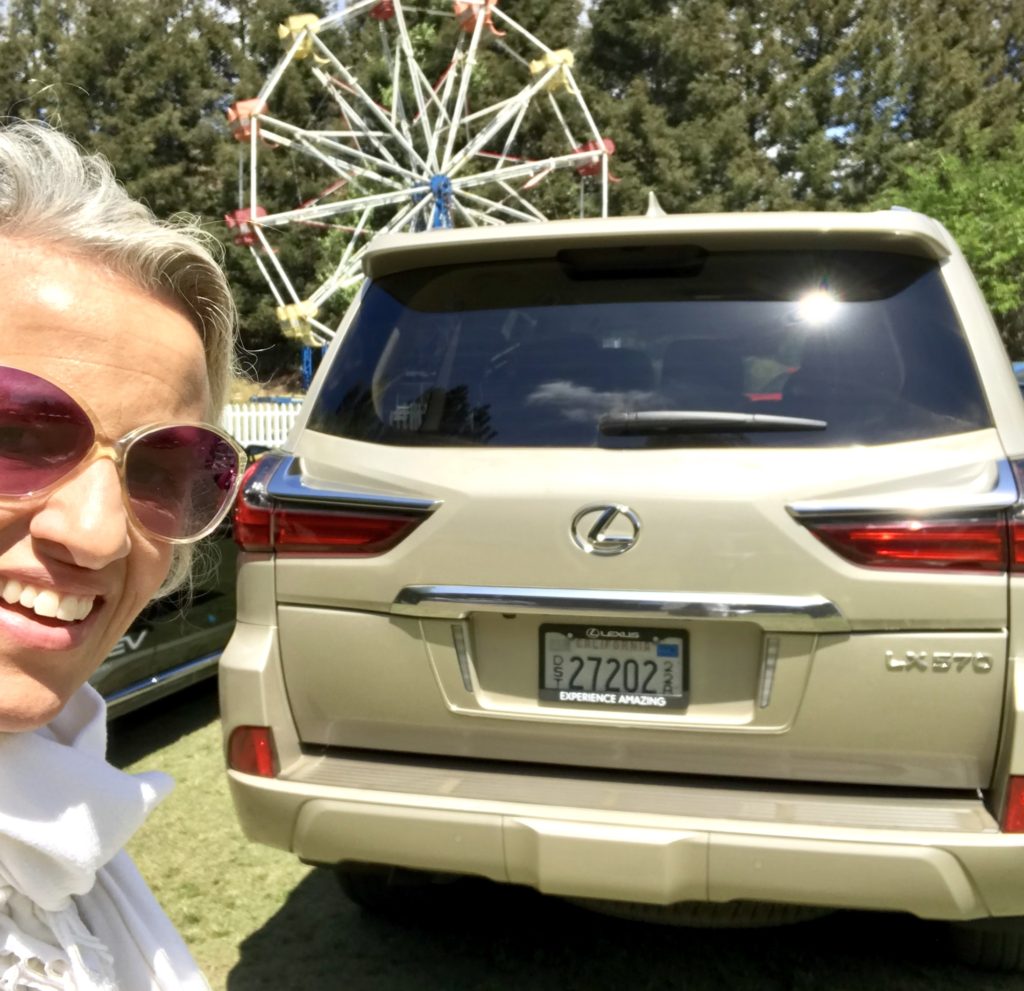 Next up: time to get dirty. I took this gorgeous Lexus LX 570 on the off road course. Why? Well first, because I can. Duh. But second, many of you ask me to recommend a luxury SUV with a third row. More often than not, the husband then jumps into the conversation to say, "I wanna go off road!" "We wanna go to the snow!" Then the wife rolls her eyes and says, "I just need to get my kid to soccer practice and I don't want a truck." Well, consider this the perfect save-your-marriage vehicle. I drove it off road while putting on lip gloss and talking to my friend in the passenger seat.  It is a much improved since the last generation, yet the price has been lowered by $6k. Don't ask me how that happens. Just drive it.
Then I took the new Range Rover Velar for a spin.  So many of you have asked about this car and while this was a short test drive, I can say it was impressive. The interior is particularly lovely. But I have to tell you about the crazy thing happened while I was taking this photo: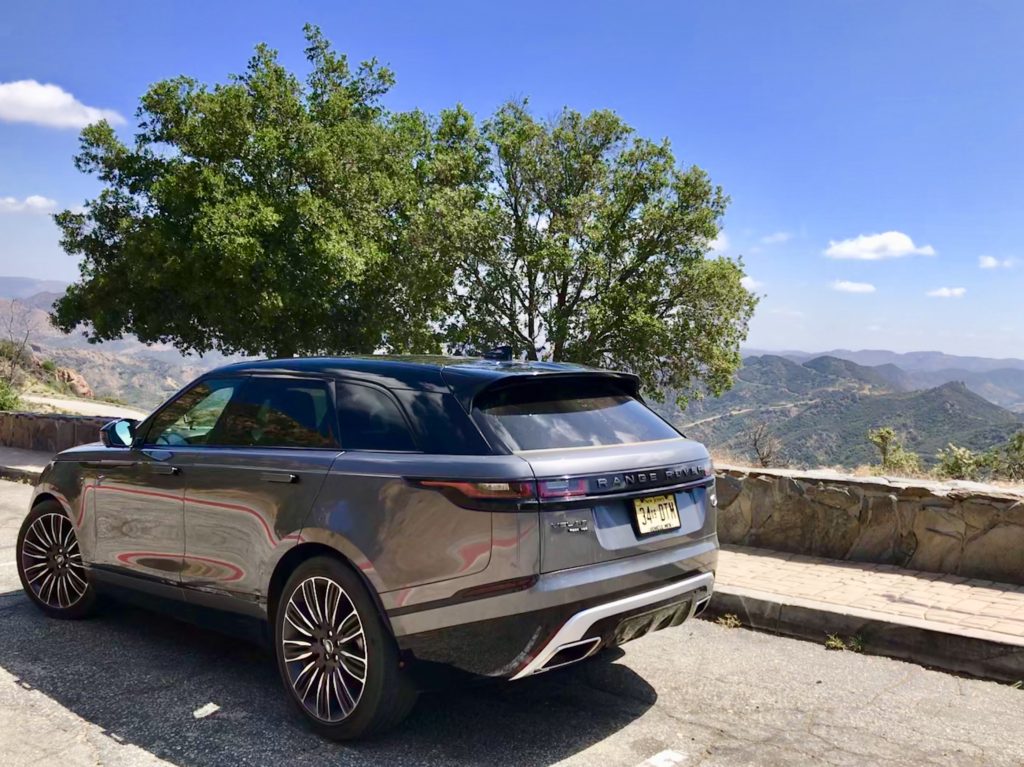 A guy in a clearly rented yellow convertible Mustang parked nearby yells, "Hey mate, how'd ya like the car?"  He proceeds to introduce himself and it turns out that he's:
a) visiting from England
b) works at Land Rover
and
c) you guessed it..he worked on the Velar!
So thanks to the luck of Mulholland, I spent the next 10 minutes talking to this lovely young dude about the lines, reflections and color cues in the Velar. It was magnificent! Even more impressive was this guy's commitment and passion to his job: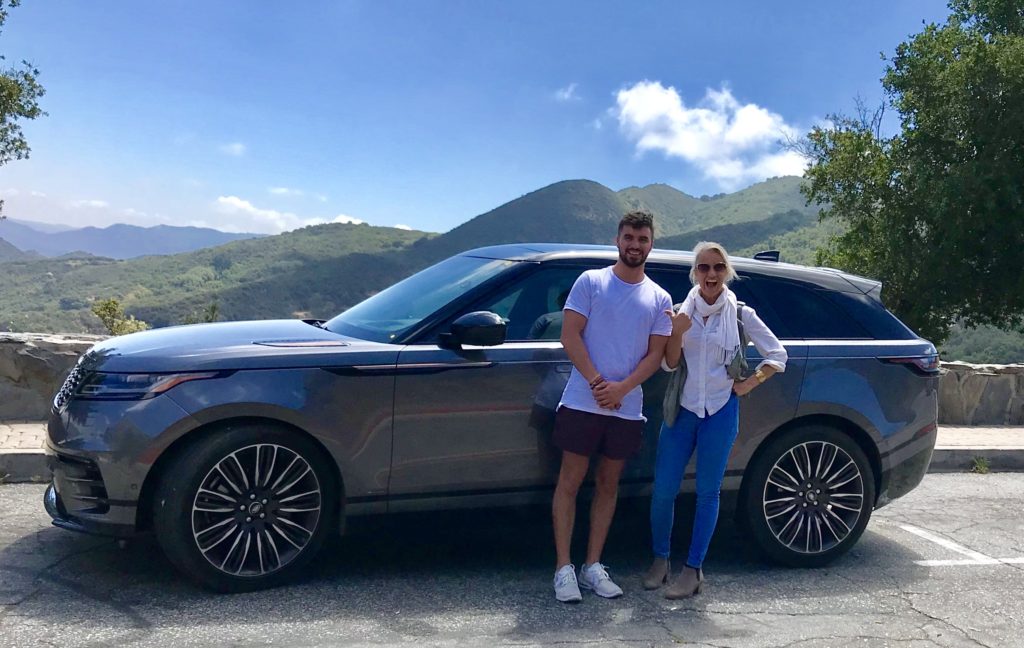 So here's to Alex and my incredible luck! Cheers, mate– I hope the drive through Hollywood and onto SF was fab.
Then I swapped the English elegance for 'Merican mojo.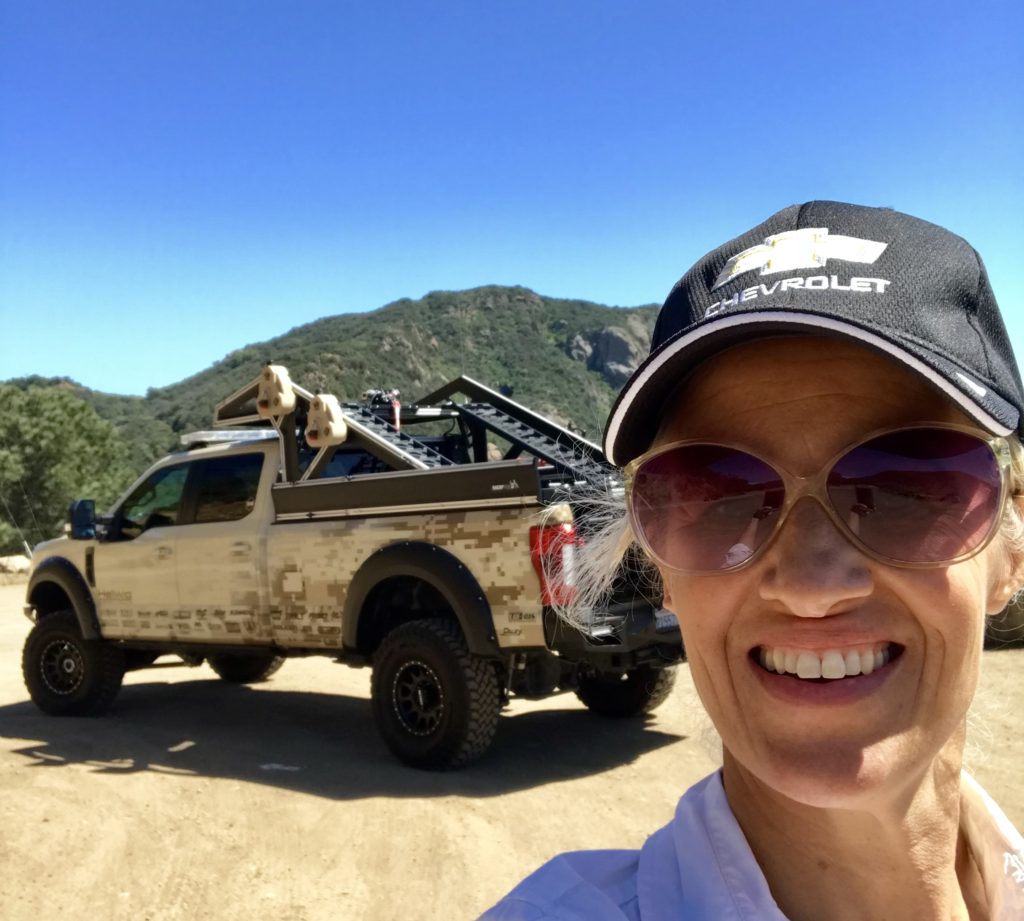 This, my friends, is The Operator– a specialty vehicle by the good people at Hellwig Products. Starting with a Ford F350 (I clearly wore the wrong hat 😯), this truck with the beast of a 6.7-liter Powerstroke V-8 turbo diesel engine. But then Hellwig adds a potpourri of off-road madness including the MagnaFlow exhaust, Hellwig Big Wig sway bars & air springs. Then they add 4 1/2 inches to the height with a suspension kit. Wondering what that ramp is doing? It's for loading your ATV, silly! To be honest, the Operator was roughly 300x more fun to drive than I thought (especially because it had a loud speaker and flashing lights– school pickup, here I come!) I'll post a video on my YouTube channel shortly.
Finally, I decided to end the day by burning off some carbon with the highly anticipated Honda Civic Type R Touring.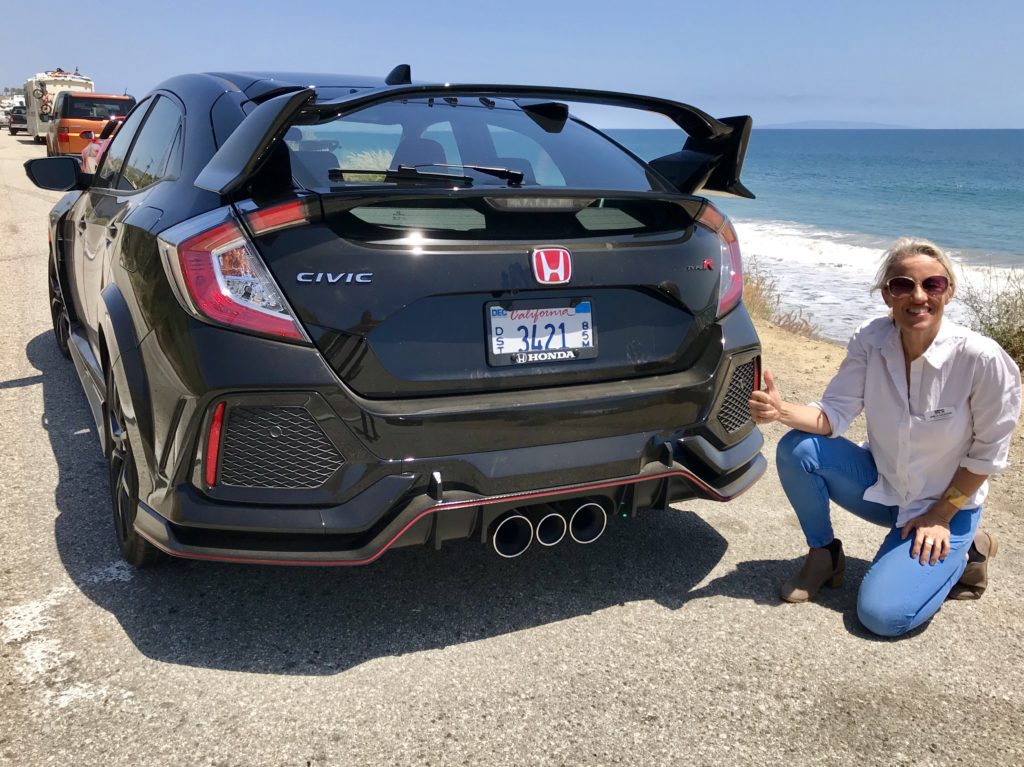 What's that? You don't like the wing? And the triple exhaust upsets you? Oh right, it's too "boy racer" for you? Sure. Fine. But how about the fact that this 306 hp, manual transmissioned joy factory holds the FWD Nurburgring record for fastest lap time? Oh and did I mention that the one I drove is $34.7k out the door? To say it was fun to drive really isn't fair to fun. It was a blast. Plus, it is tuned beautifully, making it an exceptional daily driver– something I can't say about the Ford Focus RS or even a BMW M3.  It's the fastest Honda ever sold in the US and to me, certainly the most interesting.
So, overall, as you can tell by my sh*t-eating expression in these photos, it was a great day. That said, there were plenty of cars in attendance I wanted to drive but didn't– a McLaren 570S, the Acura NSX, the new Corvette Grand Sport, the Mitsubishi Outlander PHEV, the BMW 4 series convertible..the list goes on. But who am I to complain? It sure beats a cubicle! Big thanks to the automakers and to the MPG for this butt kicking event.