Listen people, there are days where it all sucks.  There are days when I sit in my little office, trying to get my head out of my ass long enough to write something interesting. There are days when the cat takes a crap on my bed and the kids have lice.  But then there are days when I drive the GT-R NISMO.
Now, if you're foolish enough to have read my stuff for a while, you know, Mama's kind of obsessed. My Dad was a Nissan/Datsun racing fan and would take me to the track to watch Newman and Bob Sharp.  And my brother has done some serious Z car tuning.  So I am no stranger to the magic of Nissan.
But that GT-R has always been elusive. First of all, you don't see them a lot in the US.  Second, its body style isn't miraculously different from the 370 body, so it's not screaming out for attention.  But if you've read my Nissan: The Rodney Dangerfield of Car Companies, you know, it's been on my driving bucket list for a while.
So when I went to the Maxima test drive and saw this 600-hp little devil staring at me in the corner, you bet Mama was gonna belly up and beg for a few laps.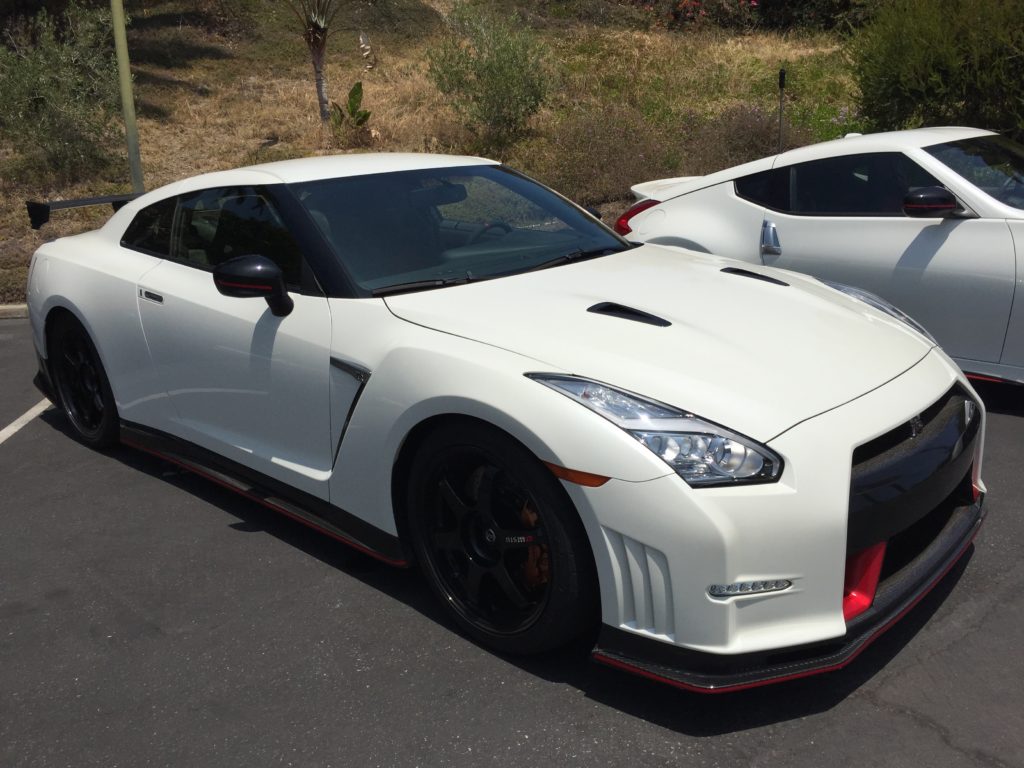 The Nissan guys, who of course think I'm crazy, (wisely) don't send me out there alone.  They put me in the  car with 'an engineer from their Tennessee HQ' (but I think he was a bodyguard because he could crack walnuts with his pinkies) and send us on our way. Now, keep in mind, this isn't just any Nissan GT-R, this is the NISMO version. NISMO is Nissan's tuning company, so that means rather than take it to some dude to buy all kinds of after market parts to make take this baby track ready, NISMO's done it for you.  Did I mention that it's the fastest GT-R ever?
The first thing you notice is that body kit: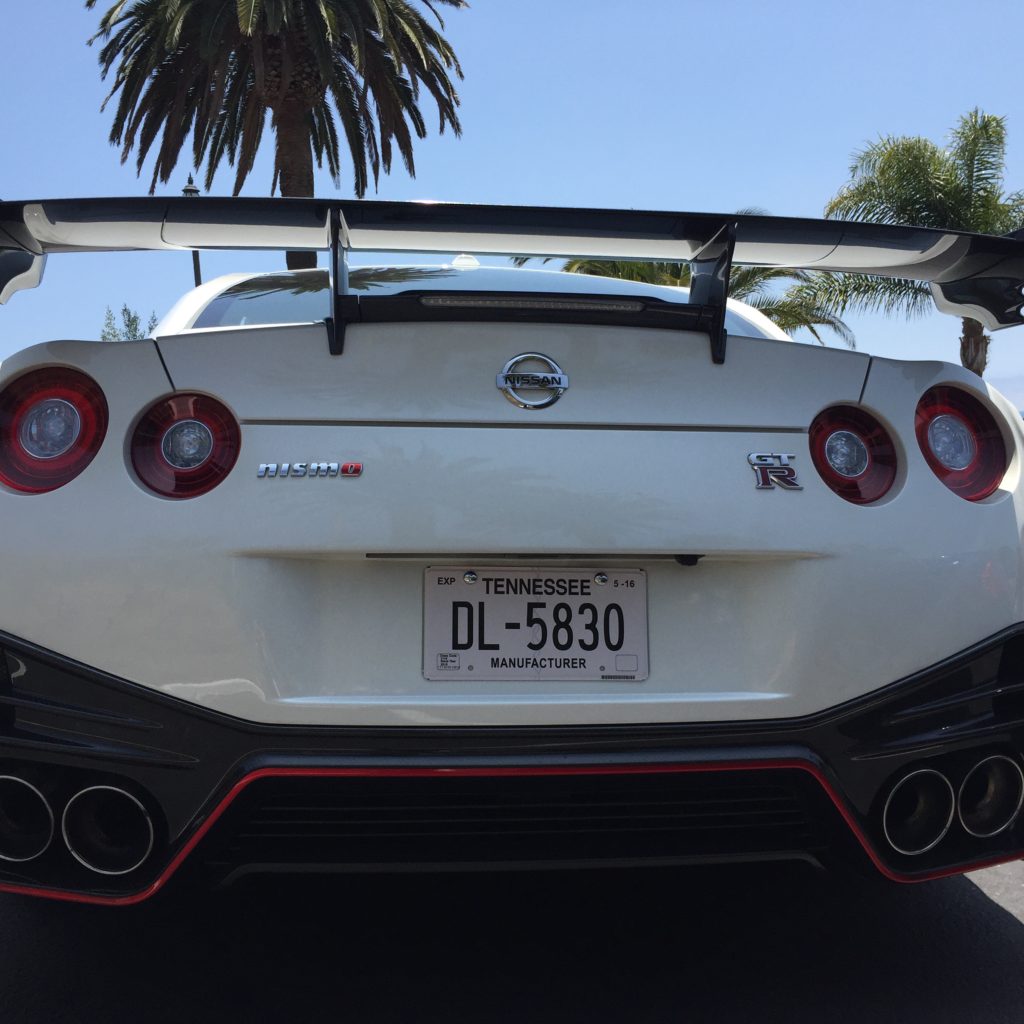 — the enormous, yet awesome carbon fiber wing, the carbon bumpers front and back, the red stripe.  It's beautifully scary.  Well, I noticed those bumpers too as I rolled out of the Bel Air Bay Club, leaving about 5 pounds of carbon fiber on the speed bumps. Yikes!  I kept moving like it was intentional (please don't kill me Mr. Bodyguard) and all a part of my normal test process– yes, durability– that's what I'm testing here. And we sped on to PCH.
Traffic of course, was awful. It was stop and go on PCH for miles until we turned onto Topanga Canyon. I could hear the twin-turbo whizzing and whining, like it was dying to be let loose. And I wanted nothing more. But between, a gardener's pickup, 1 cop and 300 Priuses, the road wasn't exactly mine.  The great news about this car is that it's not an asshole when you're stuck in traffic.  Many high performance cars (m cars do it a lot) are exhausting because if you have to drive it slow for long periods of time, it's like calming a racehorse.  It's exhausting and ultimately so irritating you envy the guy in the Prius (talk about a bad day). Then we turn onto Topanga and I let it loose a bit. A few turns approach and the All Wheel Drive kicks in. Fantastic.  This is a track car, so you really feel the road, which is weird because I drive that street every day and it's never felt like before.  And listen, I didn't break any land speed records,  but I may or may not have broken some CA speed limits and driven fast enough to break a sweat.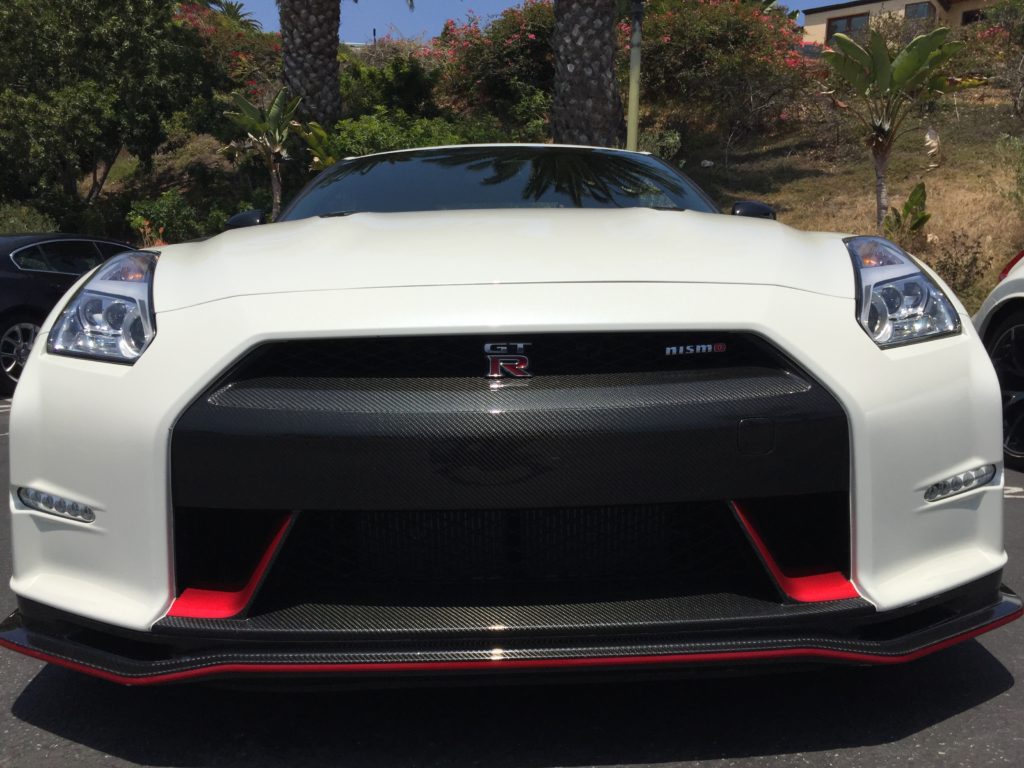 "So what's the verdict?" says my inbox when I get back home. My fellow 911 snobs are secretly wondering the age-old question "Is it worth $150k?"  I think back to how the 'engineer' told me that some Middle Eastern prince ordered 30 of these and I reply "maybe" while pondering the pros and cons of harem life.  Let me tell you, as a former 997 driver/lover I was impressed.  But I don't think I can recommend it until I drive it again, for at least a few weeks, on the track, in Monaco, while sleeping at luxury hotel. Hey, it's that or the harem.
To learn more about this amazing, limited edition vehicle go to Nissan.com.  There is also a pretty sweet Motortrend video here.