Of course I've done it. You've probably done it too. And if think your mom didn't do it, you're nuts..unless they didn't have them back then. Yes, of course I'm talking about The Double Buckle. Every parent's dirty little secret.  It's the process of squeezing two kids into one seat belt. 'Not legal' you say?  'Not safe?' you retort? Well, you tell that to Emily, the ballistic third grader that's having a melt-down in front of school because her BFF Madison just HAS to come over today to play Master Chef Junior and your carpool doesn't have room. We both know how that story ends now, don't we? Luckily, VW has brought us all a wonderful gift in this compact SUV that now comes complete with an optional third row. Check it out:
If you're a new parent or a single person, you're probably thinking 'Oh hell no, who needs a third row?' The problem these days is that many parents drive enormous SUVs and because of this "No room, sorry" just isn't on the menu any more. But what if you don't want to drive something huge? What if you like the feeling of a nimble little vehicle that can both fit into a compact space and still accommodate 5 screaming brats + two miserable adults? Meet the Tiguan.
Yes the old Tiguan was ugly. Sorry, VW, but it was. This new one sneaked in last summer with a gorgeous facelift and Sha-Bam! a secret third row.  It was a revelation. Even Freya was happy: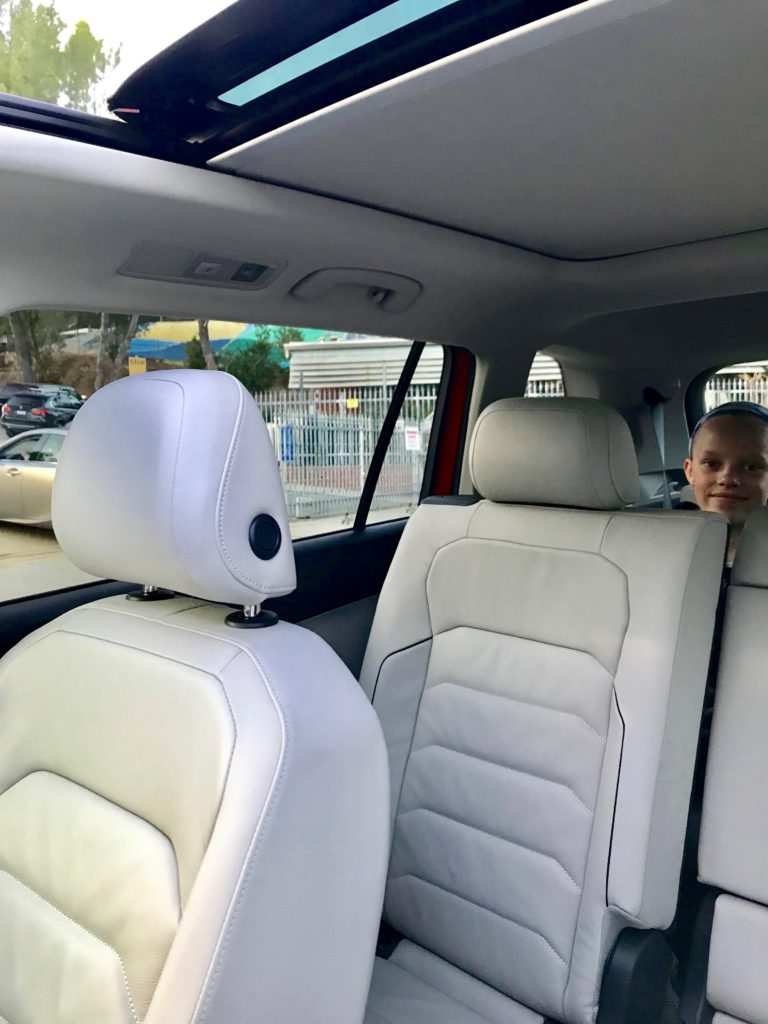 Let's run through a few of the reasons why you will be too:
#1 The one I tested (2018 Tiguan 2.0T SEL Premium) is loaded and only $37,445 out the door. No joke.
#2: Here's what I mean by loaded: leather seats, Apple Car Play, panoramic sunroof, heated front seats, heated steering wheel, lane departure warning, autonomous braking, pedestrian monitoring, adaptive cruise control with Stop & Go.. you get the picture.
#3: I averaged 22 MPG around town, which is right on track for what VW claims.
#4. The Tiguan drove like it should– like a cousin to my beloved Golf, which is exactly what it is. Let me tell you what I mean by that in the simplest of terms. So in the past decade, many of us have been seduced by the SUV.  Most of which are body of frame vehicles that drive like..well..trucks.  When most of the time all we want is a higher car that will hold all of our crap while enabling us to see above traffic and not end up in a bodybag if we get t-boned by an Escalade. Sound familiar? So car manufacturers finally got hip to this and gave us either a compact SUV or the crossover, most of which share platforms with..you guessed it..cars. And what better car to be related to than the VW Golf?  One of the greatest vehicles of all time and the perfect compact family car if you live in Europe.
But here in America, we like our cars like our dinner plates and our boobs, significantly bigger.  So VW created this little number that works for us all.
Driving this vehicle was great. I loved the way it glided into that compact space, especially considering how many bodies I was packing.  It's 2.0L turbo 4 cylinder was adequately powerful.  With 184 hp & 221 lb-ft torque, it's no Golf R, but it made me perfectly happy cruising through the canyons.
"But how comfortable is that third row?" I knew you were gonna ask that.  Honestly? Who cares! This isn't a passenger van. It isn't an airport shuttle. It's a great, practical, quite luxurious family car that allows you to toss in a few extra brats in a pinch. If that's not your idea of heaven, then go get an Escalade.
Not that there's anything wrong with that.
Muh, muh.. Mama.