What were you up to when you were 21 years old? College life– complete with beer bongs, all nighters and frat parties? Or eating ramen noodle as you slogged through your first job, with that a**hole boss and student loans breathing down your neck? How about building a race car and traveling around the country to compete? Sounds more like a midlife crisis than a motivated college student. Enter Gracie Hackenberg, now a Senior at Smith College.  It is at this elite, all women's school in Massachusetts that Hackenberg was inspired by the Picker Engineering Program to get her racecar on. Thanks to the support of her school, her sponsors and her badass self, Gracie welded, installed and fabricated her way to the Grassroots Motorsports Challenge last fall. Meet the future of female motorsports: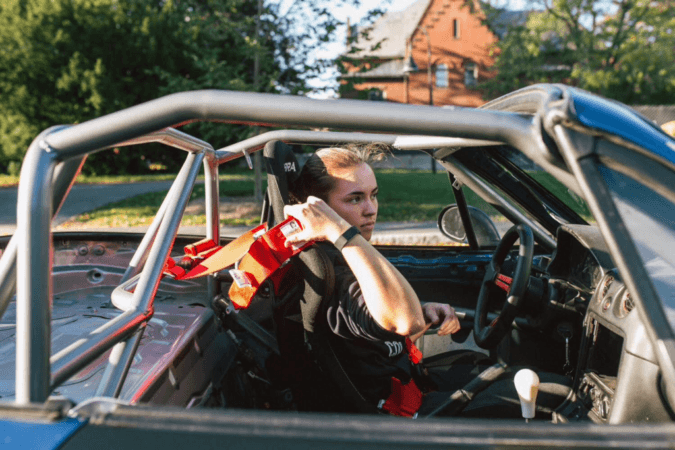 When you're at a party, what do you tell people you do?
I tell people that I am an engineer and I build and race cars. Most recently, I started a race team at Smith College that built a racecar on a $1,800 total budget and competed in the Grassroots Motorsports $2017 Challenge.
What do they ALWAYS ask?
Is your dad an engineer? Did your dad teach you how to work on cars? No and no. My grandpa is a car guy and I grew up tinkering in his garage but my passion for motorsports came later when I got my driver's license and discovered what my mom calls a "need for speed". My first car ever was my Miata that I built for the track. I learned almost everything from DIY YouTube videos and random guys on internet car forums. After a while, I made up a bracket to hold my computer in my engine bay so I could google all the things that I was doing wrong!
What's the biggest misconception about you?
Going to a school like Smith (which a strong focus on environmental sustainability and social justice), everyone always asks how I could possibly want to work with machines that pollute the environment and feed into the evil petrol industry. My response is always that motorsports engineering is all about efficiency. We are working to get the highest possible output or utility from the least material. Engineers exist to help minimize waste. The high performance designs that are born on the track trickle down into production cars. People don't realize that these efficient and cutting-edge technologies in everyday cars wouldn't be possible without motorsports.
Did you get into motorsports by choice or by accident? How?
By choice! My passion for motorsports has grown steadily since high school and my path into the sport has been very deliberate.
What's the wackiest thing you've ever done on the job?
About 24 hours before my car shipped down to Florida for the race, I decided that I wanted to add an autocross spoiler. I had a budget of $50. I had to design it, fabricate it out of material leftover from another project, and I ended up installing it at 3 am the morning that the car shipped. And I had to take an engineering exam a few hours later.
What's your proudest achievement in this arena? It's ok to brag..
Our brand-new Smith College Racing Team didn't have a lot of supporting facilities. I built the racecar without a lift or any automotive tools in an outdoor loading dock (and it gets pretty cold during late fall nights in Massachusetts). I wheeled a cart with my toolbox out every day to work on the car, and put a chain through the tow hook at night hoping that no one would jump in the wide open top, put in neutral, and wheel it away. We did have a ton of support from engineering faculty and staff but just not a whole lot of tools or shop space. And we were able to compete with schools like Georgia Tech who had infrastructure, resources, and experience. We were very proud of our performance given our lack of structure and training.
If you weren't in the car business, you'd be…
Working for NASA. My grandfather was a NASA engineer and I was a huge space nerd as a kid. I also loved fighter planes from World War I and II and dreamed of being a pilot and aeronautical engineer.
What's your automotive pet peeve?
People mistaking top speed and horsepower for high performance. Top speed in a straight line is just one piece of data, but racing is so much more than that. In my opinion, races are won and lost in the corners where handling, braking, acceleration, and setup are everything. That's the fun part of racing!
Smith is probably the LAST College I expected to do something like this, mainly because it's all female. Am I right or terribly wrong?
We were definitely a non-traditional entry in the Grassroots Motorsports $2017 Challenge. We were the first all-female team to enter the race. But this kind of thing happens all the time in other subjects at Smith. It really just takes one person with an itch or passion for a subject and you can find other people who want to help (or bribe them with food and a trip to Florida to race).
Thank you, Gracie! I can't WAIT to see where your career leads you.
Big thanks to Smith College for supporting female engineers.
To Hale Motorsports for giving Gracie an internship.
And master-connector Dean Case for introducing me to Gracie and her story.