A few weeks ago, walked out of the fancy Mr. C hotel in Beverly Hills. After handing the adorable 20-something valet guy my ticket, he ran and returned with my car, a Stinger GT. As I got in the vehicle, he said, "Hey um..I'm sorry..but WHAT IS THIS CAR? It's beautiful." I gave him my signature sh*t-eating grin and replied, "A Kia." Then I tossed my hair, threw him $100 and watched his baffled face in the rear view mirror as I drove away laughing hysterically.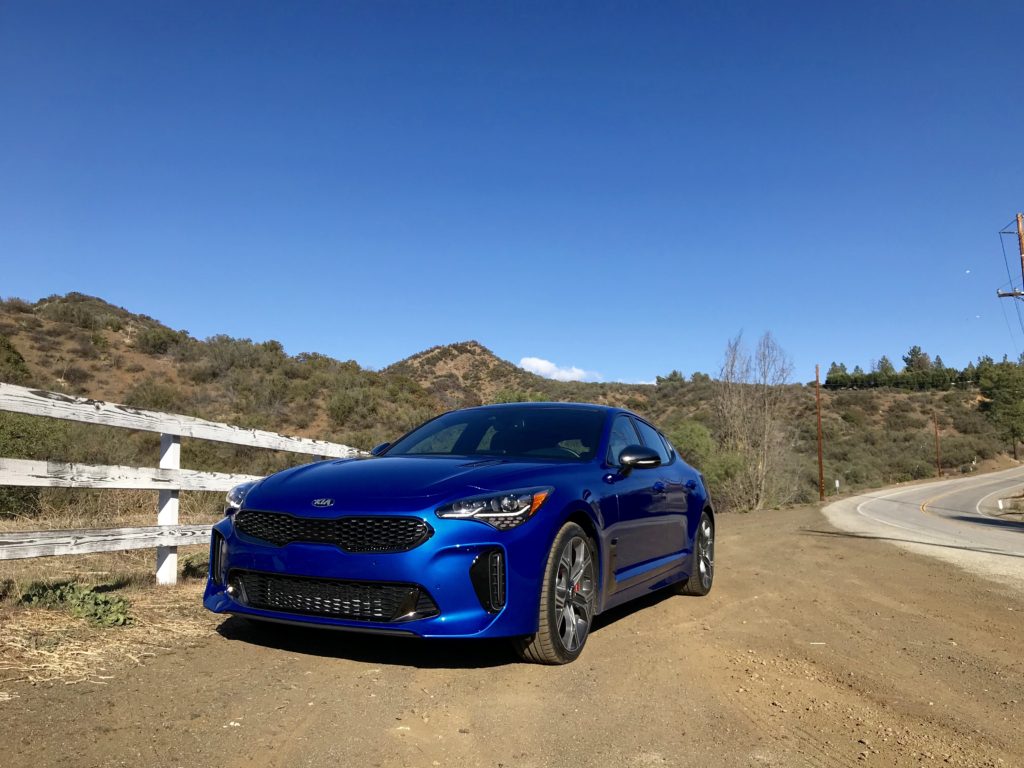 Only 90% of this story is true. The hotel, the valet dude, his question, all of this really happened except for my departure. Fact is, I spent 15 minutes with this guy geeking out over the Kia and its gorgeous design and phenomenal capabilities. Then I tipped him $5 and sped away. This encounter echoes the whole week I spent with this game-changing car. Every time I saw someone I knew, their reaction was a stunned, "Wow, this is nice." In fact, when I asked one of my daughter's friends what kind of car she thought it was she replied, "An Audi?"  Exactly.
If you're reading this, you may already be drinking the Kia Kool Aid. Maybe you're even familiar with the Stinger lore:  Kia decides to make its first sports car, hires the head engineer from BMW's M division and proceeds to make a gran turismo vehicle that results in many a German head in its hands.
Sure, the Stinger numbers are impressive. And the Stinger looks great in pictures. Like Scarlett Johanson, the Stinger looks impossibly more gorgeous in person (grrrr..).  Overall, it's a real feat. It's the underdog story we all want to believe. But what's the truth? Is it worth it? Would you buy a Kia that's $10k less than a 4 Series Gran Coupe 440i & the Audi A5 2.0T? The GT1 RWD I drove produces more horsepower and more torque than both of these competitors. And quality? Well, the Stinger's warrantee is double that of the Germans. But really? Would you? Could you? Should you?
I'll tell you this, this thing is hella fun to drive. The acceleration is glorious, the brakes are incredible (don't ask) and all interfaces are simple and user friendly. The audio system was wonderful—thanks to 13 Harmon/Kardon speakers. The finishes in the front seat are beautiful. Those in the back seat can kiss my ass, because I'm driving. All of this equates to a car that cries consistently for a road trip with the homies, which is the definition of a grand touring vehicle.
The fact is, the Stinger is not perfect. First of all, like many sport sedans (I'm talking to you, Panamera) the visibility is crap.  Also, the handling wasn't as performance oriented that I would've liked, even in Sport mode. I was also less than impressed with the driver's assistance stuff—their sensors definitely aren't as awesome as say, Volvo's. But that's it, people. Other than that, I'd drive this in a red hot minute.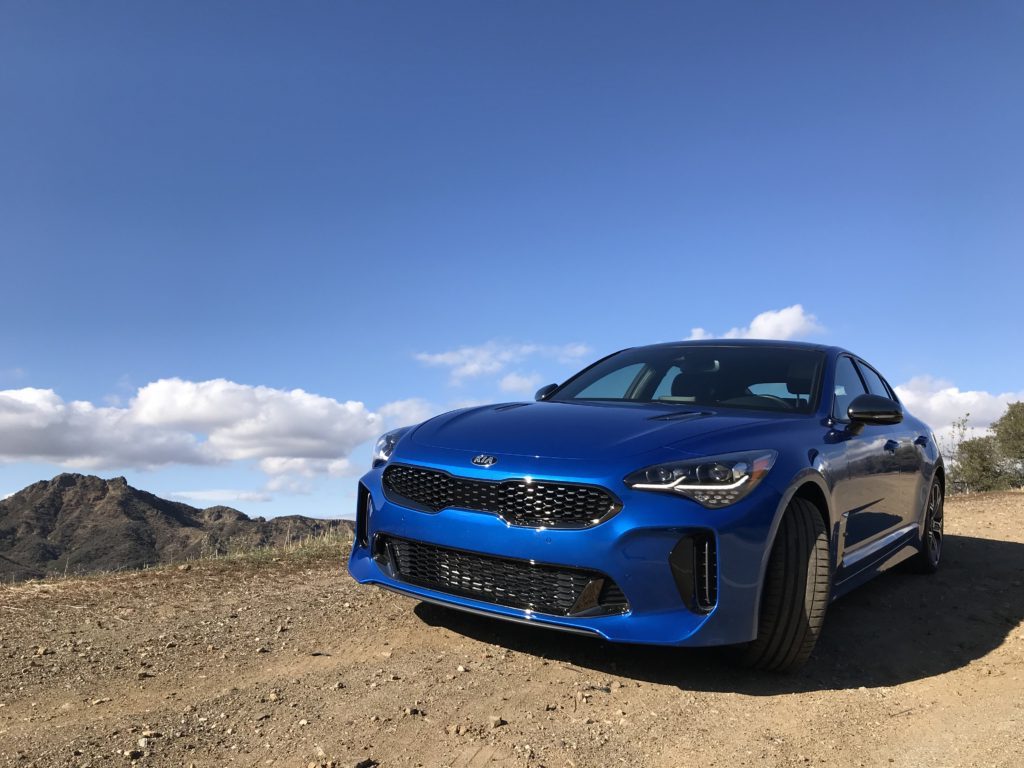 My test vehicle has the 3.3L 365 hp/376 lb-ft torque V6 engine, which, when complimented by lots of driver's assistance stuff, lands squarely at $44,150.  For a Kia?  I hear you.  But does it fit in with your fancy friends? Check it out slumming in the Palisades: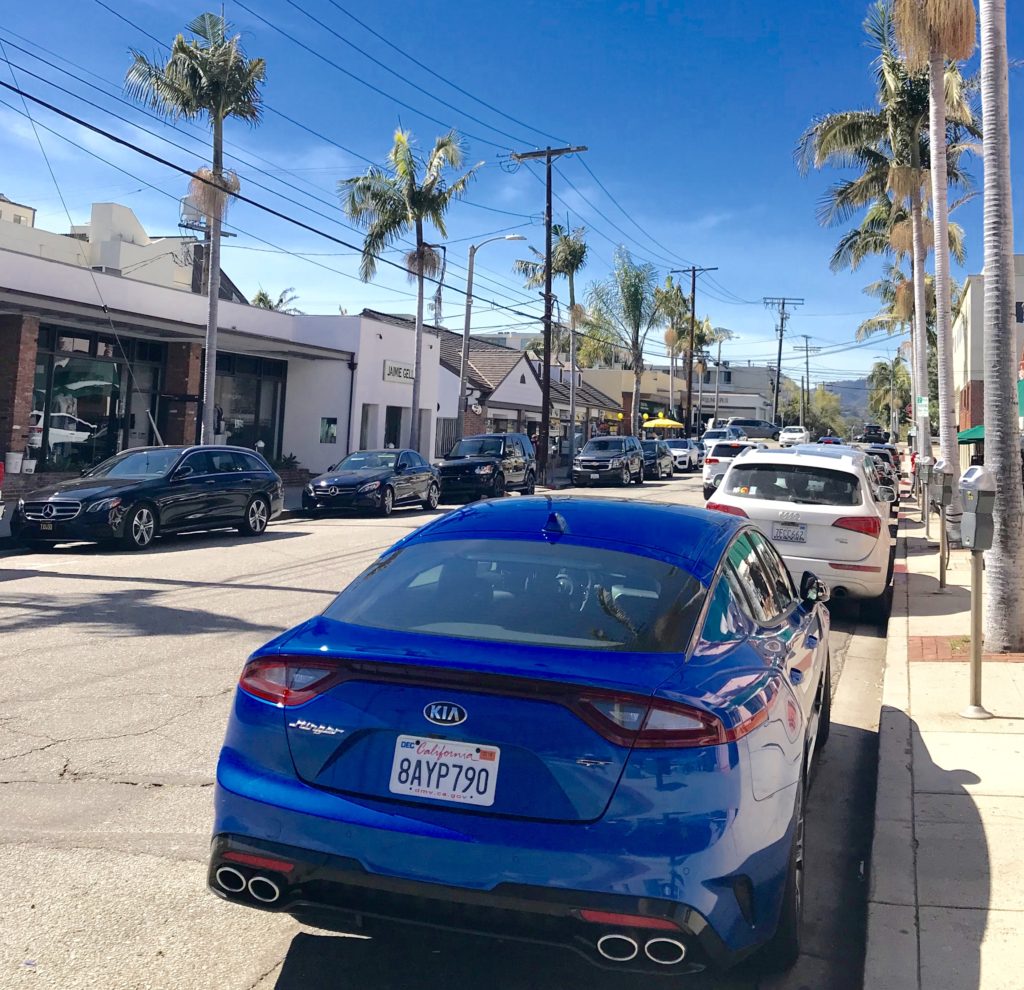 What I love most about the Stinger has nothing to do with how it drives. What is incredible is that with this one car, Kia may just have redefined the aspirational vehicle. For my grandparents' generation, success equaled a good, solid American car like a Ford, Buick or Cadillac. For my parents and myself, the Germans have ruled the game (and my driveway). But for the next generation like my valet driver, they want something new. Something fresh.  That valet guy sees the world's greatest cars on a daily basis— he told me that he parked a Lambo, Ferrari and a Bentley that day—but he asked ME about a KIA.  Why? Because to him it feels fresh and exciting. So put aside your car snobbery and drive it. You may just find something fresh & exciting too.