My daughter told me it was real.
I figured she was bluffing.  It couldn't be true.
But then, I saw it.  With my very own eyes.
The Topless Maid Van: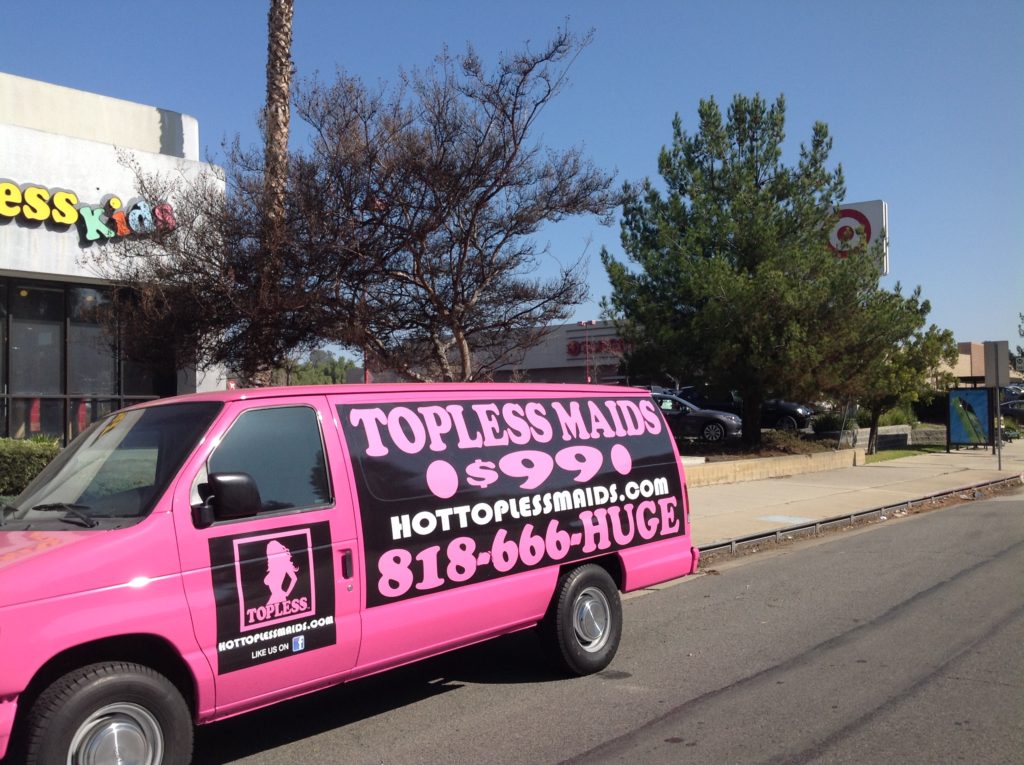 (Parked in front of my local Target, nonetheless)
Now I could get all worked up about women being exploited, men being pigs, etc. Or, I could laugh my ass off. And I chose the latter, thank you very much.  This sh*t is brilliant. Show me a man that hasn't fantasized about a hot, topless cleaning lady & I'll show you a man who also thinks sweats are sexy, prefers condoms & loves your mother.  So to take this popular fantasy, make it real & charge a premium?  It's genius. It's the American way!
I hope those bitches charge $3,000/hour and show up in Lambos.  That would be so great.  But life is cruel, so I'm sure they show up in a Honda CRV (the official cleaning lady-mobile) and praying "The Wife Better Not Be Home (again)".  Because that encounter is almost as hard to explain as this:
Like us on Facebook?  Yeah, right. Daddy likes that cat photo, Beck's new single, Breaking Bad and … Topless Maids.  That's a fun conversation, unless you're Bob Saget, then your kids know already you're a perverted nutjob, it's common knowledge. The rest of us are still holding up the mask.
The only disappointing part about Hot Topless Maids is that it makes me wonder why I'm not having more success with my latest Kickstarter project: Well Hung, Fully Clothed Plumbers.