The New  York International Auto Show is weird in so many ways. First of all, it's held at the one place in the United States where you really don't need a car– NYC. That's kind of like holding a bikini convention in the South Pole, or a porn convention in North Korea– actually scratch that last one, whatever, it's weird. Second, it's after Geneva, LA and Detroit have already held their shows so sometimes it can be confusing. Sure that car's new, but like a month ago new? Or like yesterday new? And lastly, it's New York so the parties, the press and the public are completely over the top.  Sometimes it makes LA feel like one, big beach party.
But it's always wild, weird and wonderful.  This year there were plenty of head scratchers that got me thinking "Say What?".  Here are my Top 7:
7. Roger Moore's Volvo Was There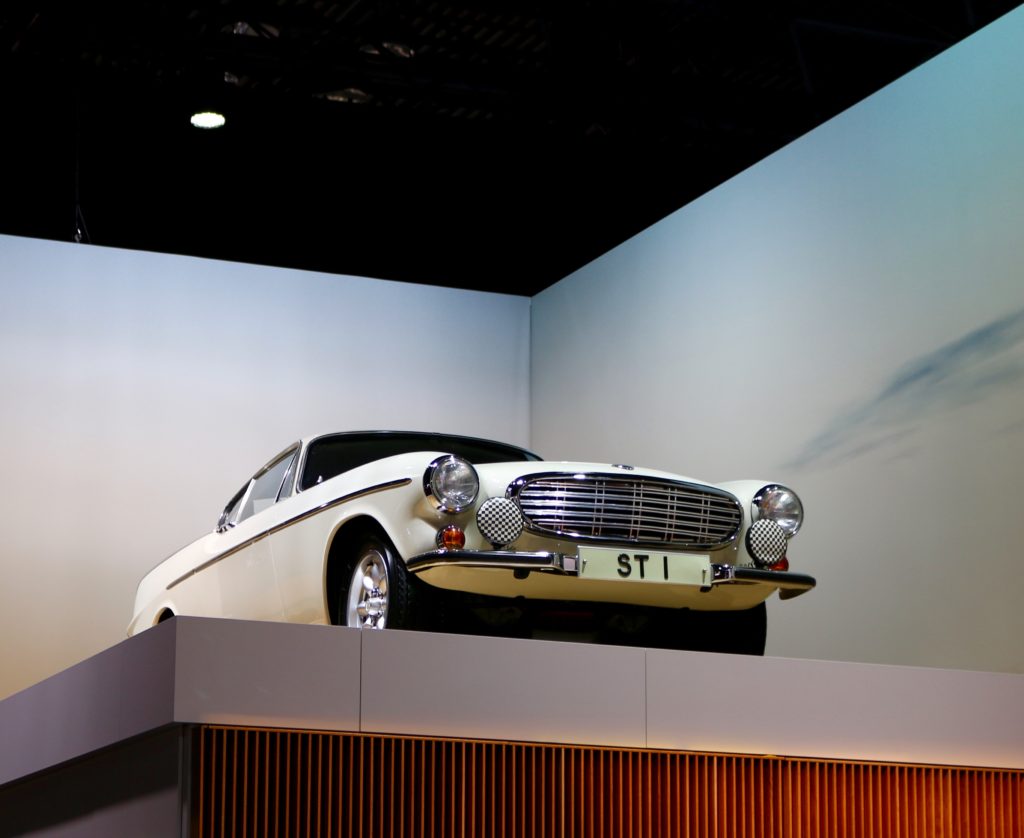 Roger Moore drove a P1800 Volvo in one of the greatest car chase scenes ever (watch it here) during 'The Saint.' After restoring it to its former glory, Volvo grabbed the car, flew it to America and tossed it on a shelf high above their booth, for all of us all to see. Very nice. Next year, I'd like some Roger Moore on top. I don't care that he's older than dirt.
6. Honda's Civic Gets The Lovato Treatment
In the less nice category, was a little handiwork by Miss Demi Lovato. In a move that proves that celebrities will do anything for cash and that car companies will do anything for celebrities, she designed the exterior of this Civic Hatchback just to make us puke: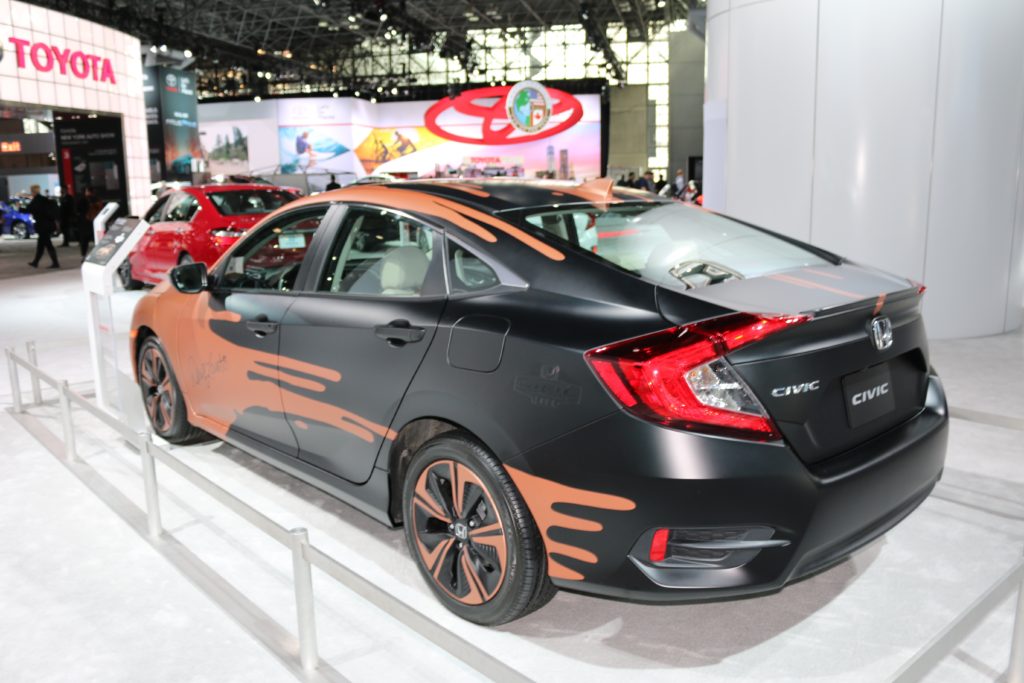 I've changed diapers prettier than that…Don't quit your day job, Demi.
5. Jaguar Shows Us A Picture And We All Freak Out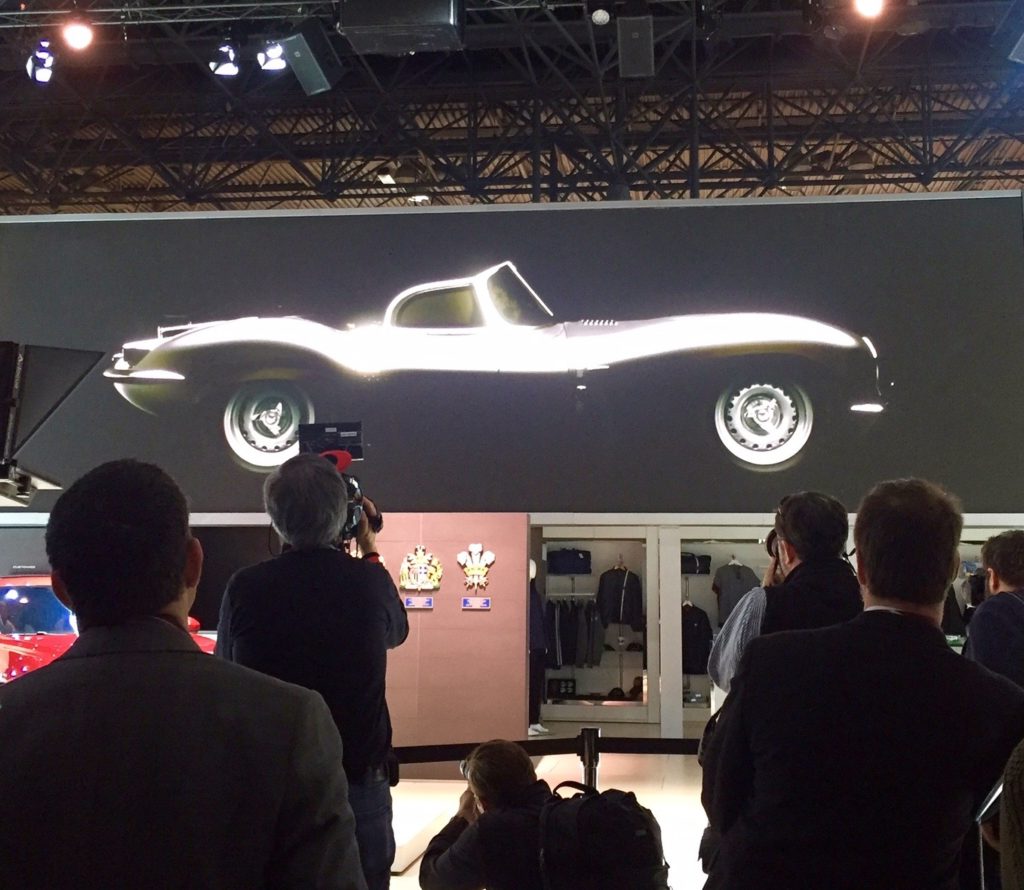 Jaguar's XKSS was an incredible supercar and one of the world's first. In 1957, a fire interrupted completion of the original 25, leaving all but nine manufactured. At this year's NYIAS, Jag announced that through some amazing technology (probably the same stuff that makes JLo age in reverse) they will actually finish these 9 cars. They haven't exactly done it yet, but they did bring a picture which was just enough to make a crowd of car people swoon and clutch our cameras with excitement.
4. New Trans Am?  Thank You, Ma'am
Speaking of cars whose resurrection come as a surprise. How about that Trans Am?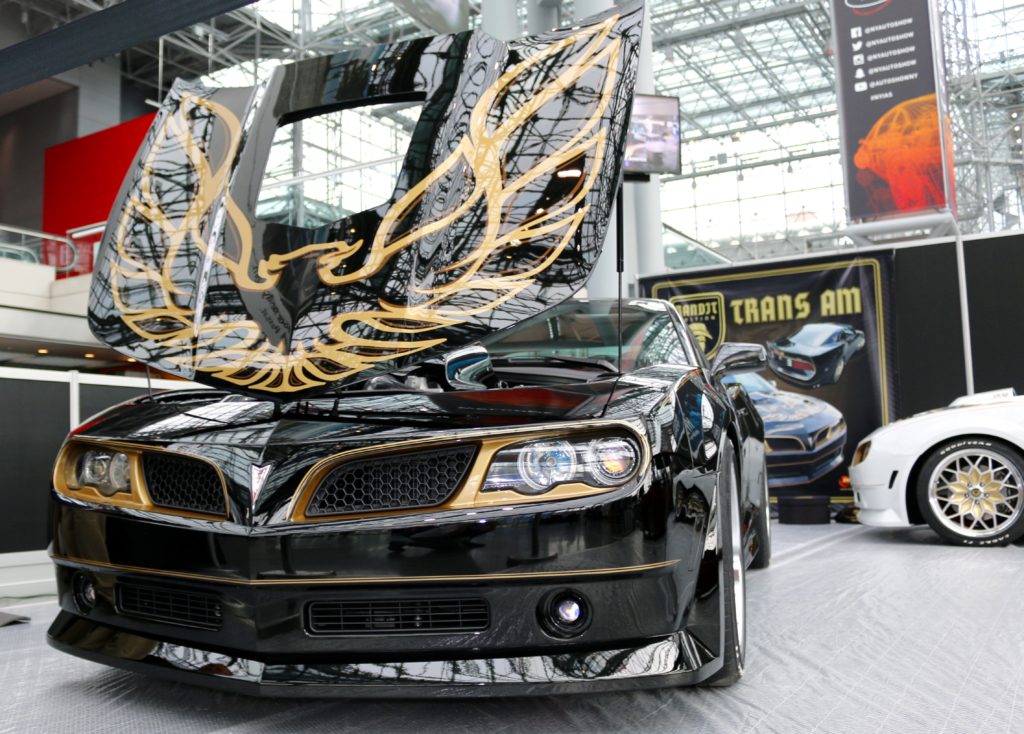 I know you're thinking "Doesn't Pontiac have to exist for there to be a new Trans Am?" Apparently not.  A group of guys actually own the rights and are working to resurrect this classic virginity evaporator.  They've even got Burt Reynolds on board for the Bandit version.
3. The Prius Goes Crazy..er
I like to think of the Prius as the official muse of Motorhead Mama. Nothing can get me typing more quickly than a glimpse of a customized version of this ubiquitous hybrid. The weirder the better.  But now, thanks to the new Prius Prime, weird comes straight from the factory: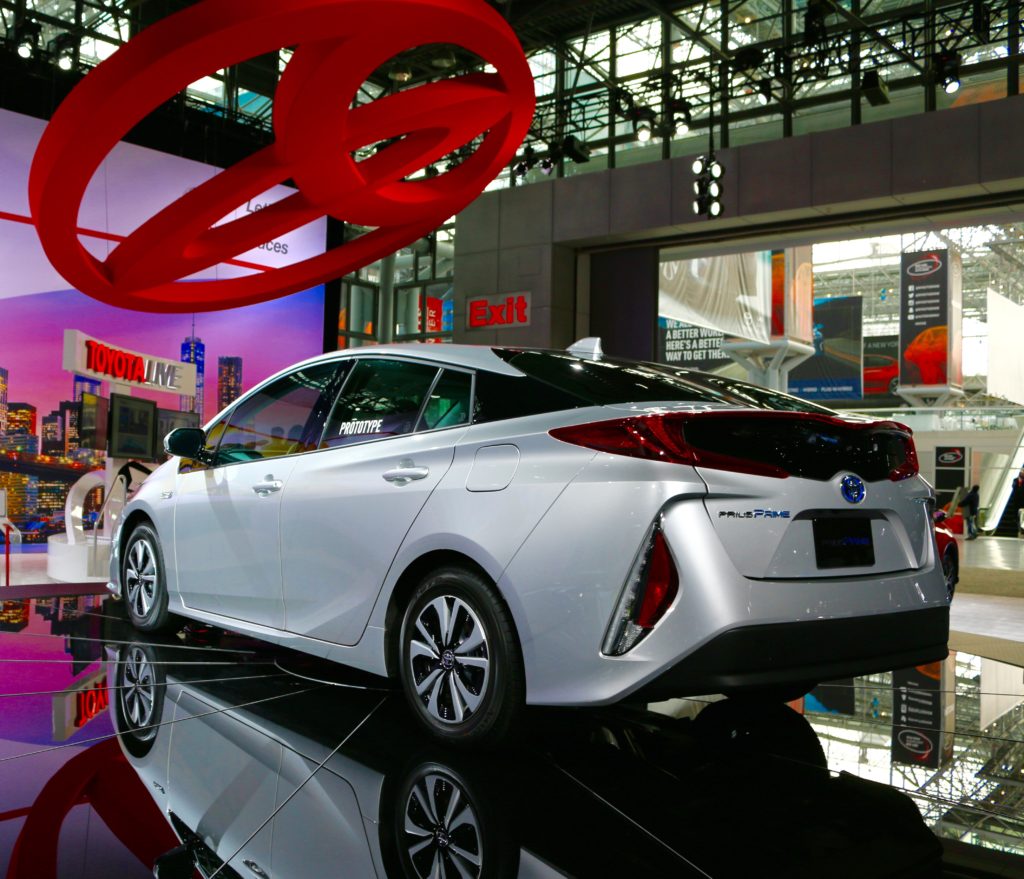 2. The Navi-Falcon-ator
Just when things were getting really funky, I hear that Matthew McConaughey is at the Lincoln booth. So I race over at lightning speed, like the Lincoln enthusiast I am. I'm stopped in my tracks my this: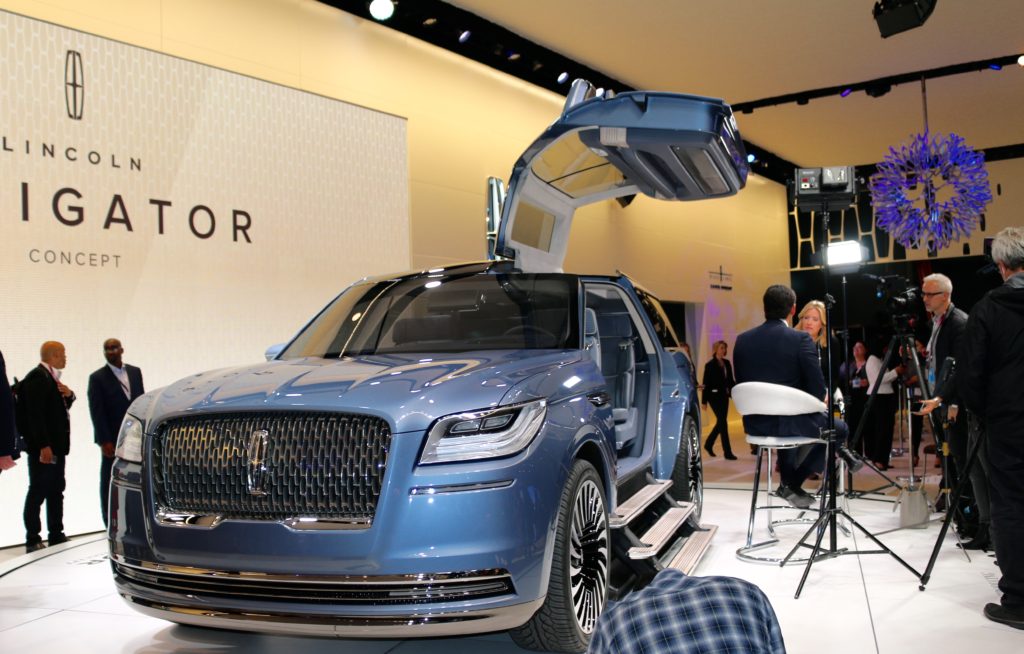 Say what? Yes that's a Navigator with falcon doors.. and a staircase.  Because you wouldn't want Elon Musk to have all the fun now, would you?
And the #1 Say What Moment from this year's New York Auto Show is..
The Lady That Drove A Cherokee Over The Stairs At Jeep
Unlike most automakers that hold press conferences in their booth, Jeep held theirs in a big theater space. It all felt very dramatic and ominous.  Especially unusual was the elaborate staircase that framed the back of the stage. I prayed for The Rockettes, a gospel choir or even The Thunder From Down Under to shake things up a little. But Jeep caught us all off guard with this: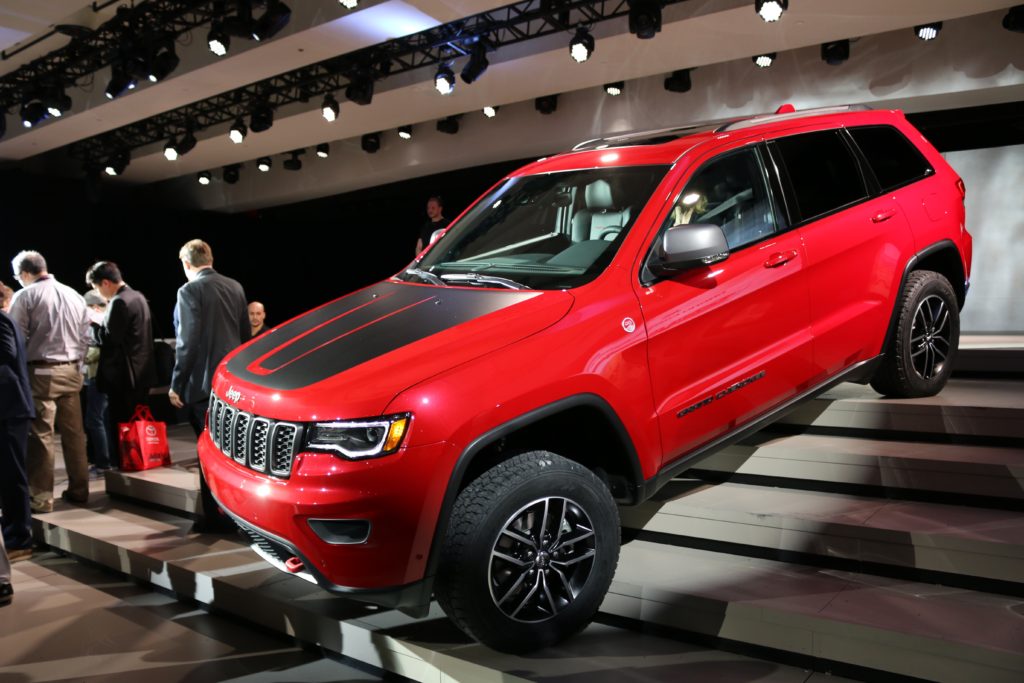 (the video is on its way)
Some lady drives the Grand Cherokee Trailhawk up the stairs, around and down them, landing herself and the vehicle about 10 feet from me. It was cool. And Jeep punctuates the whole experience by giving us this subtle, little reminder of their place in the business: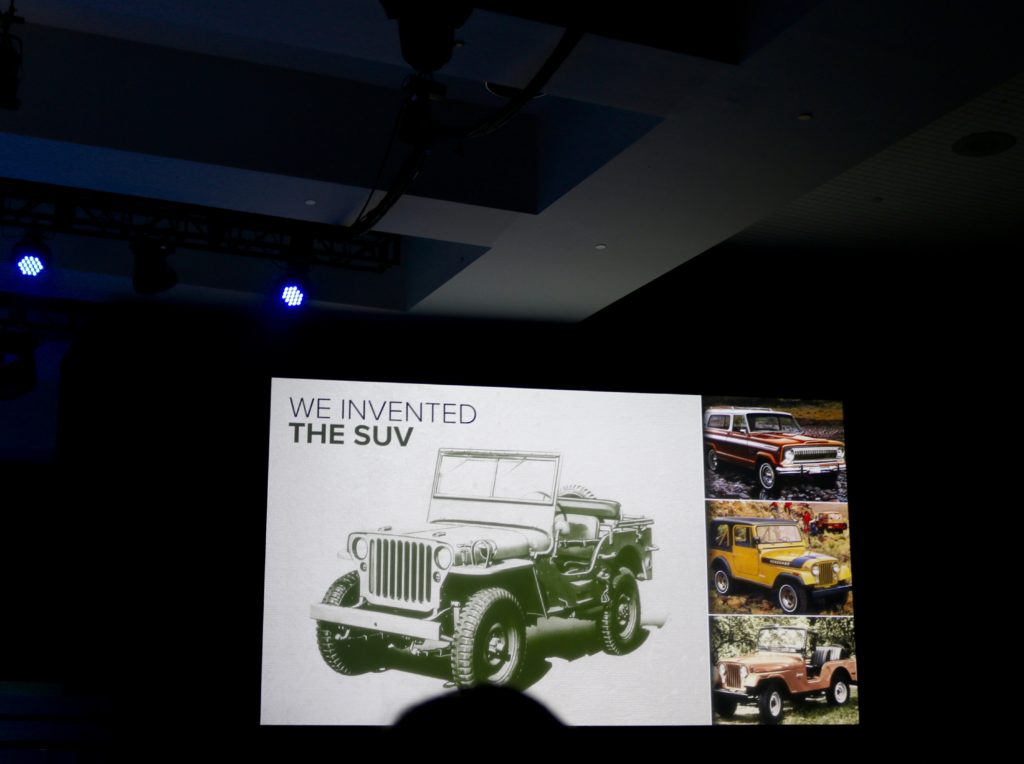 Fair enough, Jeep. After that performance, I don't think anyone's gonna argue. But good luck topping that action next year. Either way, I'll be there to find out..
The NYIAS is open at the Javitz to the public from 3/25- 4/3. For additional coverage, check out my Twitter, Facebook or Instagram feeds. I've also done some fun coverage for Driving Line and Car Talk.com.