When I was 6 years old, I got a pair of scissors in my Christmas stocking and promptly proceeded to cut my own bangs. Needless to say, I wore a lot of hats that winter. The point is, we can all grow out of an awkward phase and hope the world forgets about the Christmas incident of '78. This the future that the new and improved, fully- electric and newly attractive 2018 Nissan LEAF deserves because, wow, she sure put away the scissors and grew up beautifully.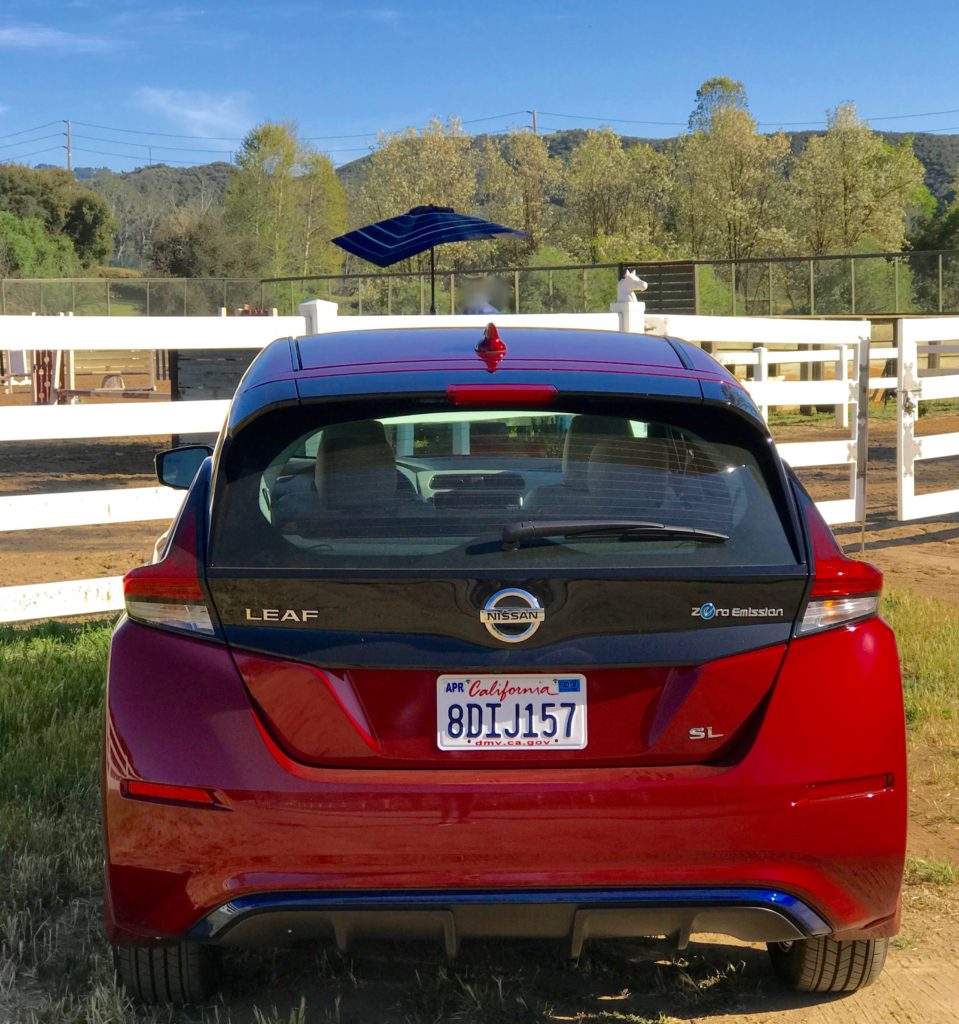 Even more shocking than its updated look is how the new LEAF drives. Because, honestly, (gulp) the Leaf was a blast behind the wheel. No punchline here. I'm serious. With an output of 147 horsepower & 236 pound feet of torque, it's zippier than the last edition (to be exact 38% more hp & 26% more torque than the previous-generation LEAF.) The handling was notably tight and responsive–  thanks to a realignment of the battery weight and Intelligent Ride Control, a fancy term for torque distribution of the electric motor. Take this baby through the canyons and you'll be glad you did. Plus, most of the driver interfaces were well designed and felt solid.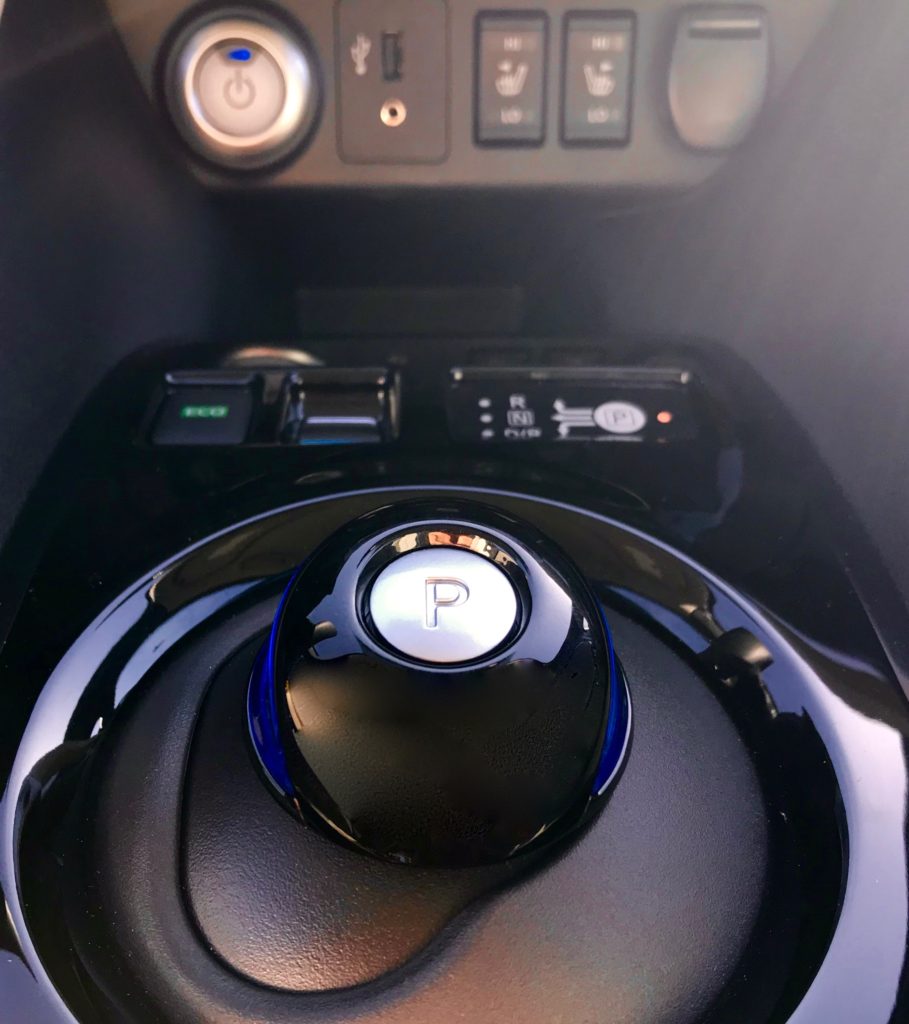 I even dug this weird little Magic Eight Ball adjacent shifting knob. It was cool. Then there were the driver assist technologies.  Nissan's semi-autonomous package is called ProPILOT Assist, which sounds like a load of crap but was awesome. I used the Steering Assist, Intelligent Cruise Control and Full Speed Range & Hold on a family trip to Whittier, which is a solid 44 miles each way in LA traffic. Now if you're wondering how that family trip would have been without the ProPILOT, I'll give you a little hint.. it rhymes with Whittier.
The 2-hour round trip excursion, featured me behind the wheel, my two girls in back and my husband riding shotgun.  All reports from the back seat and were that it was "pretty sweet"  thanks to the raised seating area & copious windows. As for my backseat driver husband, he clearly didn't trust LEAF & its automatic braking in this heavy, stop & go traffic. As we'd approach the car in front of us, I could see his right leg tense up as he nudged, "You got this?" "Nope," I replied..because scaring him is fun. "But the LEAF does." It was awesome. For the first hour on the freeway,  I didn't touch a pedal once. My husband probably sweat out a few pounds, but that'll teach him to doubt Mama!
Also impressive are the efficiencies of the new LEAF. First, it's got a range of 150 MPGe. But add to that the quick charge port (which charges this little baby to 80% in 40 minutes!) and it becomes a no brainer. Then, there's this groovy little E-Pedal.  In short, it converts the accelerator to a regenerative braking pedal. It sounds confusing and complicated, but it couldn't be easier. Basically, it makes it that when you take your foot off of the gas, it brakes..and charges. It took me less than a minute to adjust, so surely you can do it too.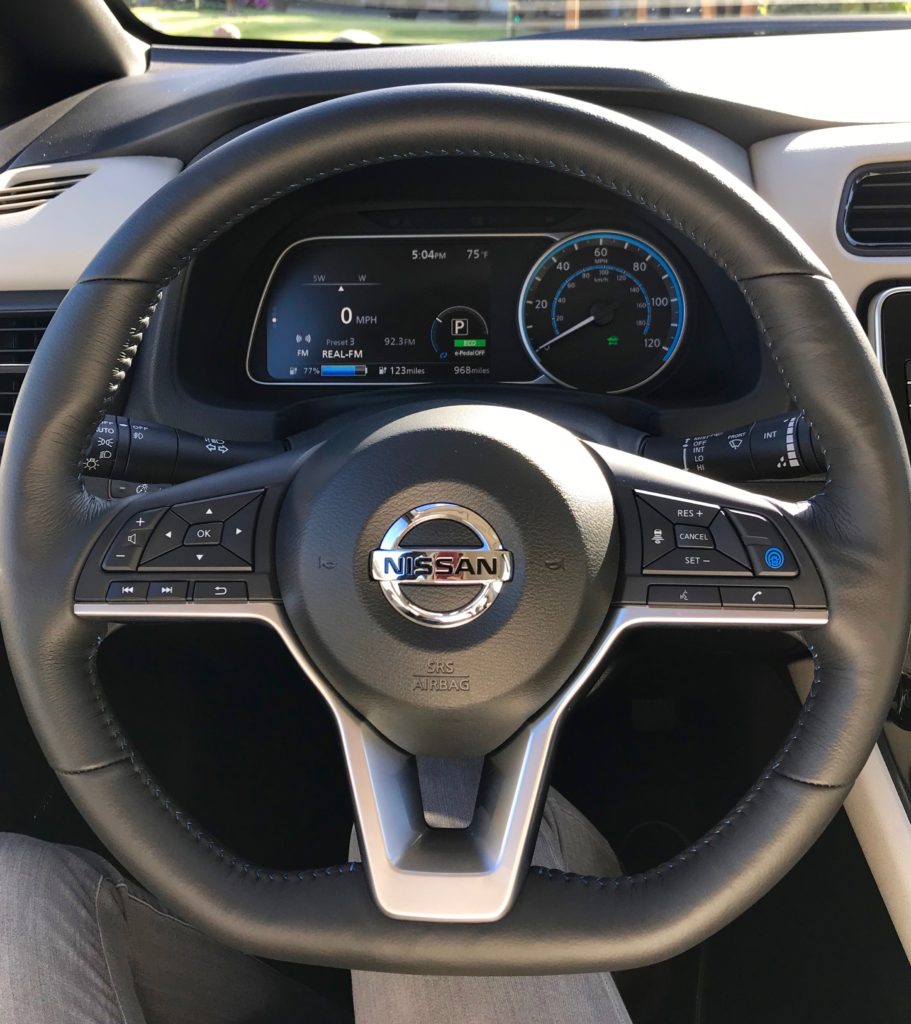 The LEAF also has Android Auto and Apple CarPlay, which is great. What didn't I love? The buttons on the steering wheel weren't the best, they were just too small, especially for my ugly sausage fingers. But seriously, that's my beef.  Which sucks because I thought it would be really fun to write a trashy review of this car. But I can't. It's awesome. Even worse? Nissan is coming out with a more powerful, longer range LEAF next year.  So I'm gonna have to eat crow TWICE…ug.
See how the LEAF stacks up with its competitors in my Plug In Comparo, which will be out next week.
In the meantime, this happy EV is more than worth a test drive for anyone toying with the idea of going electric. Come pick me up, we can go anywhere..as long as it's not Whittier.
The 2018 Nissan LEAF SL's base price is $36,200, $38,510 as tested which includes a $885 destination charge but excludes those tasty state and federal rebates!