A few years ago, a super cool dad I know bought a new car.  He's the kind of dad that works in the music business, wears skinny jeans without looking like too much of a wanker and has bright, colorful new tattoos that my youngest daughter always compliments (ug).  So I was really surprised when he drove up to my house in his new ride.. a Volvo sedan.  A Volvo sedan? WTF?  Who buys a Volvo sedan? Wagon? Sure. SUV? You betcha. But to drive a Volvo sedan means that you've carefully locked your testicles in the glovebox in favor of keeping your kids unquestionably safe.  However, this is America. In Europe, wagons are cool and often the ride of choice for the hipster male, but in this country, dudes don't rock wagons much…thus the S60.
So when I was invited to drive the new Volvo S60 sedan, I tried to keep an open mind.  I loved the V60 wagon and the XC90 suv, so maybe there was hope.  Oh and the event was located on one of my favorite drives (albeit treacherous but I was well prepared after reading reviews on ravenoffroad.com) on the West Coast, PCH from San Fran to Bodega Bay.  Worst comes to worse, I figure, I'll fly off the highway in a blaze of Thelma and Louise glory and because it's a Volvo, my GoPro and I will survive the crash and then go viral with the footage. Hey, it's always good to have a Plan B.
The first thing you notice about the S60 is that it's a good looking car.  It's no Fisker Karma, but it's attractive and not in that well-I'll-tolerate-it-because-its-a-Volvo kind of good looking way.  First, I drove the Inscription version which has best in class rear leg room, which is great if you care about your kids' comfort (which frankly is lame unless they're paying the mortgage) or if you have grown ups to kart around town.  It drove well and was just as luxurious as all the other Volvos I love, it even had a place to hang my purse: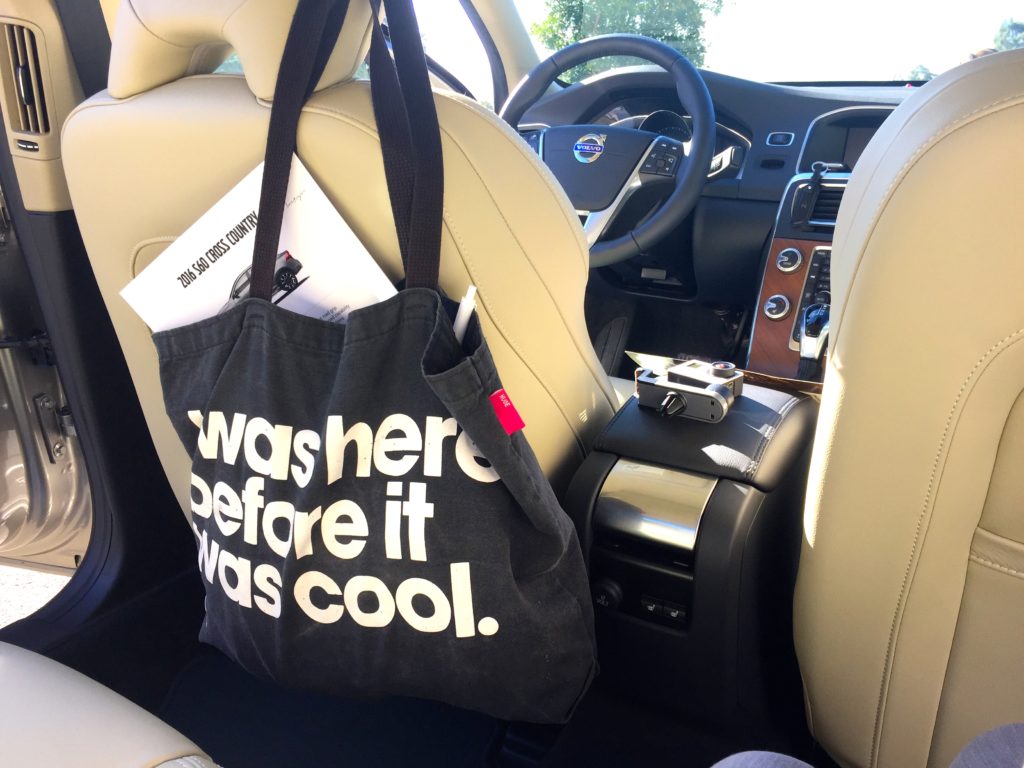 I took this Swedish car with my Swedish shoes (wassup Tretorn!) and my pal, David Lardner from Clark Howard to do some damage on PCH. Let's just say that when you're with a new friend whose driving skills you're unfamiliar with, it's great to be in a Volvo.  David ripped it up and I didn't puke once!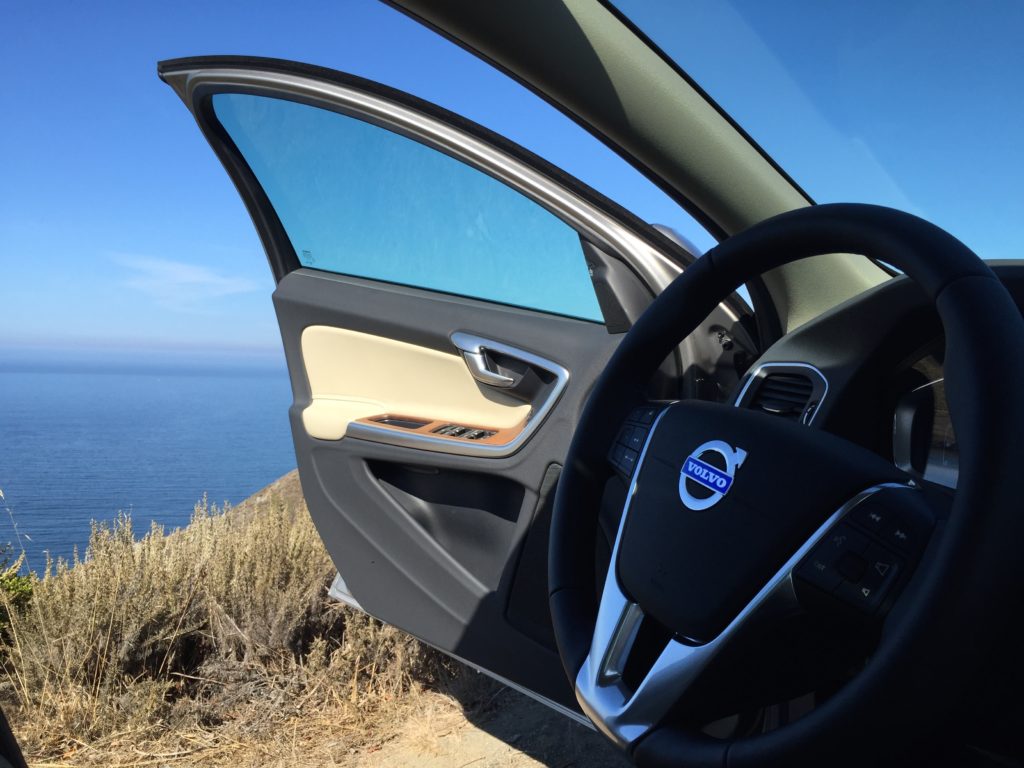 Then we swapped the Inscription for the Cross Country and frankly, this is the Volvo sedan that makes the most sense to me.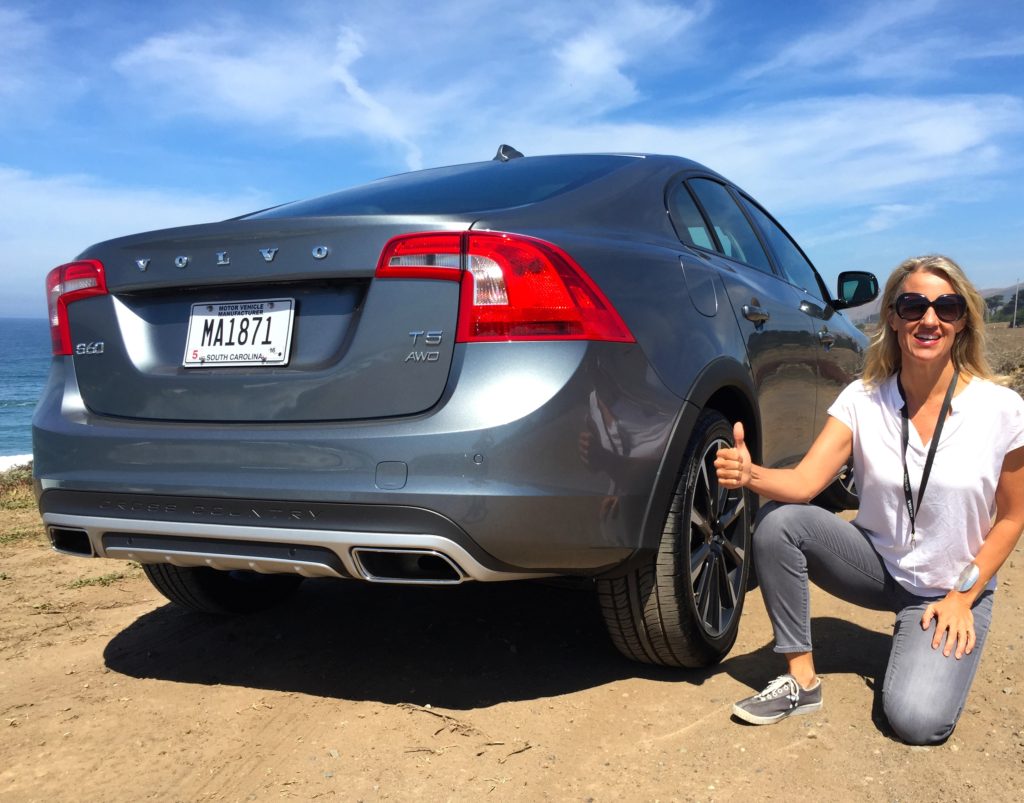 It's got almost 8″ of ground clearance, all wheel drive and that black wheel well protector crap that you know you want if you're doing any light off-roading. Oh I'm sorry, you do real off-roading?  Yeah right, and I do real runway modeling.  This is the most off-roading capabilities that any of us will really need, so stick that up your suv.  Under the hood, the S60 has a bit more power than the Inscription version with a 2.5L inline 5 cylinder turbo charged engine, producing 250 HP and about 266 pounds of torque. What does that mean? It means you won't smoke a 911 at a red light, but you'll gladly pass more than one Priui on the 405.  Again, it's all most of us need.
To sweeten the deal, Volvo is also offering a Polestar version of the S60, which of course would be my preference.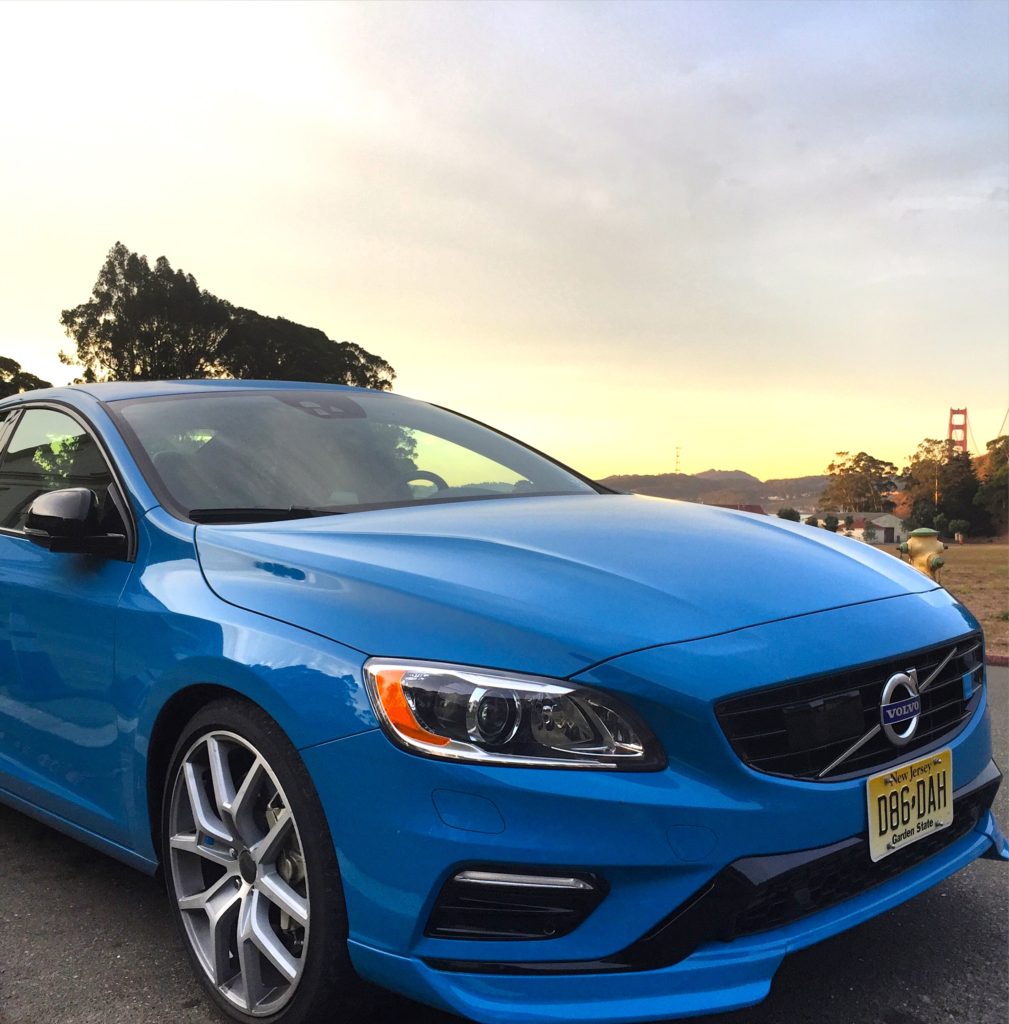 Polestar is a performance tuner that Volvo's been working with for ages, but now Volvo has bought Polestar in full! What does that mean? Well, BMW has the M division, Audi has the S models and Nissan has NISMO, Volvo now has Polestar all to itself!  Terribly exciting if you're a parent who occasionally likes to hear your kids scream.  I'm elated and can't wait to see what they come up with next.
I know you're thinking, Volvo? Yawn. Motorhead Mama– why are you drinking this Swedish Kool Aid? There's no way these cars are that cool!  For BMW, Audi and VW's sake, I wish I was wrong…