"I hate SEMA," is a common refrain among automotive journalists. They're probably not wrong, at 1.5 million square feet with roughly 3,600 journalists all competing for similar eyeballs, it's a clickbait-fest of epic proportions. Luckily for me, the competition in my segment– the snarky, car-focused, middle-aged mom blog space is far less competitive, thus I think SEMA* is a blast!
*Let me pause to explain what SEMA is. The acronym for Specialty Equipment Market Association, SEMA is a trade show focused on all things automotive, beyond what you can buy at the dealership. So think wheels, tires, floormats, even stuff for the detailer and/or body shop. Sound awful? I met a friend there who begs to differ: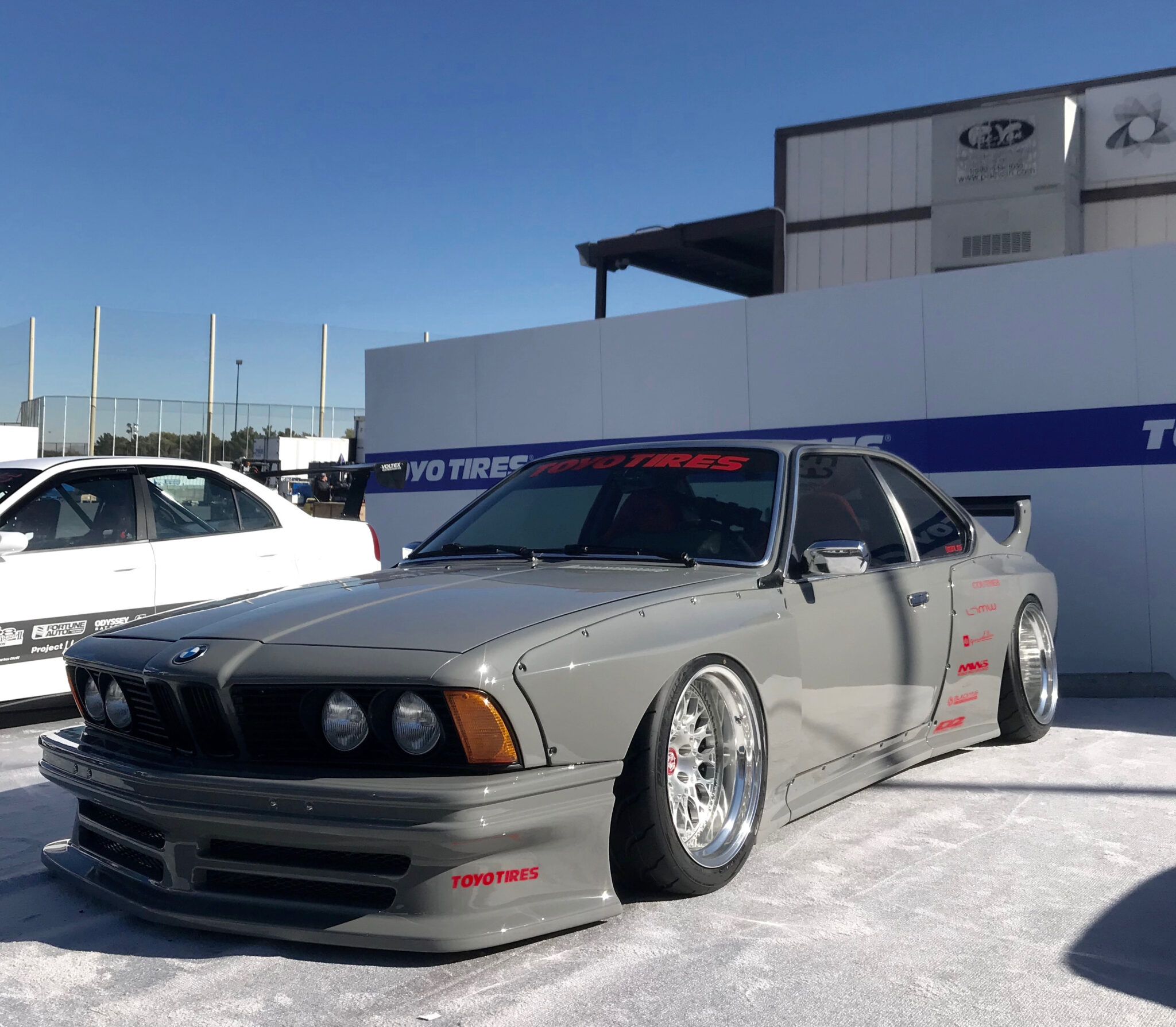 But we're not here today to talk about cars. We've got important outfits to explore. Let's do this:
Once again, this year's signature look at SEMA held steady at the traditional gaudy, car-oriented t-shirts, shorts and sneakers. However, there were two trends that were hard to miss at this year's event: 1) bad hair and 2) gender-bending. Like this happy couple: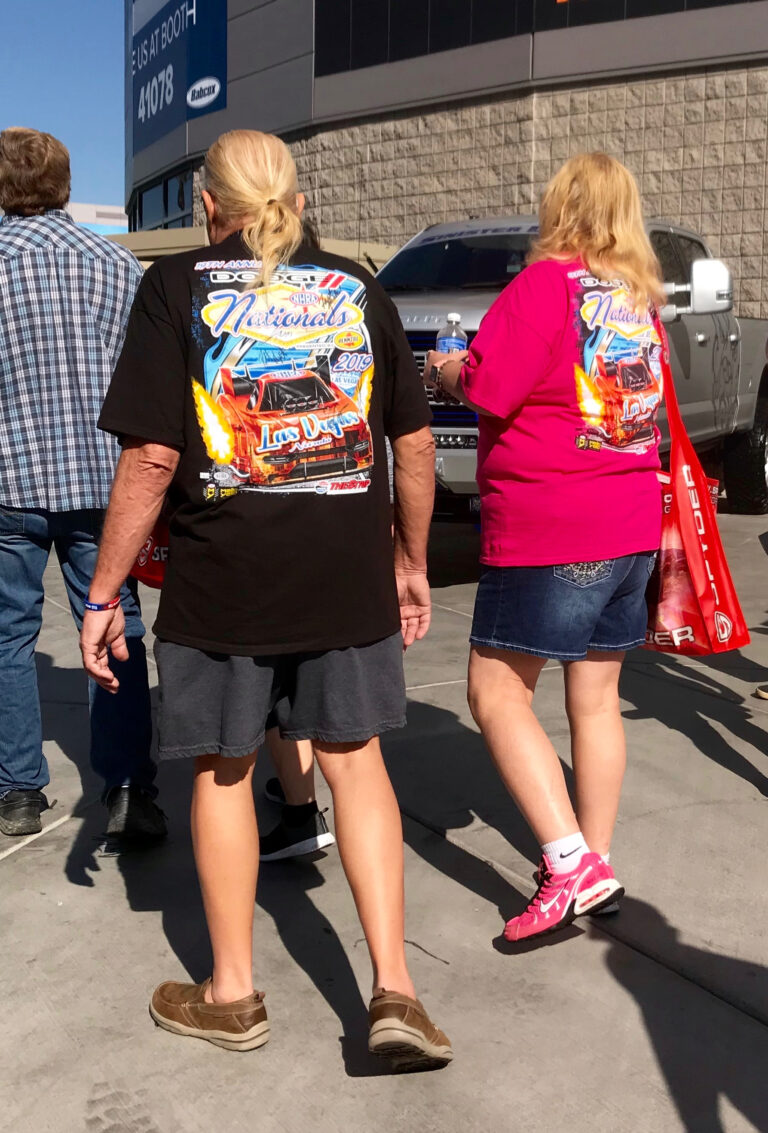 They say that a solid marriage is marked by shared interests and commitment. With a steadfast dedication to peroxide, baggy shorts, and free t-shirts, I think these two dbags will last forever. Whose team they're playing for is a mystery to me, but who cares. Everybody has their somebody—who am I to judge (bwahahahaha!).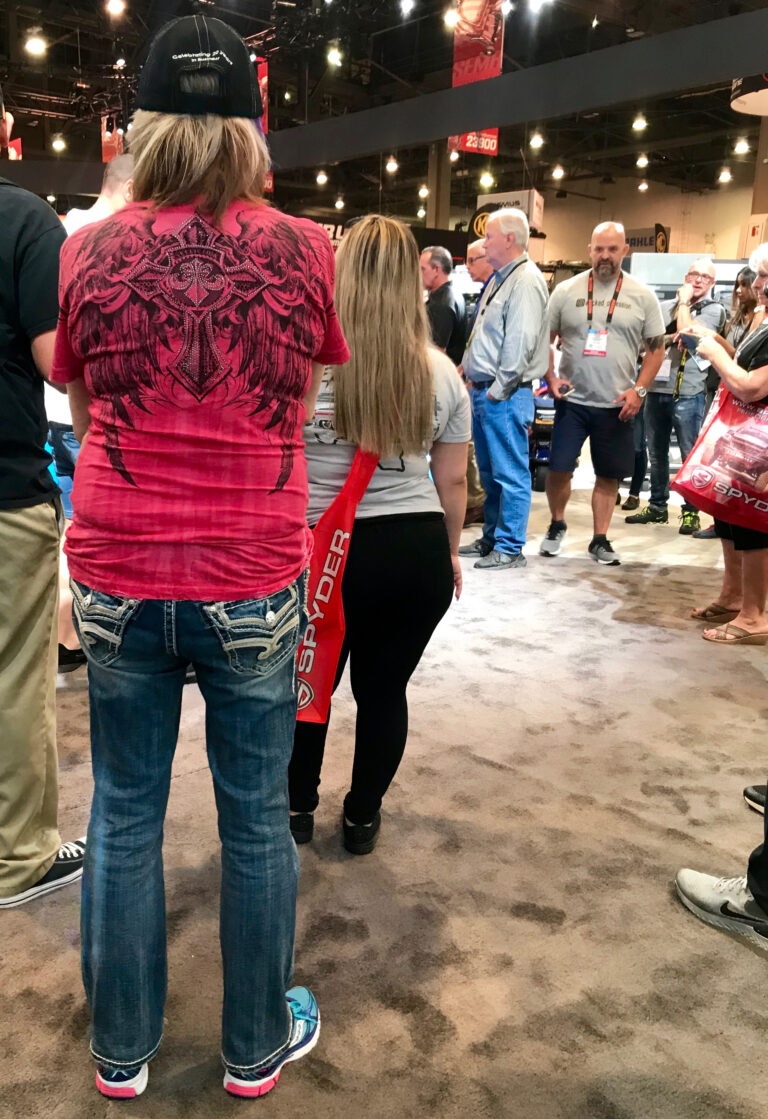 Then there's this Rockstar. Pulling out his/her best Steven Tyler-approved semi-casual attire, we're reminded that not only is Chrome Hearts still in business, but that muffin tops will endure forever.
You know what else rings eternal? Boobs. Well, at least according to that goateed guy in the grey t-shirt who appears to be lost in a full on mammary- induced trance. That poor dbag really should've been breast fed. Speaking of fed, my camera snapped this one randomly, but if you ever needed a reason to drink one less beer, here you go: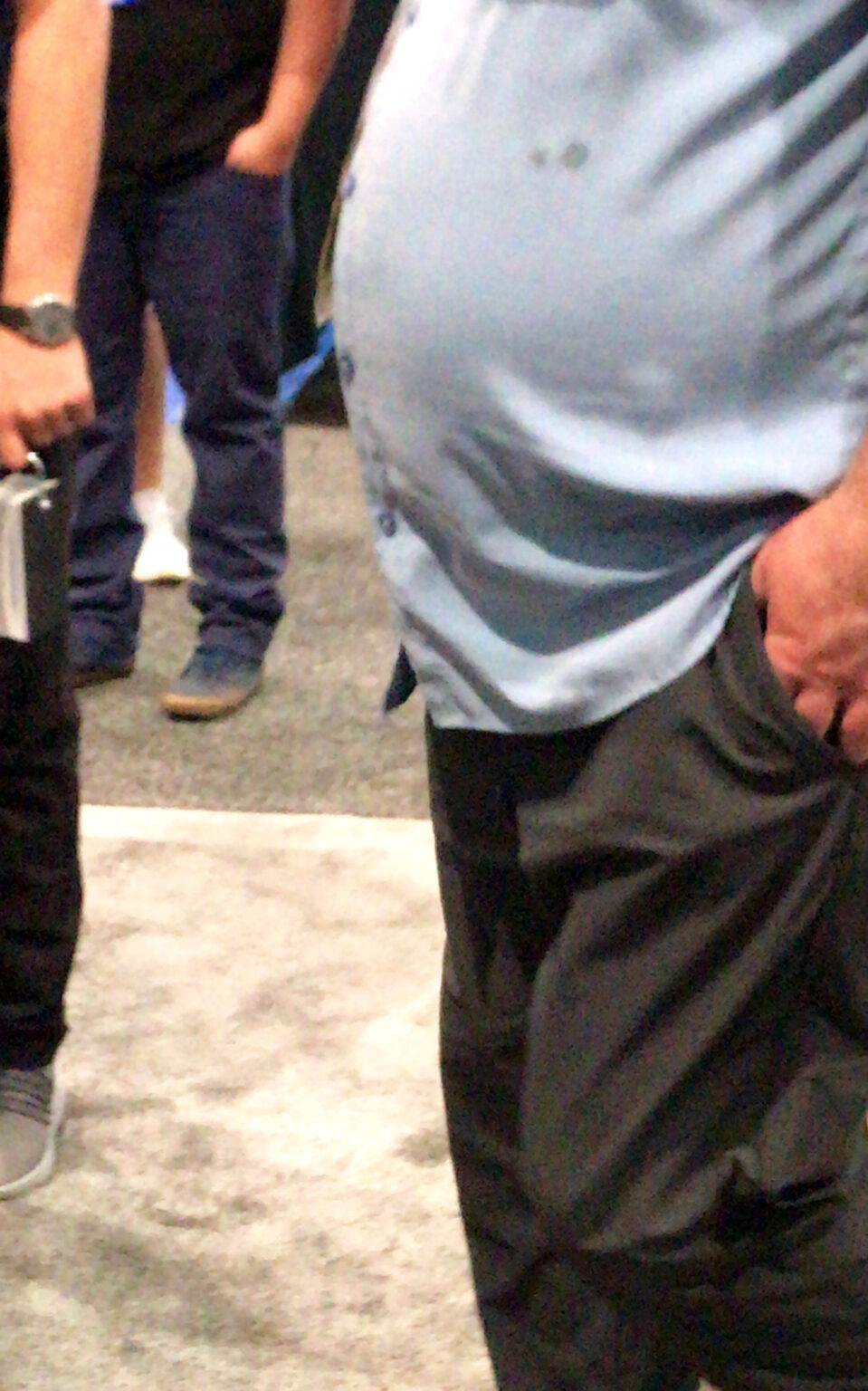 You're welcome.
Now, about that hair.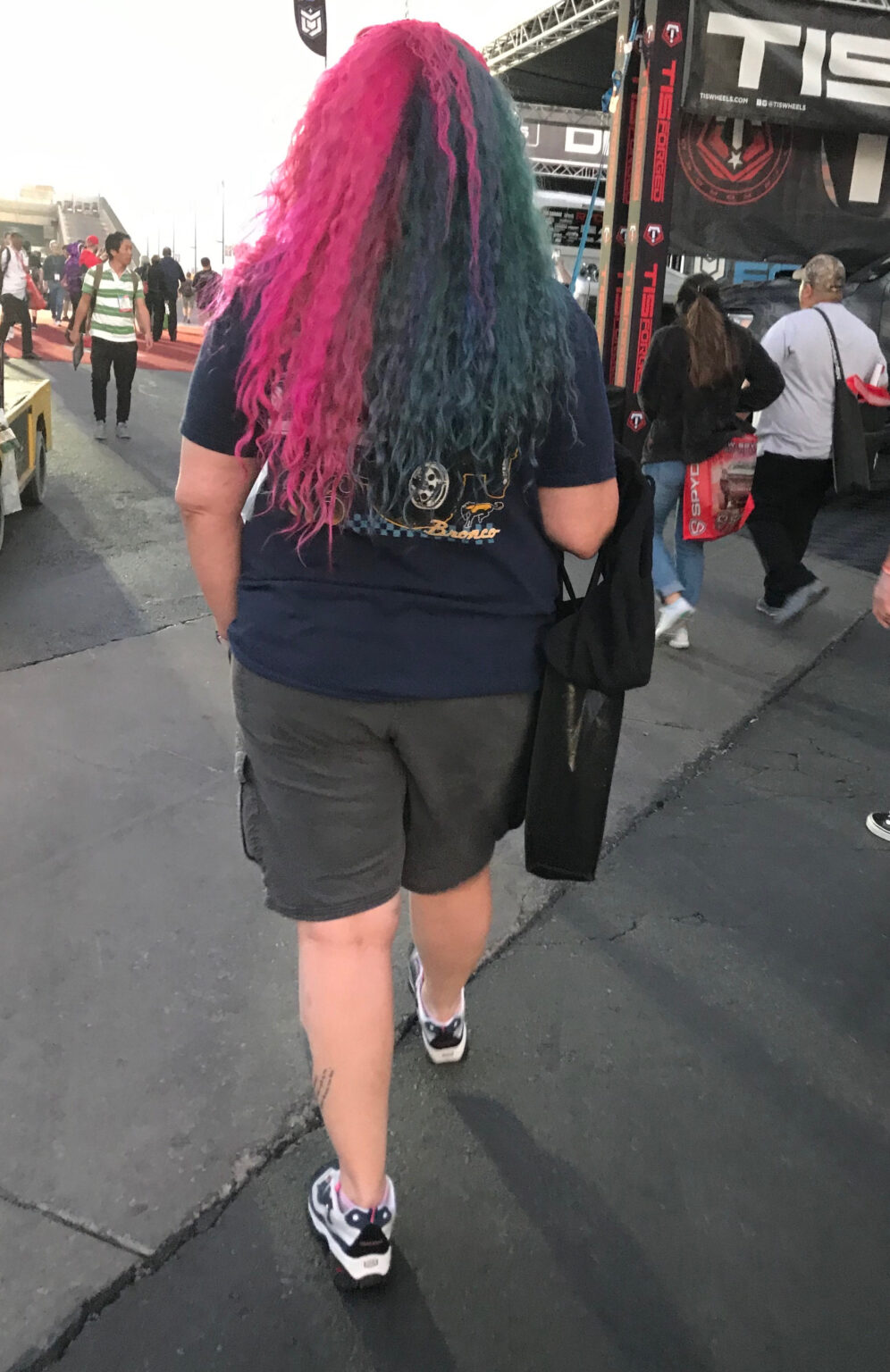 There were lots of colored locks at this year's SEMA, as there are everywhere these days. But there are also times when hair dye jumps the line from fun and funky straight into the icky zone. And I'm afraid this lady has landed dead center. But something about her Bronco t-shirt tells me there's hope for her somehow.
But not these losers: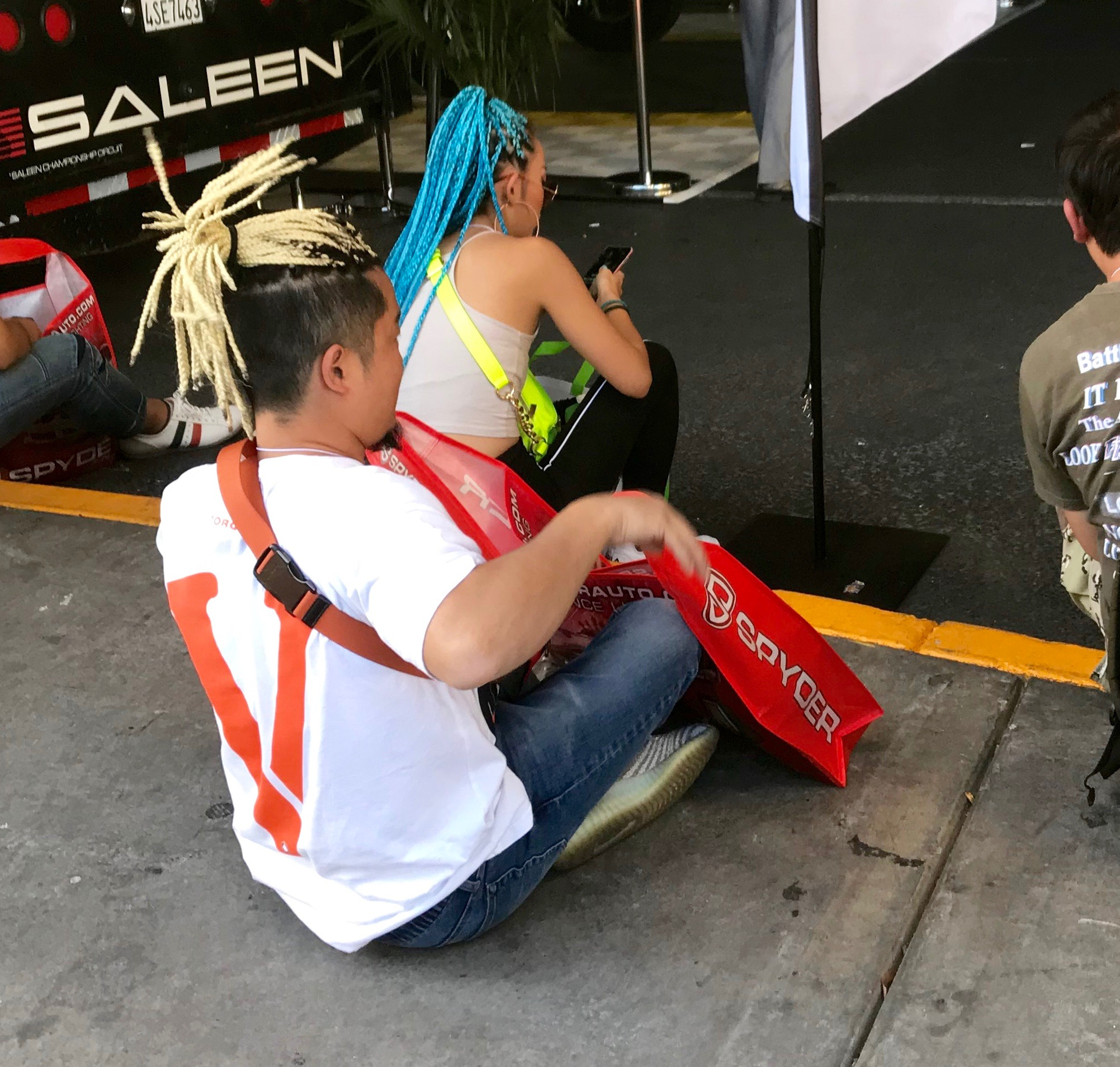 Sadly this is just like the white girl who goes to Jamaica for Spring Break and comes back beaming with beaded braids, feeling legitimately Rastafari. These dbags are gonna leave Vegas and return to wherever wondering what combination of adrenaline and alcohol inspired them to pay good money to have contrasting braids woven into their black hair. The sad part is that it won't come out easily and not without another wad of cash. Sorry guys, but dbags gotta pay up.
Do you know who else has to pay? This poor woman's boss: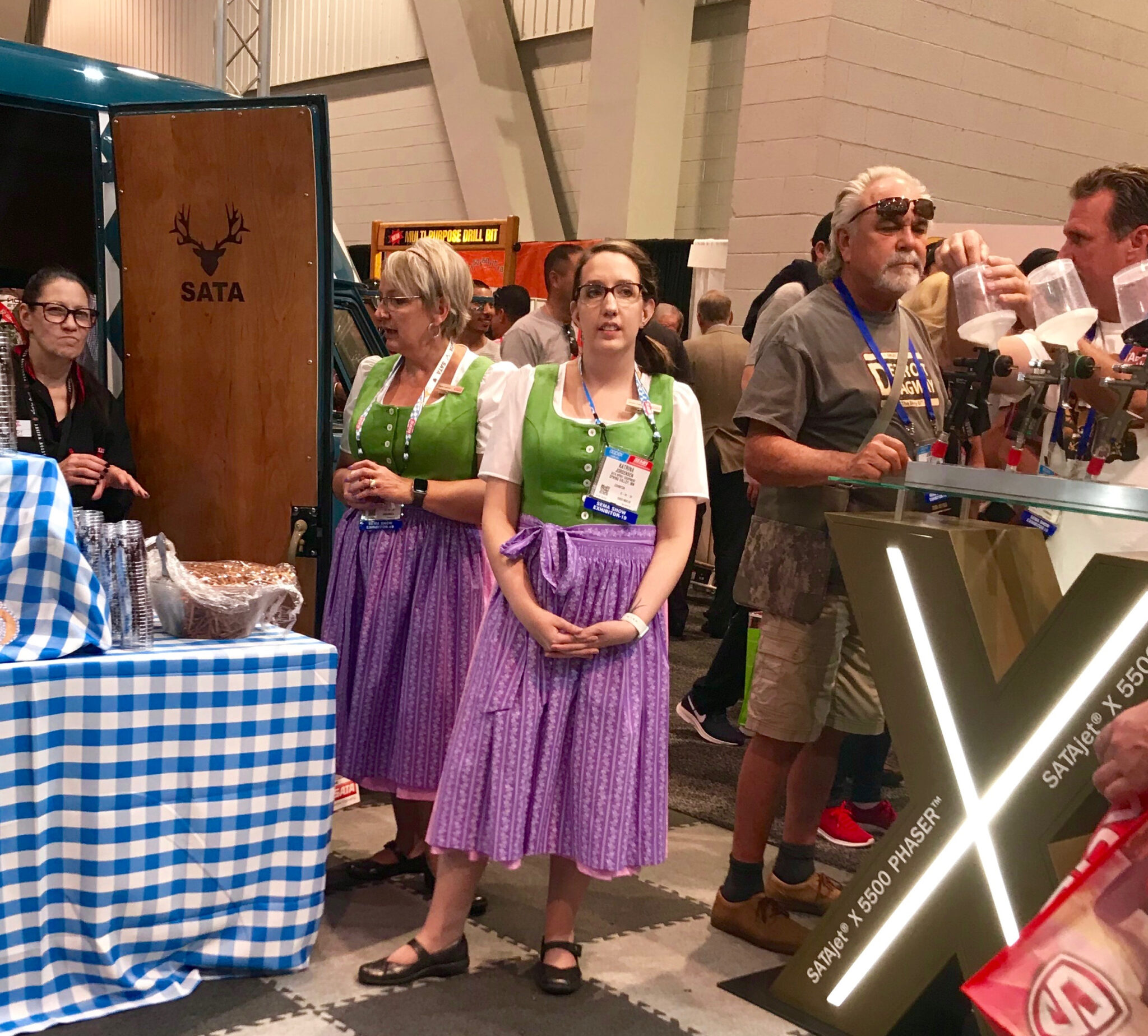 Her current train of thought is likely, "They asked me, 'Do you want to go to America? We'll go to Vegas!' 'It'll be fun,' they said. Now I look like my grandmother with swollen ankles. I'm in hell." This is truly sad. Don't miss the grumpy fraulein glaring at me on the left, she's 100% on to me. Sorry Leisl, this is America and Mama's gotta call it like a see it. Plus, it's not just these women who were suffering: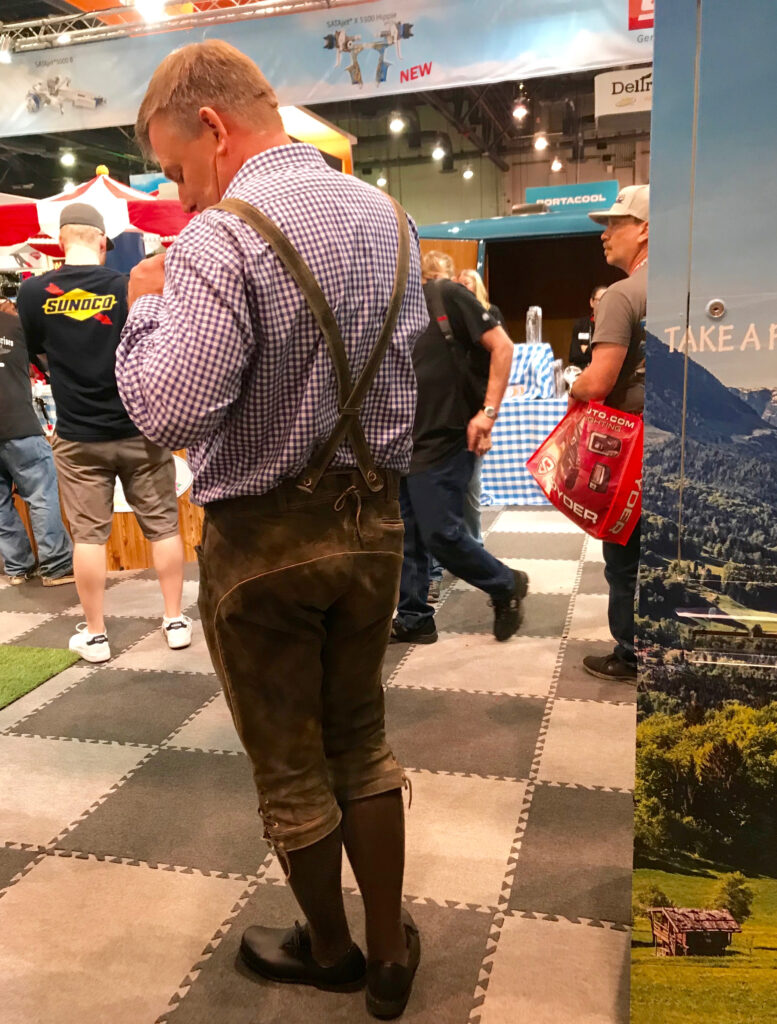 For the record, all of these Krauts are Dudes in my book for not only sporting their native garb but also owning it like a boss. If someone dressed me as Laura Ingalls Wilder and put me a tradeshow booth, I'd be a straight-up bitch.
Speaking of dudes, how about this guy who refuses to blend in: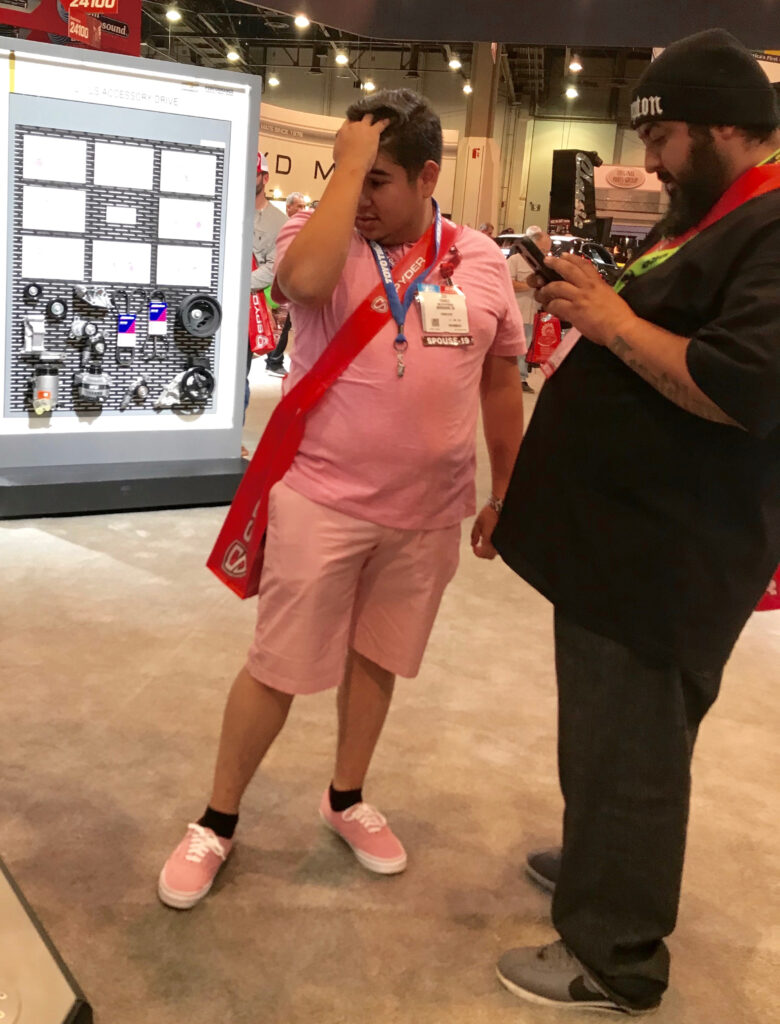 Right on, Pinkie. Not only are you showing this crowd how shorts and sneakers are really done, but according to your badge, you've also chosen the world's biggest hetero-sausagefest to be out and proud as the "spouse." Now that's love. Well played, Dude!
Less enthralling was the jeans and flipflops look on this guy: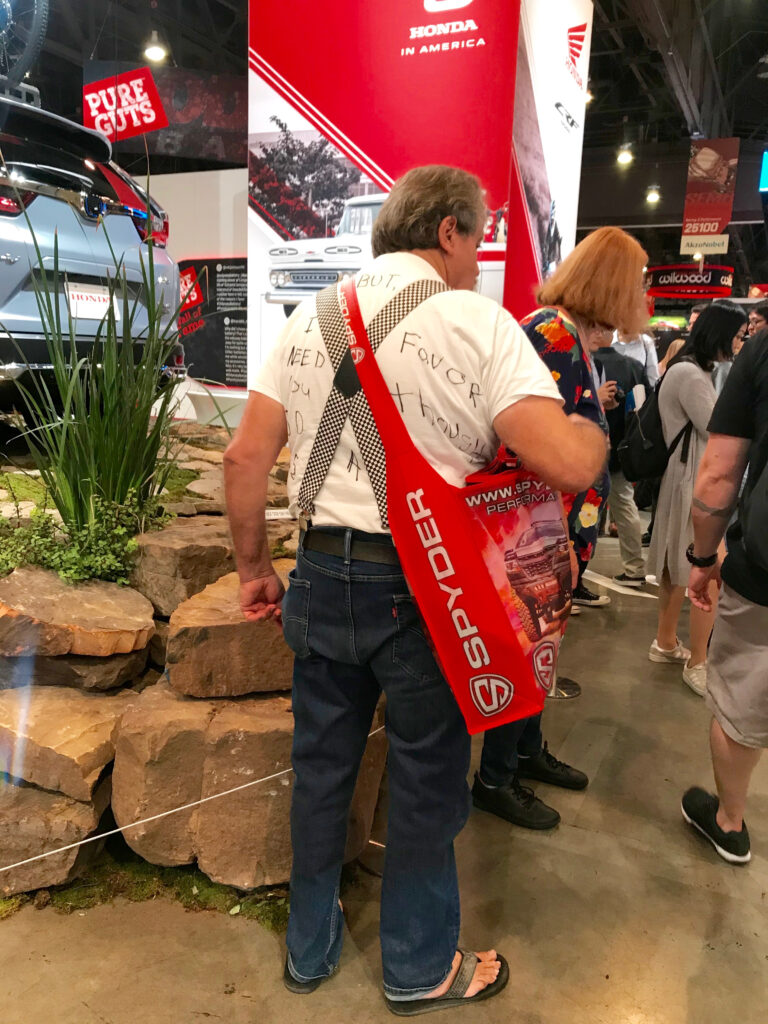 This is a tough call, however, for as revolting as open-toed footwear is in a convention center setting, the suspenders + belt combo are a real crowd-pleaser. Because the last thing anyone here wants to see is those tighty whities you should've burned in '92. Oh sorry, correction- the second to last. The first being the t-shirt you self-styled with the help of a Sharpie. While I commend you on your message (whatever that is), perhaps next time (I can't believe I'm saying this) perhaps a tattoo is a more practical choice.
Finally, for your dbag finale, I've got a pair of Gucci wonks: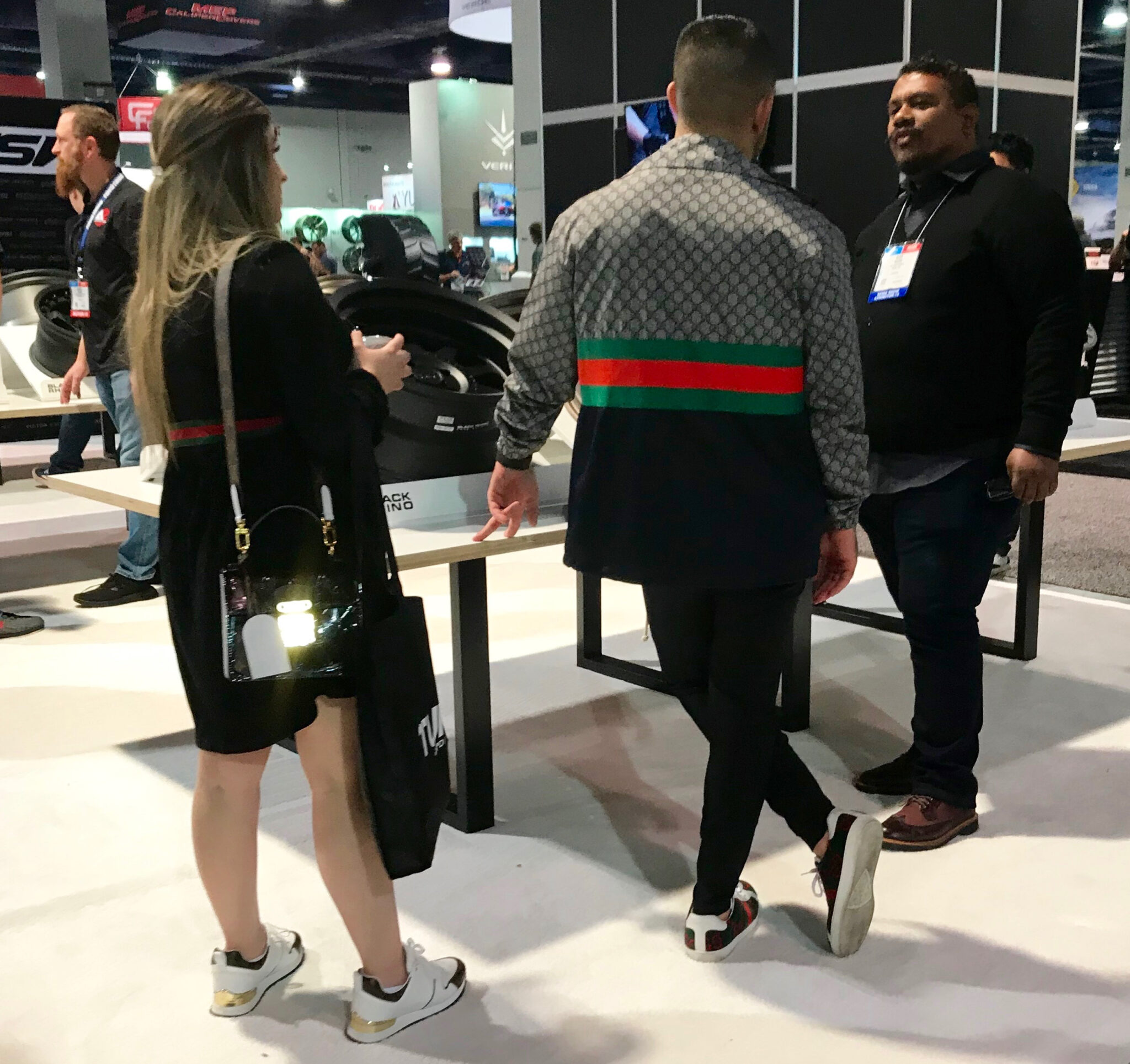 Whaddya wanna bet they woke up at the Bellagio this morning with a terrible case of 'Wait, did that hooker we hired for a threesome last night really steal our cash?" Sadly, no amount of Italian couture will hide your shame, my friends. You're gonna have to sweat this one forever. But that's ok, you're so douchey that I assume life will throw you much bigger curveballs.
In the meantime, I can't wait to see what you wear to SEMA next year!