Now that we've all recovered from Elon Musk's Truck Show The LA Auto Show, it's time to turn towards the type of in-depth, investigative journalism that you've come to expect from Motorhead Mama. It's time to explore the outfits.
I'm not gonna lie, this year started out rough. On Day Two of the press days, I turned to a friend in defeat and announced, "Maybe there aren't enough douches this year!" But, like all forces of nature, they soon appeared in all of their glory. The first arrived in the form of a jean flapping ginger: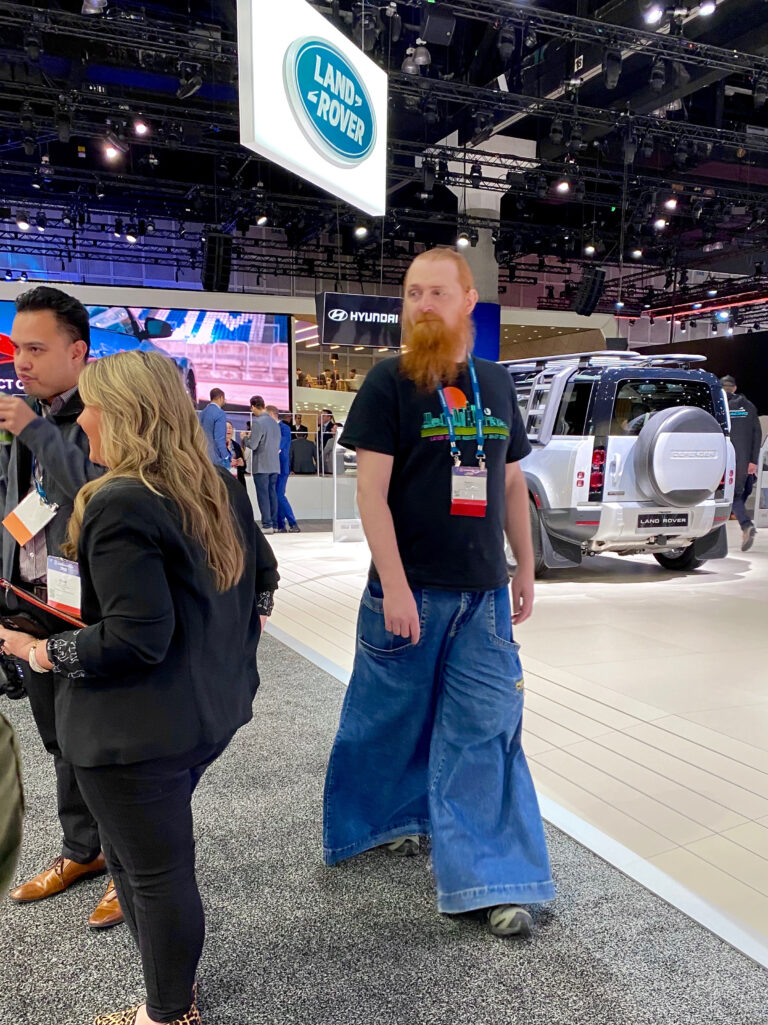 Surely a guy rocking an orange man bun and orange beard is used to standing out in a crowd. So when he spotted these ultra-wide-legged jeans on the sale rack at his favorite Brooklyn bro-outfitter, of course he snatched them up quicker than you can say, "yeard." But what's odd about this guy's get-up is how under-committed he is to his look. While the hair and pants scream, INDIVIDUAL, his swaggy t-shirt and sensible Merrells whisper otherwise. While he lands squarely in the douche category this year, I'm feeling that there's a dude in his future. I believe in you, ginger bro!
Speaking of bros, can we just take a moment to feel for the poor guy that had to work the JLR booth and answer critical questions from wannabe outdoorsmen about the true utility of the Land Rover Defender? That's a thankless job. I caught this guy grilling the product expert about the practicality of the side ladder.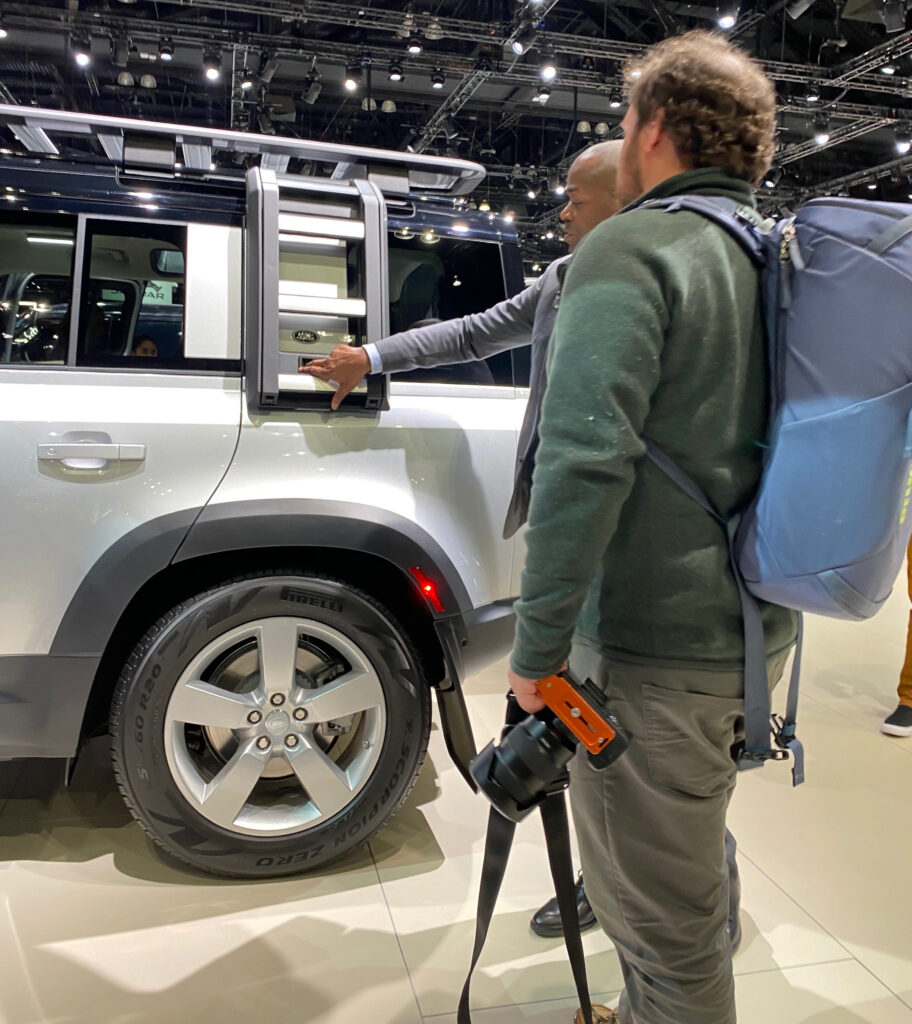 I've got news for him (and his rescue dog), real men don't use no stinkin' ladder. Even Queen Elizabeth would just hike up her wool skirt and scale the back of that Defender like the boss she is. So just let this guy go and talk to somebody who's gonna buy one. Oh, and why the hell do you look like you're currently camping? This is LA buddy, we may be opened toe'd all year round but we do expect a certain level of hygiene. This isn't Portland.
Happily, not all out of town visitors were roughing it. Check out this red suit on Melisssa Schulte: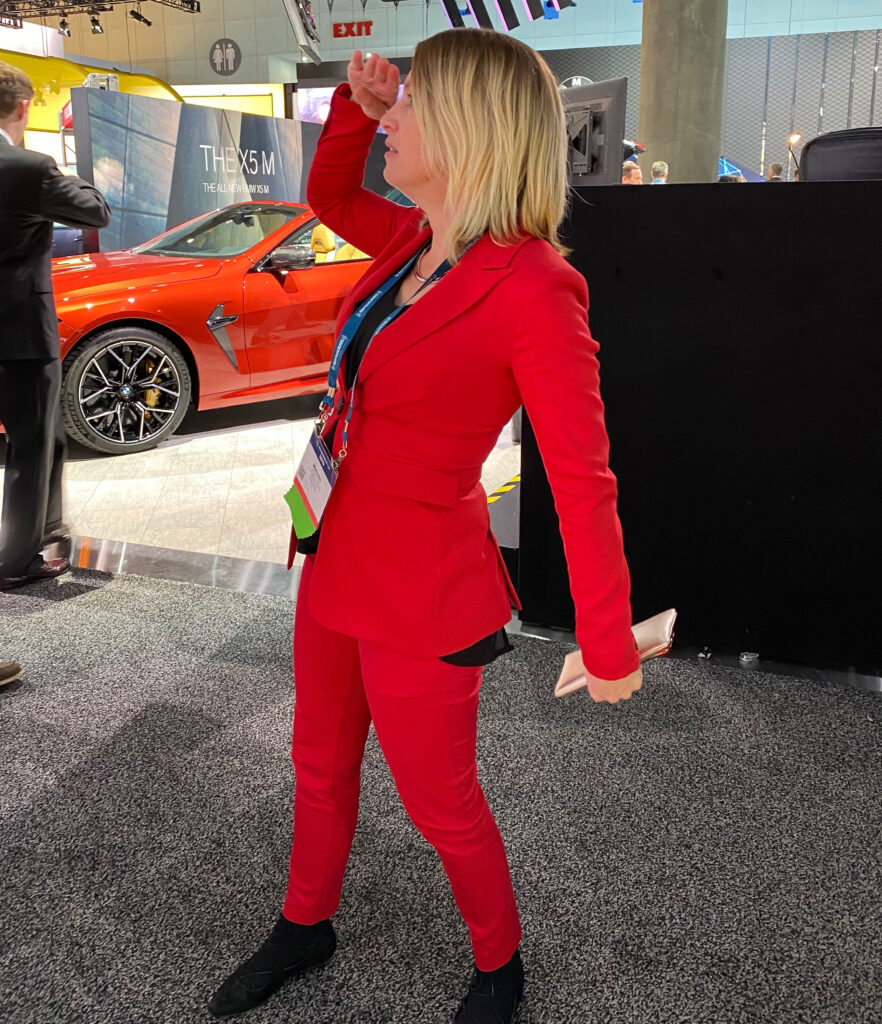 Ain't no way someone will tell her, "sorry I missed you at the show." It's serious dude-status. I love it. I only wish I could get away with it. But, for obvious reasons, I have to do my best to keep a low profile. Like when I went to snap this guy: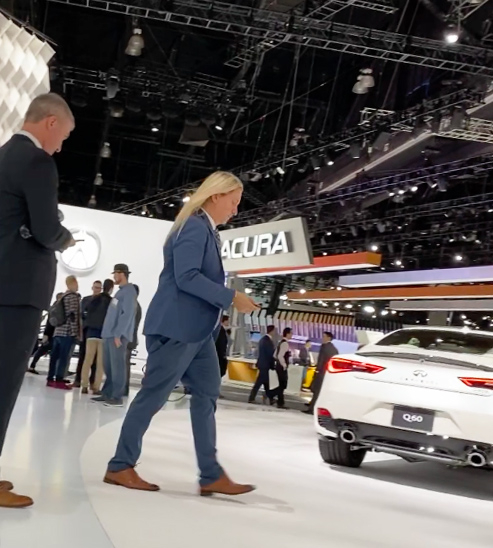 I came really close to missing the shot because he was surrounded by an entire posse of hairy eyed P.A.s and camera guys. Maybe he's some type of German on-air personality. Perhaps that's cool over there, in a kind of bloated Brett Michaels kind of way, but here, it's Dbag 101. Oh calm down, I can throw as many stones as I want at this guy because we're basically just a sex change and 30 pounds away from being twins. His pain is essentially my own.
Speaking of pain, what's more arduous than buying yourself a pair of sweet, post-apocalyptic thigh-high boots only to find out that your trip to California will result in an unseasonable rainstorm? Oh, the horror.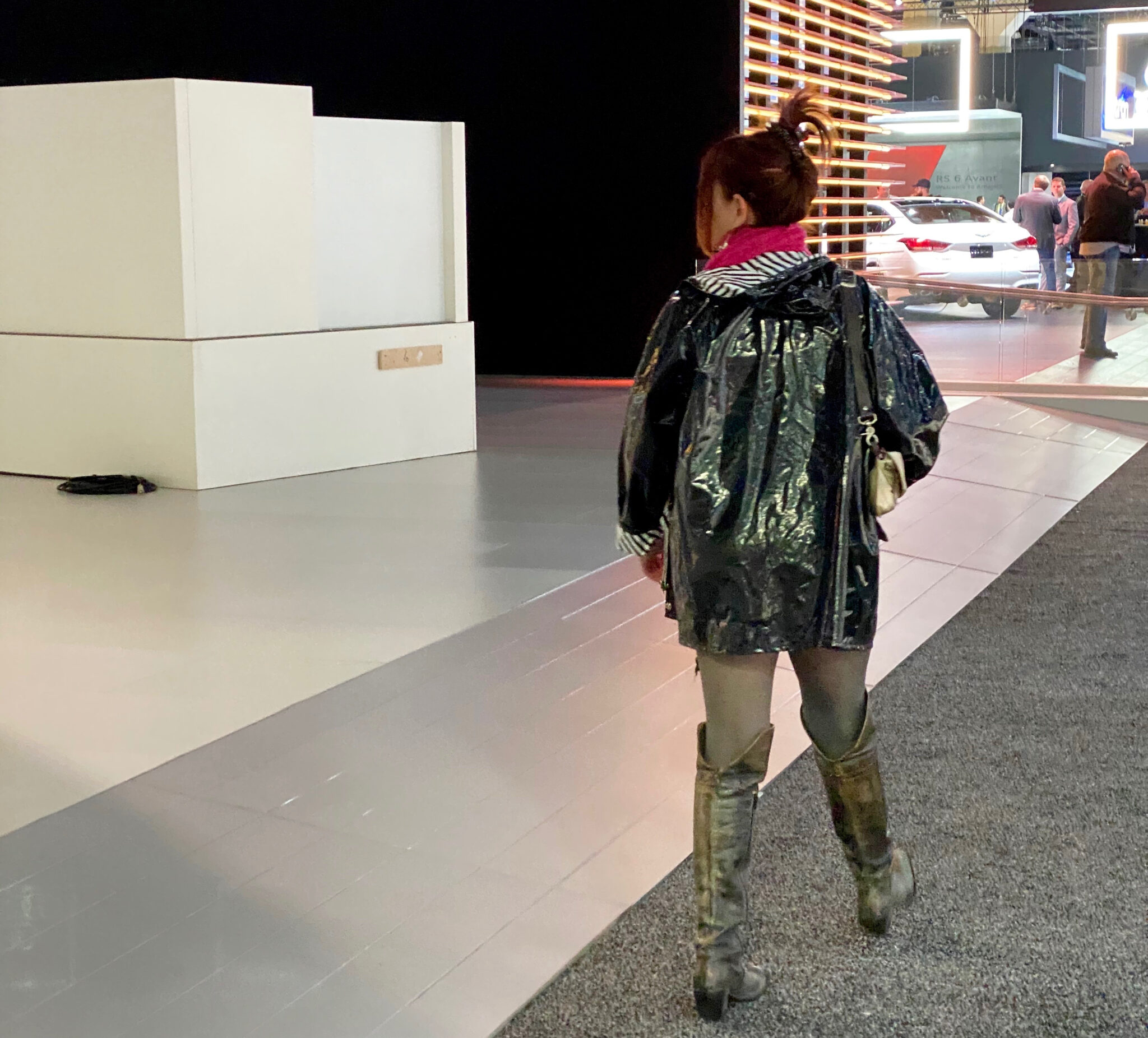 But that doesn't stop her. It's nothing that pair of grey tights can't solve. What's upsetting is I see ZERO evidence of a skirt under that jacket. Not exactly the type of product reveal we came for, but hey, whatever. Maybe next year she should take a page from Lyn Woodward's book and not try so hard. Just casually ballin'.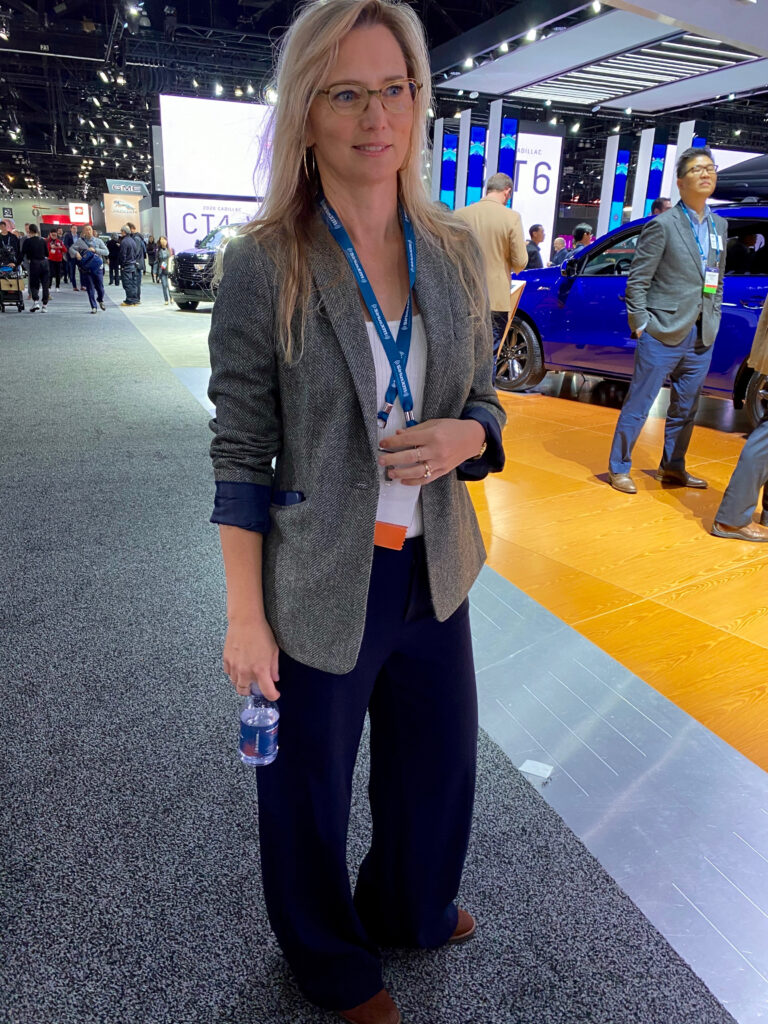 You know who else tried too hard? The stylist for the Hyundai booth.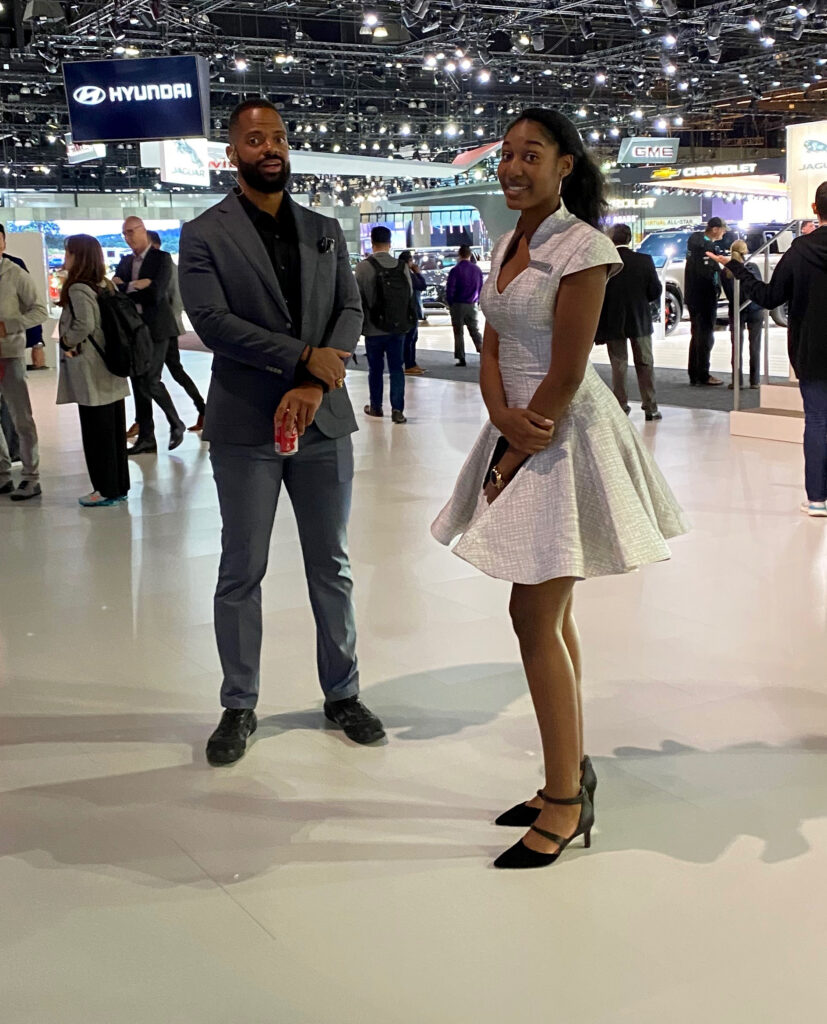 It's just not fair. The guy gets to rock a perfectly tailored suit, looking hella suave (but if that's not an iPhone in his pocket, he'd better see a doctor). However, the women have to don these awful Jane Jetson getups. Is it just me or does her look scream "HELP ME!" She probably has a rock in her shoe from hours ago but is too terrified to bend over. Her boss is a straight-up d-bag.
Let's just pause quickly to appreciate Jeff Zurschmeide's tri-collared masterpiece:
Well played, pal. Finally, how about this guy?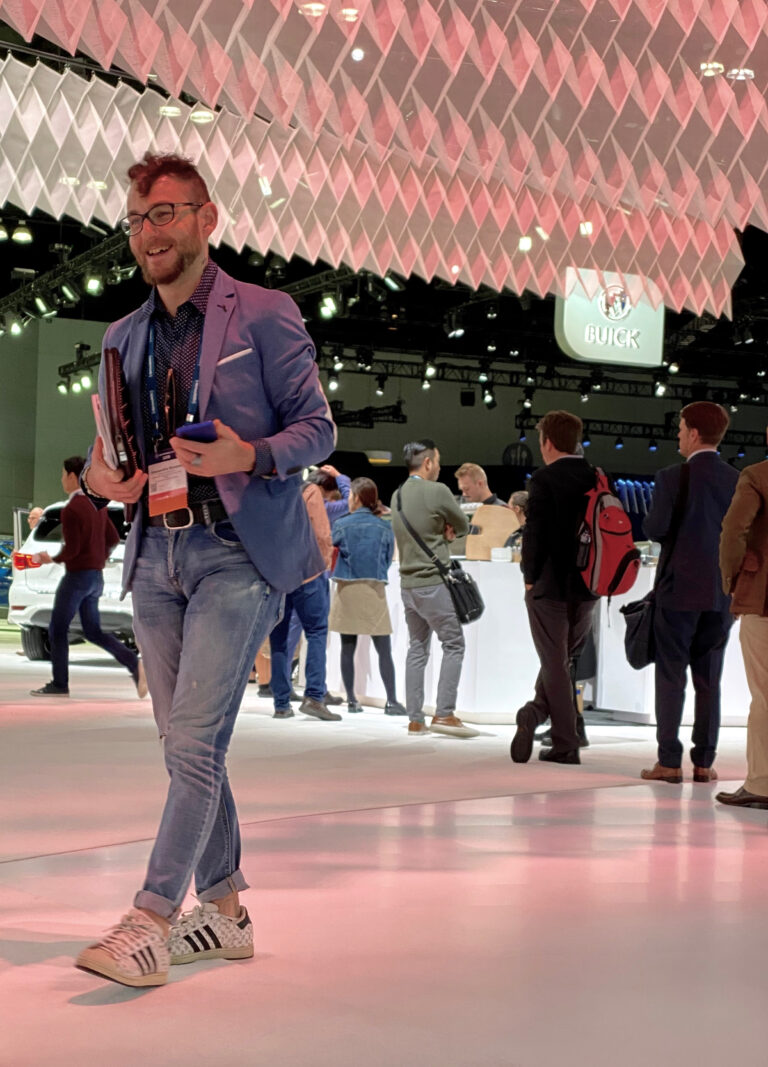 He takes the jeans and designer sneakers game to a whole new level, complete with a pocket square. The hair is a hot mess, but that's just fine. What isn't cool is the inseam of those pants. Sliced nuts belong on salads, not in jeans. But the rest of his outfit is so adorable, why don't we give him a pass? Done.
Next stop…CES!