This past weekend was the Japanese Classics Car Show (JCCS) in Long Beach and man, was it fun. What's that? You're not into old Japanese cars? Yeah, I hear that a lot. You dig Land Cruisers, maybe a Z car here and there but the rest just don't do it for you. It's for the kids, right? Or maybe the people who don't know enough about European/American classics. I feel you, but just stay with me for a few minutes while I try to change your mind.
Let's start with the cold, hard facts: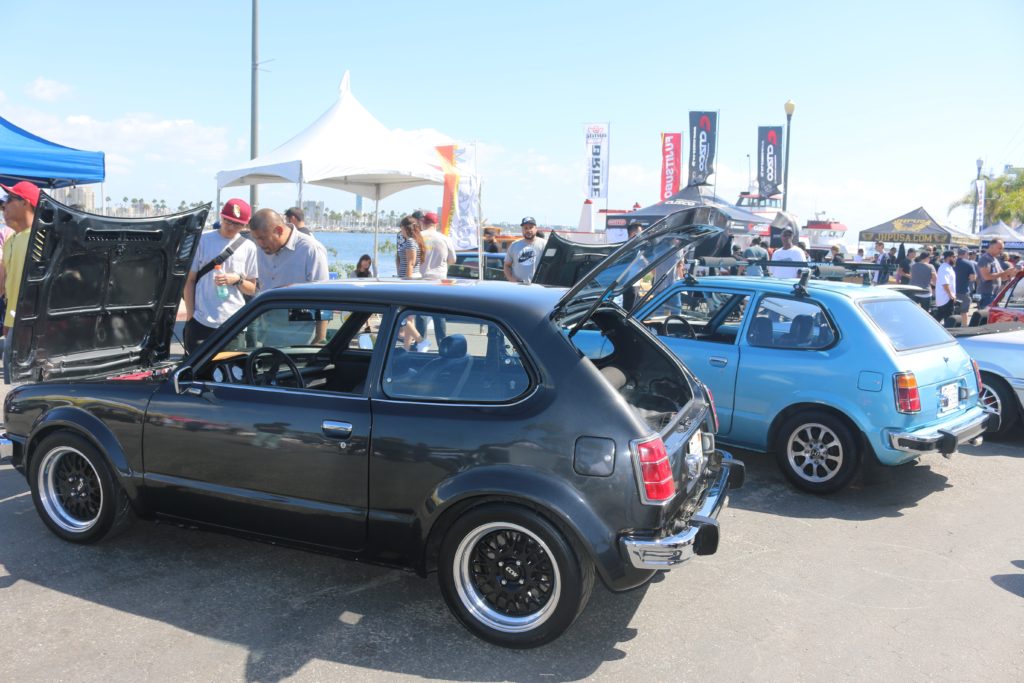 Classic? Those little Honda Civics aren't classic. I mean, my friend's mom drove one when we were little…oooooohhhhh..yeah..I know. Admitting that these adorable little nuggets of Honda hatchback love are now antique means that maybe you aren't freshly baked right? I had the same problem. But just let that go for a minute and look at them! They're awesome right? How about the fact that the first gen Honda Civic came with a 4 speed manual, produced 50 horsepower (no I didn't forget a digit), cost $2,000 and got an MPG of 40 miles to the gallon! Say what? I know. Next stop..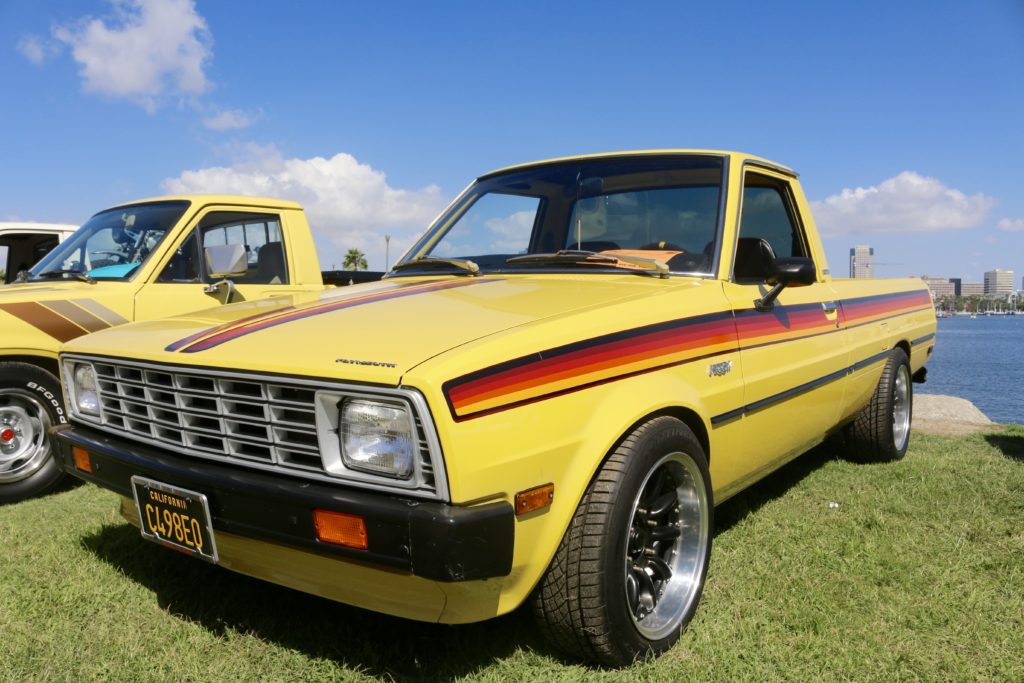 This, ladies and gentleman is a 1980 Plymouth Arrow Sport Truck.  Yes, I know that Plymouth is American, but it was actually made by Mitsubishi and sold by Chrysler under the Plymouth brand.  A sport truck? Yes, like a rear wheel drive compact ute that impresses the ladies with that dope-ass color scheme. Oh man! Still not a fan? Fine. I dare you to hate this: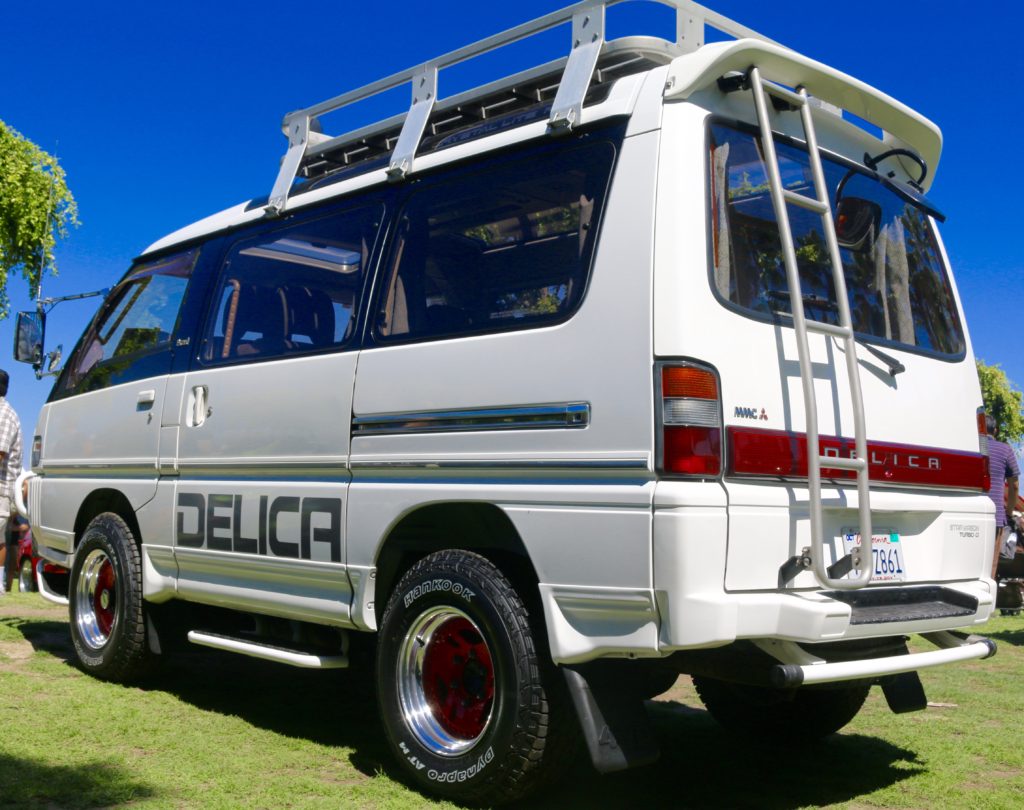 Yes, you're seeing what you think you're seeing a Japanese, turbo-diesel, 4×4 van.  Let me unpack that for you a little bit. So, it's the 4×4 van you're dying for. Oh, and it's diesel so it's efficient. And the turbo..did I mention it goes? And it's Japanese, so it goes forever.  Are you crying into the steering wheel of your Sprinter Van yet?  Sorry, dude, I warned  you. Since I'm rolling, dig this:
Yes. Believe your eyes. It's the Mazda you've never seen before. Don't worry, I won't tell your Miata friends. The Mazda Cosmo is a glorious little machine, even if the split tail lights mess with your OCD. This is the Second Gen of the Cosmo, and supposedly only 6 were imported into the US. One belongs to Jay Leno– so I'd appreciate it if Mr. Noshirt could take his sweatglands elsewhere. Now this: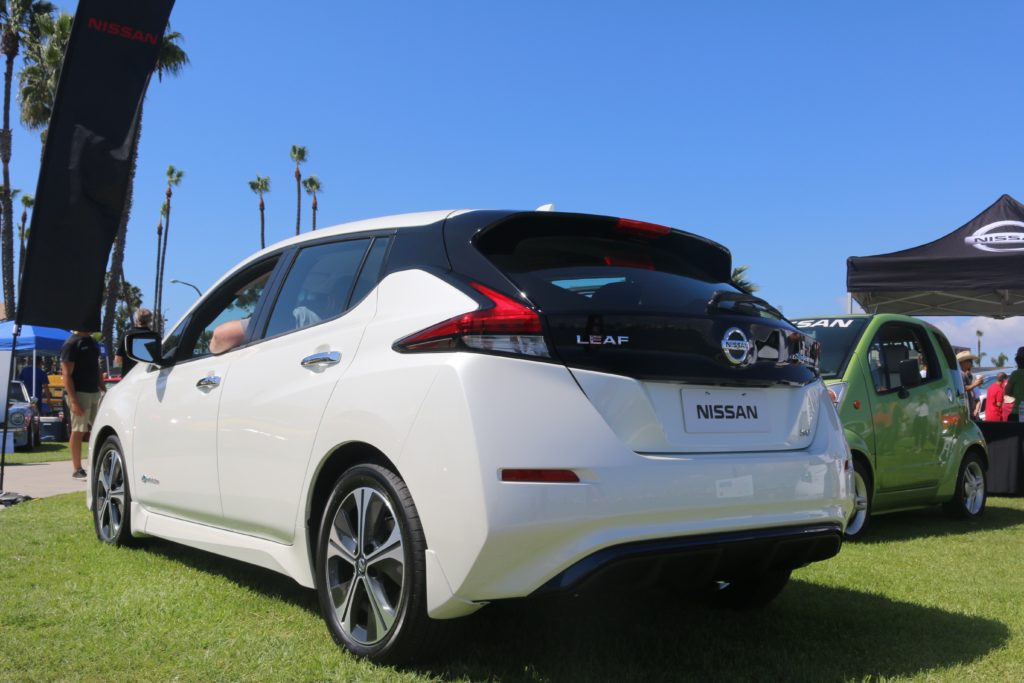 Yes, that's the new Nissan Leaf. Like a sorbet to clear the palette.. OK, let's move on:
If you've ever been to Tokyo, you can't deny loving the Grand Saloon. In the 1980s & 90s, while New Yorkers were slipping around in the backseat of terrible Chevy Caprice, our Japanese friends were stylin' in the Grand Saloon made by Toyota's fancy Japanese arm, Toyota Crown.  I lived in Tokyo in 1993/1994 and that Saloon was sweet– which it had to be because every cab ride cost me about $100.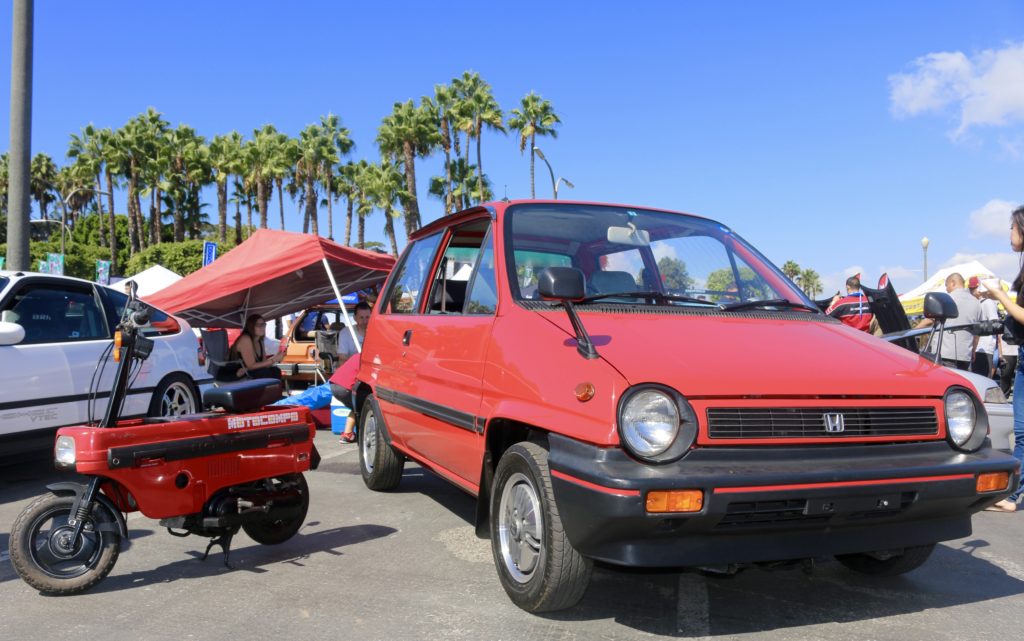 What's this? Because if the Honda City R doesn't make you nervous enough, why not add the Motocompo, specially designed to fit in its trunk. That's so awesome. It's like a Smartcar with side of Vespa.  Because you weren't dead enough the first time.
Now here's something you weren't expecting.. a beautiful Toyota. Yeah, I said it.  The Celica GT is like a motorized Japanese mullet– muscle car up front and efficiency in the rear.  I dig it & you know you do too. Something less gorgeous but still wonderful is the Datsun B210: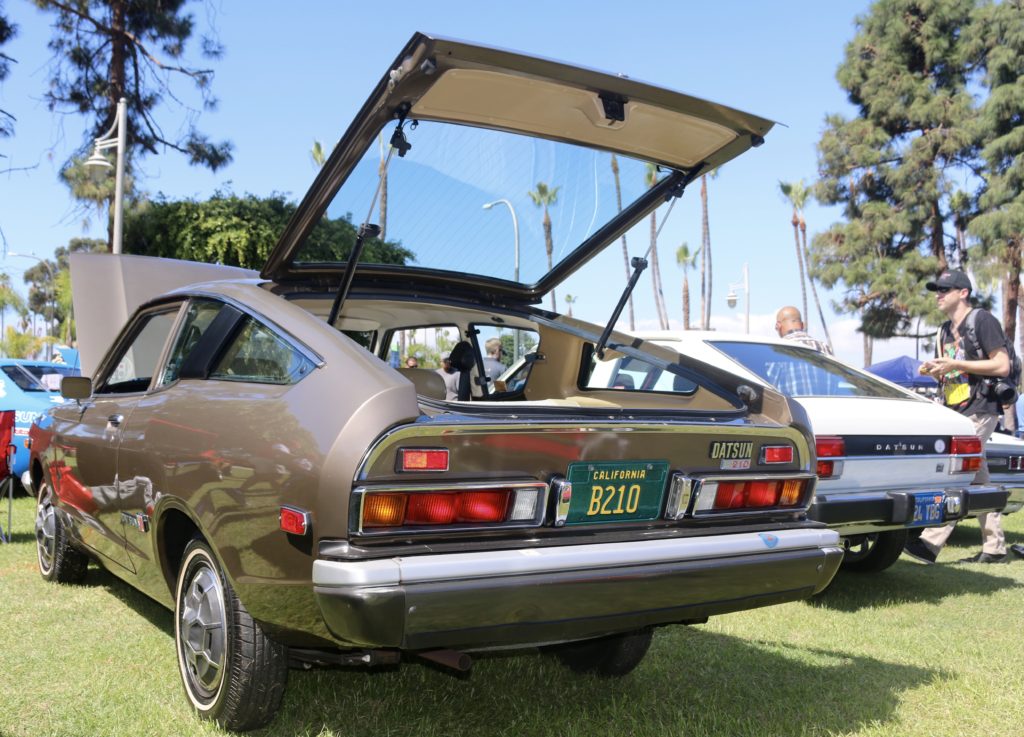 Datsun's fuel efficient hatchback was a hit in the late 70s.  Because, as any Soul, Fit, Fiesta, Volt or GTI owner will tell you, ain't nothin' like a hatchback.  How about one that gets almost 50 mpg?  Oh and costs under $3k. It may look like the automotive embodiment of a fish-lipped, over-Botoxed Sherman Oaks psychic but it still cool to me.
So no, Japanese classics aren't necessarily here to blow your mind with elegance or sophistication. Nor do their styling and design consistently trump their European counterparts. But there is beauty in efficiency, beauty in practicality, beauty in an every day hatchback, pickup, taxi or trunk stuffed scooter that are distinctly, uniquely and beautifully Japanese.  If you don't want to get it, that's fine by me.